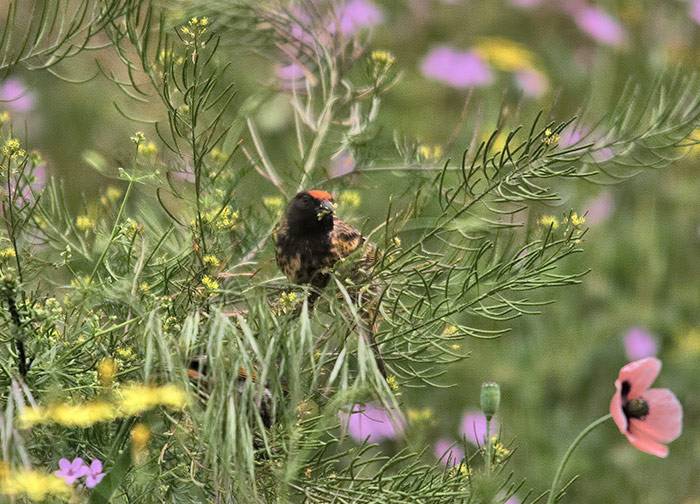 Armenia 12 to 25 May 2018
This was what you might call a hybrid trip for my wife and I, originally planned to consist of one week of meetings with NGOs and the UNHCR plus working and generally helping at a refugee centre for Armenians displaced from Syria in the north of the country with a few other visitors, then a second week of just the two of us travelling around Armenia, visiting a few known birding sites as well as some of the 'less travelled roads' of the country. Because we were transporting various essentials for the refugees we weren't able to take my telescope and tripod which cost us a few species (mainly waders at Armash Fish Ponds). Initially the group of six of us were based at a friend's apartment on a busy street in the centre of the capital, Yerevan for the first four nights, then two nights at the centre in Spitak. The two of us then spent two more nights in Yerevan before we set off to explore and do some birding, we stayed two nights in Vayk, and one night each in Tsapatagh (Lake Sevan north shore), Idjevan and Dilijan before returning to Yerevan for our middle of the night flight back. Although it's not too difficult to find accommodation on arriving in a town, we had booked our overnight stops before leaving France. Similarly, we booked cars (a huge Toyota Landcruiser for the 1st week and a Lada Niva for the 2nd) with Europcar who now have a desk in arrivals at Yerevan airport as well as in the city centre. This meant we could pick up the first week's vehicle on our arrival at the airport, change it for the Niva at their city centre office a week later, and drop it off at the airport the night we left to come home, they were very helpful. After having lived in Lebanon, driving in Armenia was a breeze, speed limits and traffic lights are respected (lots of speed cameras!), though the state of roads apart from the major routes was generally poor, lots of potholes or sudden change from tarmac surface to dirt/stones, especially inside villages. The cost of food, accommodation and fuel for cars was much cheaper than in Western Europe. We took Euros with us and changed for Armenian drams as and when needed, thus avoiding using bank or credit cards. All the decent sized towns had currency exchange bureaux. Outside of Yerevan we found little English or French was spoken, Russian is the most commonly used second language, we had learnt a little bit of Armenian before the trip, my wife had even learnt how to read the Armenian alphabet which helped when road signs were only in Armenian (though most had the Latin alphabet version of the village/town on them anyway). We found the Armenian people to be very friendly and hospitable, men are respectful towards women and the crime rate is low. Tourism is very important for the country's economy, unfortunately Armenia doesn't much in the way of natural resources (no natural gas or oil) and most industry collapsed with the end of the Soviet Union, the borders with Turkey and Azerbaijan have been closed since the Nagorno Karabakh dispute in the early 1990s so all land transported goods arrive either through Georgia to the north or via the one border crossing with Iran to the south. May is known to be the rainiest month of the year and it did indeed rain at some time or other on all but our penultimate day, fortunately never for more than an hour or so though sometimes there were spectacular thunderstorms. Temperatures around Yerevan and the southern plain and wadis were around 24°C when sunny, up around Lake Sevan it was cooler (18°) and obviously at the mountain passes, especially if the wind was blowing.
12 May
After our midnight arrival, it was a leisurely start and late breakfast, followed by a (long) walk around the city's sights. I had briefly visited Yerevan two and a half years ago, and noticed that a number of the small parks in the city had since been built on, or were in the process of being developed, a shame as these green spaces are part of the charm of the place (plus one of them had breeding Shikra a few years back!). Rooks were nesting in our noisy street's trees which was a surprise, the parks in the centre held Blackbird, Great Tit, House Sparrow and Goldfinch, plenty of Swift screaming around, plus city dwelling Barn Swallow and Hooded Crow. After such a late (and hearty) breakfast we kept going well into the afternoon, eventually stopping for a drink at the top of the Cascade near the monument dating from the 1970s commemorating 50 years of Armenia being a Soviet Union Republic (unlike Lenin's statue, this monument has rested untouched since Armenia's independence upon the USSR's demise). The big park at the top was interesting with Hoopoe, Crag Martin, White Wagtail, Spotted Flycatcher, Greenfinch plus singing Lesser Whitethroat and Common Rosefinch. Jackdaw and Magpie also around. The White Wagtails were of the
dukensoiniusis
race, with a large white panel on the closed wing. A couple of Spotted Flycatcher were also busy catching flies. I was surprised to see a Peregrine flying around the monument but discovered later that a pair nest in the city.
13 May
Sunday saw us go west from the capital on a day when we were to go to two of Armenia's most-visited sites, first off the cathedral complex at Ejmiatsin.. Although I had my binoculars with me opportunities for their use in the complex were limited, brief flight views of woodpecker sp and calls that made me think Syrian, single flyover Sparrowhawk sp, Buzzard and White Stork and best of all, several passing flocks of starlings, one of which passed close enough to confirm my suspicions – Rosy Starling! After a long lunch we made a few navigational errors which had the bonus of adding Roller, Honey Buzzard, Woodchat Shrike and breeding Common Starling plus more flocks of the Rosy variety. We were now on our way south-east to Khor Virap ('Deep Dungeon'), the history is too long to recite here, but the current buildings are perched on one of several small, treeless hills overlooking the Arax plain and close to the Turkish border with great views of Mount Ararat. I managed a little birding from the splendid viewpoint the site offered. One of the smartest birds was actually in the car park next to the cemetry, a cracking male Ménétriés's Warbler and looking and listening from the top of the hill I could hear Cetti's Warbler, European Bee-eater, and Short-toed Lark and Hoopoes calling. A pair of the latter were nesting in a cave just below me and flying down to some scrubby areas to find food. One of them started chasing a Rufous Bush Robin. Common Kestrel and Marsh Harrier were towards the river where I could make out two immature
larus
gulls and a White Stork was strolling about. Apart from the corvids already seen in Yerevan, Swifts, House Sparrows and Tree Sparrows were nesting in holes in the old walls.
14 May
On a very gloomy and rainy morning we visited two more well-known tourist hotspots, Garni and Geghard. Before setting off from Yerevan a nice surprise in the yard behind the apartment was a pair of Laughing Dove, a species that spread to Armenia in the early 1980s, and a town-dwelling Common Kestrel flew over. We headed north-east out of Yerevan into a more upland landscape, as we passed some imposing cliffs a Cinereous Vulture made the sky temporarily darker than it already was and we spotted our first Black Redstart of the trip, a male of the
ochruros
subspecies with its orange lower belly. Garni 'Temple' is perched on the edge of a deep gorge in which you can see fascinating basalt columns. Around 50 Red-billed Choughs were enjoying the windy conditions and in the village were Common Starling, Goldfinch, Hoopoe and House Sparrow. A few kms further east and set in a narrow gorge with mountains all around, Geghard Monastery is an impressive sight, part of the main building is cut into the cliff (there's even a stream running through one corner) and there are several little chapels built higher up the cliff face. Some British birders we met there had spotted a Western Rock Nuthatch, other additions to our slowly growing trip list were Jay and Raven, and Crag Martin and Cetti's Warblers were singing away. Bird of the site however was a Golden Eagle, a probable 2nd year individual which twice made short flights high up on the crags, buzzed each time by an angry Kestrel.
15 May
Various factors led to this being a long day on the road rather than the planned quick meeting at UNHCR's Armenian office followed by the transfer to Spitak to finally get some work done. We set off north-east from Yerevan, stopping for lunch on the shores of Lake Sevan, which is at 1900m altitude, 78kms long and 56kms wide at its widest point. After the locally caught fish lunch we headed to a village north of Idjevan (towards the Georgian border) before retracing our steps back to Dilijan then heading west through Vanadzor to our Spitak destination. En route between Yerevan and the lake we saw our first Long-legged Buzzard and it had now become clear that Hoopoe is a very common bird in Armenia! I drove throughout the day which meant that on at least three occasions I wasn't able to get a good look at black and white woodpecker sp that flew across our bows, frustrating. The lakeside lunch stop was at Sevanavank, a rocky promontory (that was an island until a misjudged Soviet scheme lowered the lake's level by 18metres in the 1940s) with two old churches/monasteries. The shoreline on this western side of the lake is a very popular summer holiday destination, hotels, restaurants and various beach complexes were numerous. On the grassy slope and rocks below the old buildings was a colony of Armenian Gulls, the only other webbed-footed birds seen were passing Great Cormorant. Common Starlings were busy bringing food to their nestlings as were White Wagtails. A nice rufous-toned Steppe Buzzard drifted over and Common Whitethroats were doing their song flights. Invisible in a group of tall trees I could hear our first Caucasian Chiffchaff but there was no time to go and look for it. We then continued north through an increasingly green and wooded landscape especially in the Dilijan and Idjevan valley areas. North of Idjevan birdsong was in full spate, Common Nightingale, Golden Oriole and Blackcap in particular. There were good numbers of Lesser Grey Shrike, Bee-eater, House Martin and Corn Bunting present too. A long drive to Spitak followed, via the formerly industrial town of Vanadzor with its huge closed down chemical complex rusting away (but no longer polluting the town as it did until the demise of the USSR). Our only Black Kite of the fortnight was seen en route plus another Honey Buzzard.
16 May
A no-driving day spent working at the House of Esther refugee centre just outside Spitak. A pre-breakfast walk exploring the treeless hillsides behind the centre. Some very obliging species made me wish I'd brought my camera with me from Yerevan, Isabelline and Northern Wheatear were everywhere and both Woodlark and Skylark singing and showing well. Some Sand Martin passage was still going on and other species that I suspect were passing through rather than local breeders included a female Common Redstart, several Common Rosefinch, a Honey Buzzard, a Tawny Pipit, a Caucasian Chiffchaff and a Rufous Bush Robin. Lots of wild grasses and spiny bushes near an old quarry held Linnet, Goldfinch, singing Ortolan and Corn Buntings and a pair of Rock Sparrow. An overgrown factory car park and the village gardens had Red backed Shrike, Common Whitethroat, Hoopoe, Black Redstart, White Wagtail, House and Tree Sparrow. As the day warmed up I saw a light phase Booted Eagle, Steppe and Long-legged Buzzards, Kestrel, Raven, Hooded Crow and Magpie, 3 White Stork heading high south (?) plus Barn Swallows, Swifts and three European Bee-eater. In the afternoon when the storm arrived I tried to find the Quail that was calling close by but as you'd expect it remained hidden. All in all a nice reward for our gardening labours. I also had the first wild mammal sighting of the trip, what I believe were Persian Jirds keeping a look out for passing raptors near their burrows on the hillside.
17 May
Extra meetings that had been arranged back near Yerevan curtailed our time at the refugee centre so we headed back to the capital. On the way we saw our first Yellow Wagtail, a male of the black-headed
feldegg
race and at a refugee accommodation building near Masis just south of Yerevan a Great Reed Warbler was calling.
18 May
Mid – morning we handed in the monster Toyota and picked up our Lada Niva from Europcar's city centre office, a rugged little car that looked ready for any terrain (which later proved to be the case!).. We headed west to Ejmiatsin and then north on minor roads towards Ashtarak, then north again with the idea of climbing past Amberd castle and up onto the slopes of Armenia's highest mountain, Mt. Aragats. On the plain, Lesser Grey Shrikes, Hoopoe and Isabelline Wheatear were common and we saw our first Black-headed Buntings and Crested Larks. A couple of villages had breeding White Storks and flocks of Rosy Starlings were whizzing by. Once we started climbing past Amberd, the habitat changed completely, mountain pasture interspersed with bushes, lots of emergency stops in the next 2 kms (luckily the road was quiet) yielded some nice birds, Whinchat, Common Cuckoo, Ortolan, Rock Bunting, Red-backed Shrike, Golden Oriole, Mistle Thrush plus an uncooperative male White-throated Robin that flew off as we stopped next to it. Raptors were represented by Steppe and Long-legged Buzzards and a distant e Lesser Spotted Eagle. We were now entering the zone with juniper bushes, home to Radde's Accentor ("numerous" and "common" according to trip reports I had read) and I was looking forward to the next 11kms or so up to the lake which is as far as the road goes, home to Horned Lark, Alpine Accentor, Crimson-winged Finch etc. Just as I started the engine after the White-throated Robin stop we noticed a red light on the dashboard indicating that our petrol tank was close to empty, I had forgotten that Europcar had for once supplied a car without the usual full tank. Having seen no petrol stations in the past 20kms and with no more towns or villages further ahead up the mountain we decided to walk around the area and see what species we could find on these lower slopes but a huge thunderstorm complete with cold wind and torrential rain soon put paid to Plan B. A rather tense descent (mostly freewheeling) to the nearest village and some locals directed us to the local store where there was petrol. We had a rendezvous with Karen Aghababyan of the Armenian Birdwatching Association in Yerevan to get to so reluctantly had no time to try and ascend the mountain again. We were meeting Karen for two reasons, I wanted to give him a copy of my book A Guide to 200 Common Birds of Lebanon, as Armenia and Lebanon are both starting to see a growth in interest in birds and nature conservation and my book is aimed at beginners, so perhaps a model for countries like Armenia to copy, secondly Karen organises permits for access to the famous Armash Ponds, a must for any birder visiting Armenia and payment for same is made through him. In some of the trip reports I have read of birders trying to get into the ponds complex without paying by chatting up a fisherman, or driving onto private land, one report even suggested that the 10 Euros per person payment was simply lining the pockets of corrupt Armenian birders. Karen (who lectures in Natural Sciences and Environment Management at the Armenian American University) explained how important it was that there is visibility regarding numbers of visitors, it took a lot of negotiating with the Armash owners before they agreed such access and the knock-on benefits of environmental tourism need to be evident, so I would encourage any birders to do like us. For those of you on Facebook, it's most appreciated if you contribute to the ABA's page
https://www.facebook.com/groups/254072219772/
and Karen can organise guided days for those who either aren't driving themselves or have a species target list that they are keen to achieve, his email is:
karen@aua.am
. Among the species "specials" as far as a Western Palearctic birder is concerned are Persian Wheatear, the two Rock Nuthatch sp, Upcher's Warbler, Green Warbler, Grey-necked Bunting, Red-fronted Serin, Caucasian Chiffchaff, Semi-collared Flycatcher, Levant Sparrowhawk, Caspian Snowcock, Caucasian Black Grouse, Bimaculated and Lesser Short-toed Lark, Radde's Accentor, Asian Crimson-winged Finch and White-tailed Lapwing and I've probably missed a few others, it depends where you've birded before of course!
19 May (morning)
Armash Ponds The apartment in which we stayed in Yerevan is on a lively street near the city centre, so a somewhat interrupted night's sleep saw us setting off on our day trip to Armash Ponds later than planned, the sun was already up and the twin summits of Mt Ararat looked magnificent as we sped south. After a slight delay at the entrance gate while the guards telephoned Karen, we drove left, along to the first pond and parked the car, intending to have a good walk around. The site is enormous and in retrospect I should have asked Karen for a few tips on the best parts. The wet meadow immediately to the left of the entrance held several pairs of Black-winged Stilt, a couple of Common Redshank keeping their heads down and four White-tailed Lapwing, quite tolerant of our proximity as we stopped right next to them. A close Glossy Ibis showed off beside the track too. The lack of a telescope hampered us in terms of identifying distant (and into the light) waders thereafter, I identified a closer Green Sandpiper, but the rest remained wader sp. White-winged Terns were hawking for insects and Armenian and Black-headed Gulls (immatures in both cases) were about, waterfowl comprised Gadwall, Tufted Duck, Ferruginous Duck and Red-crested Pochard. Grebes were represented by Great-crested and Little, plenty of Coot and there was a constant to-ing and fro-ing of Pygmy Cormorants. Also present were Grey, Purple, Night and Squacco Heron, Little Egret and a White Stork. The only raptors seen were Marsh Harriers and Common Kestrel. One striking feature was the number of Common Cuckoos, they were everywhere to be seen, at one moment I had four chasing each other across the water. This may have been the reason for the rather subdued birdsong in the reeds, we heard no Paddyfield or Moustached Warbler for example, Cetti's, Reed, Great Reed and Savi's Warblers sang occasionally but generally it seemed quiet for mid-May. A few Bearded Reedling dashed about. We kept checking any Bee-Eaters we saw but all were European. Getting rapidly dehydrated we returned to the car and chugged along the tracks between some of the ponds, adding a handsome Black-headed Wagtail as we did so. Eventually we turned up a rutted track deciding it was OK to do so as there was a smart 4×4 parked further along and a man with two boys fishing. Just beyond him three Blue-cheeked Bee-Eaters were perched on the wires. One of the guards drove up and pointed at the fence to our left and made the 'closed' cross sign with his arms, it was the Turkey – Armenia border fence, so not the wisest place to be prowling around with a camera! We next made a brief visit to the right of the gatehouse where we found a long dried-up pond (long as in time, not size) with saltwort vegetation, a couple of Lesser Short-toed Larks flushed as we got out of the car, a Hoopoe pair were bringing food to their nestlings under a shed roof, but a rather large and noisy dog deterred us from wandering too far. It was now very hot and we were flagging a bit, so reluctantly left Armash to look for a place to buy food and water, having undoubtedly not discovered all the site has to offer. Between the entrance and the main road were orchards with Tree Sparrow, Black-headed Bunting, Rufous Bush Robin and Crested Lark visible – and more Hoopoe of course.
19 May (afternoon)
Vedi gorge Armash Ponds is one of those 'must go to' places for birders visiting Armenia, the other location that always seems to feature in the trip reports I've read is Vedi Gorge (or gorges, as two get mentioned as a rule). Near mythical Western Palearctic species Mongolian Finch has been claimed in the past, Trumpeter and Desert Finch more recently and Grey-necked Bunting breeds in the vicinity. We had planned to visit the area on the 20th, but as we left Armash sooner than expected as we were hot, thirsty and hungry and as Vedi was only a few kms off the road back to Yerevan we opted to have our now purchased picnic late lunch in the area. Vedi itself is a small town surrounded by fertile plain, orchards numerous, but rearing up to the east of the town are dry, sandy coloured hills, fissured with wadis, making a striking contrast. Turning left at the only traffic light in Vedi we drove to the end of the paved road and through the yard of a big, dilapidated farm complex of buildings. Approaching the wadi was what must be Vedi's old (or perhaps current?) rubbish discharge area, a real eyesore, but the Rufous Bush Robins, Hoopoes, Crested Larks and Isabelline Wheatears didn't seem to mind. A final orchard held Black-headed Buntings, Golden Oriole, Red-backed Shrike and unusually skulking Corn Buntings before the gorge closed in on both sides. Although it was early afternoon and stiflingly hot there was a reasonable amount of avian activity, White Stork, Buzzard and Griffon Vulture drifted over and a Stock Dove flew off from a cliff face. Parking further up the gorge and walking down almost to a disused swimming pool I was delighted to see song-flighting territorial Finsch's Wheatears, a species I'd only ever seen in winter elsewhere. Also present but less numerous were Black-eared Wheatear and it was useful to be able to compare Eastern and Western Rock Nuthatches, both species coming down from the gorge sides to bushes on the wadi floor. A pair of Upcher's Warblers were busy, the male singing a lot and the female collecting nesting material and a nice dark brown Caucasian Chiffchaff briefly showed itself before melting away. More Black-headed Buntings were present on the gentler slopes of the gorge and the wadi resounded to these various species' songs. A low sandstone-like bank had Rock Sparrow and Bee-eaters nesting. The long drive back to Yerevan was highlighted by more Rosy Starling flocks and a single Common Tern patrolling a roadside irrigation channel just south of the city.
20 May
Heading south-east We now left Yerevan for our 5 day pootle around the backwaters (or backroads more like) of rural Armenia, initially driving straight back down to Vedi for a brief morning return visit to yesterday's gorge, followed by a longer walk around a second wadi just east of the town. It was pleasantly cool and rainclouds were gathering as we parked up by the old swimming pool and small patch of reeds at the entrance to the gorge. The 'usual suspects' from the previous day were all present and singing sporadically from somewhere close by was our first Grey-necked Bunting. Hearing it was one thing but seeing it was something else, it seemed to be singing at ground level, agonisingly near to us and as we walked slowly closer to the scrubby bushes from which the song was emanating a male Finsch's Wheatear swooped down and out shot the bunting with the Finsch's in hot pursuit. We retired a sensible distance from the reeds which must have had a little water around them and watched and waited as a few birds came to drink, but no more Grey-necked Buntings in the 15 minutes we remained. We headed east out of Vedi and at the entrance to the next village of Dashtakar turned left alongside the river, the banks littered with the carcasses of old cars and assorted rubbish. A bit further along were apricot and mulberry trees and finally a flock of Rosy Starlings that were actually feeding instead of just flying past in the distance as all our previous flocks had been. After enjoying the spectacle we continued alongside the river. Rollers and Bee-eaters were nesting in holes on a cliff face. We parked up just where the track became very flood damaged and walked ahead, the gorge opened out and there was a large grassy area beyond a bend in the river which though flowing nicely was easy enough to cross. A Little Ringed Plover flushed from right in front of us, then another started display flying and a third flew downstream, an unexpected sight. In the grassy area Linnets, Short-toed and Crested Larks were feeding. Rather than follow the river upstream in a gorge to our right we opted to go left and entered a narrow gorge, some interesting lizards were scurrying along the sandy floor of the wadi and we had good views of Finsch's Wheatear, Rock Sparrow, Eastern Rock Nuthatch, Upcher's Warbler and Caucasian Chiffchaff. Stock Doves were nesting in fissures in the rocky gorge sides and there was a natural rock arch to admire, tamarisks were flowering. Overhead a Long-legged Buzzard was being harassed by a Common Kestrel, and a dark-phase Booted Eagle drifted by. Exploring the two Vedi gorges properly needs a whole day. Instead of taking the main road east with its Iranian lorries struggling up the hills we chose to follow a minor road which went through some lovely green rolling hills, a stark contrast to the wadis and dry mountains rising up to the north. As we crested one hill at around 1700m altitude a Caucasian Green Lizard crossed the road and the roadside verges and field were full of wild flowers, the roadside wires were dotted with Black-headed and Corn Buntings and Common Whitethroats. We stopped at the highest point before the road descended towards the Arpa valley, there our first Siberian Stonechat (
ssp variegatus
in Armenia, though I stand to be corrected on that) of the trip flew in front of us. There was a smart Tawny Pipit nearby and further down the slope we began to see and hear Golden Orioles again. Eventually we joined the main highway and passed through the wine producing area around Areni. The next two nights were spent at a hotel in Vayk, meaning the next day would not involve too much driving for once.
21 May
We headed towards Areni then turned south alongside a small river into the Noravank gorge. Lush vegetation and trees on one side contrasted with a cliff face on the other. We saw our first Woodpigeon, Grey Wagtail, Blue Rock Thrush (adult and young) in the gorge and an Eastern Orphean Warbler flew in front of the car. Up at the very picturesque Noravank monastery there was a good selection of species, a smart male Black-eared Wheatear, Common Rosefinch, Cetti's Warbler, Western Rock Nuthatch, , nesting Crag Martin,, Black-headed and Rock Bunting, Red-billed Chough and two Chukar having a noisy chase down the hillside (we had heard but not seen Chukar at Vedi Gorge the day before). A group of five or six Red-fronted Serin were feeding on wildflower seedheads beside and even on the building where the flowers had sprouted from cracks between the ancient stones. In the afternoon we walked down the road signposted Zeida just west of Vayk, a real gem in many ways, though the area by the bridge over the river was a mess with rusting hulks of old Ladas. We turned around and retraced our steps, forking off the road down a track before we got back up to the car. The only Short-toed Snake Eagle of the trip hovered over the hillside and Bee-eaters were calling high overhead, we eventually spotted them, a flock of at least 70 which seemed to be migrating north. The sweet song of White-throated Robin resounded and we saw at least three males in the sector. More Blue Rock Thrush action and a briefly obliging Eastern Orphean posed to have its picture taken. Other species were much as in the Noravank Gorge, plus a Roller past and a Linnet family. Non-avian highlights were a superb Caucasian Agama sunbathing and we had an exciting brief encounter with a Golden Jackal along the track. As we drove east past Yeghandzor our only Laughing Doves away from Yerevan were seen. The mother of all thunderstorms broke as we approached Vayk so we sat out the bad weather in a roadside diner as the road became a river. When it all eased off we continued east and then turned north up the old road to Jermuk, a spa town. The old road is blocked by a landslide after 13kms so not surprisingly we saw only two other cars in the hour or more we were on it. It runs along the bottom of a deep but fairly wide valley and is known to be the haunt of Brown Bear. With two exceptions the birdlife reminded us of home, Blackbird, Garden and Cetti's Warbler, Buzzard, Hobby, House Martin, Alpine Swift and Red-billed Chough. The two eastern exceptions were the ever-present Common Rosefinch and at dusk a nice Syrian Woodpecker in a tree beside the road. My wife decided to scan the mountainside pasture and crags for Bear but covered herself in glory by finding a group of four or five Bezoar Ibex instead, males complete with their little black beards. Back at the hotel the manager and his friend told us we were really lucky, they'd never seen Ibex themselves despite being their interest in wildlife!
22 May
After the short distances driven the previous day, today held a different prospect, a journey of 137kms from Vayk to the village of Tsapatagh on the eastern shore of Lake Sevan. Still, all the roads showed as red on our map and had the reassuring 'M' prefix, so what was there to worry about? Just after leaving Vayk a Hoopoe crossed our bows and we realised that we'd gone a whole day without seeing one! We soon turned north up the M10, the only north-south major road through Armenia that doesn't involve going through the Yerevan conurbation. As the road started to climb towards the Selim Pass (2410metres high) we spotted our first Blue Tit of the trip, but more exciting was a superb male Levant Sparrowhawk perched on the roadside wires, no doubt looking out for unwary lizards below. It was to prove to be our only totally rain-free day of the two weeks but conditions at the Col were not brilliant for birding, very windy and not surprisingly for the date no apparent migrants around apart from two weary Rosy Starlings that paused in some bushes for about 30 seconds before continuing southwards. The Caravanserai just short of the pass is a must-see for anyone with even the slightest interest in history, to wander inside with a torch with nobody else around was a privilege and we felt transported back centuries to the days of the Silk Road and imagined all the merchants, their goods and animals all hunkered down safe inside as they passed the night, before continuing their epic journeys. The Crag Martins were happy to use 'the facilities' and were nesting just inside the only entrance with its inscription in Persian using Arabic letters. Armen, the local souvenir salesman chatted to us in French (as well as selling us honey, jam etc 'made by Madame') and seeing our interest in the martins proudly showed us a photo he'd taken on his mobile phone a few weeks before of a Bearded Vulture that had passed him within a few metres! The birds were typical of the Armenian uplands, Common Whitethroat, Skylark, Meadow Pipit, Water Pipit, Whinchat, Northern Wheatear, Cuckoo but the only raptor we saw was a Long-legged Buzzard. After a brisk (but fruitless) walk away from the summit in search of some wet areas I'd read about in trip reports we started the gradual descent towards Lake Sevan (which is at over 1900m remember so not a huge drop in altitude). A few kms later there was a (seasonal?) lake to our left, upon and around which could be seen at least a dozen pairs of Ruddy Shelduck. A handful of White-winged Terns were dip feeding, Redshank and Coot were clearly breeding around the lake as were Stonechat and very smart Black-eared Wheatears (we saw both black-throated and white-throated males on our travels). Arriving on the Lake Sevan shore we saw Gadwall, Mallard, Pygmy Cormorant, Armenian and Black-headed Gulls, Common Terns, Great crested Grebes and Coot going about their business. In the reeds were Reed Warblers and our only Reed Buntings of the trip, Grey Heron and Little Egret in a tributary river bed. 101kms after leaving Vayk we turned off the M11 near Vardenis and headed up the M14 just 36kms from our hotel for the night. The first 6kms took us 30 minutes, the road, once properly surfaced had 'seen better days', I have never experienced anything like it for potholes and the whole of this first part was negotiated in first, and very occasionally second gear. Locals, clearly in the know, were speeding along in the fields on the other side of a dry river bed, but their 'unofficial' route then joined ours and the road became just bad instead of terrible for the next 30kms (ie. 2nd gear and occasionally third on this stretch!). Two and a half hours later we arrived at the hotel at Tsapatagh, very shaken up and me with aching arms from all the swerving and slaloming. We were mostly passing through open agricultural land, so the birds were typical of this habitat and all species we'd seen already, the Woodlark were the first since Spitak however.
23 May
A pre-breakfast stroll for me on a chilly and breezy morning in the young woodland (an anti-erosion shelter belt according to the notice by the road) between the village and the lake shore produced less than I had hoped, most birds proving hard to track down in the windy conditions. However, a nice surprise on returning to the hotel grounds entrance was a family party of Red-fronted Serins. Our journey today was to take us a few kms along the lake shore before striking north over the Karmir Pass to Chambarak, west along the Getik valley before heading north over the mountains through the Ttujia Pass to Itsakar, then west to our overnight stop in Ijevan. A nice moment early on when we stopped to admire a male Ortolan, a strange call overhead and a pair of Ruddy Shelduck passed close by, we had nice views of adult Armenian gulls along this undeveloped side of Lake Sevan. The Karmir Pass was a mass of wildflowers which were much to the taste of migrating Common Rosefinch and a few Bee-eaters, other typical species were Whinchat, Stonechat, Common Whitethroat, the best bird a male Common Rock Thrush, common raptors (Kestrel, Buzzard and Long-legged Buzzard). As soon as we left the main road through the Getik valley we were on a dirt road, it wasn't too bad, just occasional corners where heavy rain had washed away the top, still it was 35kms of slow driving through wonderful wild Armenia, quite close to the frontier with Azerbaijan, we crossed one car and neither overtook nor were overtaken by any vehicles. We DID see some human activity, clearly the snow had not long left the slopes so people were setting up their summer grazing dwellings in tumble-down farmhouses that presumably had been empty since the previous autumn. As we climbed the Ttujia Pass 3 Lesser Spotted Eagle wheeled low overhead, thereafter we were pootling along at around 1800m altitude, we noted a very high density of Red-backed Shrike and as we descended into the village of Itsakar we heard our first Tree Pipit, Chaffinch and Green Warbler of the trip. Our pleasure at finding some surfaced road as we entered Itsakar soon faded as the road became a stony track, it was so bad I thought perhaps we were on the way to a remote farmhouse, but no, it was the main road to Idjevan – 32 kms of rocks and stones made me yearn for the potholes of the previous day! The Lada did a good job keeping us going through mostly wooded habitat, lots of beech and oak forest where Green Warbler and Caucasian Chiffchaff were common, we also saw our first Red Squirrels. On the more open hilltops there were occasional Stonechat, Rock Bunting and more Red-backed Shrike and as we turned one corner, a Raven and an Egyptian Vulture took off in front of us. There, just up a slope by the roadside were three cows and next to them what was left of a calf, the head was still intact but the Ravens and vultures had been doing a good job of cleaning up the environment. As we finally started a tortuous descent above Idjevan, another corner, another surprise as a Wolf ran across, turned to give us a chilling stare, and then scooted into the forest. We were puzzling over this sighting initially as the wolf wasn't grey as our Alpine ones at home, but sure enough on looking up Caucasian Wolf,
ssp cubanensis
the photo showed exactly the colouration we saw.
24 May
Hoping to perhaps find Semi-collared and Red-breasted Flycatchers in the valley's woodland, we spent the morning between Idjevan and Dilijan which was to be our final night's stop of the fortnight. Some lovely mature beech forest didn't yield any flycatchers, but added some more species to our Armenia tally, Great Spotted Woodpecker heard only, (which was a pity as the Caucasian race is quite striking in plumage), Song Thrush, Robin, Wren, Nuthatch, Common Treecreeper were all new species for the trip, and with Woodpigeon, Blue and Great Tit, Blackcap, Mistle Thrush, Grey and White Wagtail seen it felt more like home than the far-off eastern reaches of the Western Palearctic. Caucasian Chiffcaff, Common Rosefinch,
samamisicus
Common Redstart and Green Warbler reminded us where we were though.
25 May
Our last morning gave us additional 'trip ticks' Coal Tit and Dunnock around the hotel. I managed to photograph one of the local Jays of the Caucasus and Asia Minor subspecies
krynicki
. I also spent a good hour and a half before breakfast scanning the distant hillsides in vain hoping to see Caucasian Black Grouse which I read has been seen by birding tours looking up from the town. Although we needed to get back to the apartment in Yerevan that afternoon we managed a short detour along the north side of Lake Sevan on our way south as I hoped to see the big Armenian Gull colony at Norashen Island. On the way we stopped at the exit of the Dilijan Tunnel by a mountain stream with Sand and House Martins nesting nearby. A Dipper zoomed past, looking a lot greyer and paler brown above than the French and British variety, the subspecies
caucasicus
occurs in Armenia. The north shore of Lake Sevan is dotted with half-completed holiday complexes and unfinished buildings and we were glad to find an undeveloped area near Norashen. With time pressing we didn't drive across the peninsula to the island but explored the nearest shoreline, three Cattle Egrets were another addition, as was Moorhen, and one set of bushes held a fine singing Marsh Warbler. A weasel risking its life crossing the main highway back to Yerevan was our last new species of the voyage. Our bird species total of 149 would of course represent a poor return for a full-on birding holiday and those with 'target birds' would do better to have guide/driver/interpreter for certain species but hopefully this report gives an idea of what Armenian 'do-it yourself' birding and sightseeing can be like.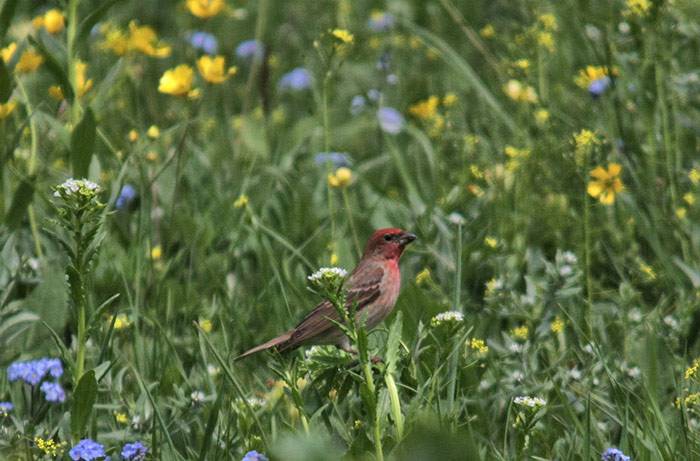 Species List
:
| | |
| --- | --- |
| Ruddy Shelduck | Tadorna ferruginea |
| Gadwall | Mareca strepera |
| Mallard | Anas platyrynchos |
| Red-crested | PochardNetta rufina |
| Ferruginous | DuckAythya ferina |
| Tufted Duck | Aythya fuligula |
| Chukar Partridge | Alectoris chukar |
| Common | QuailCoturnix coturnix |
| Little Grebe | Tachybaptus ruficollis |
| Great Crested | GrebePodiceps cristatus |
| Western White | StorkCiconia ciconia ciconia |
| Glossy Ibis | Plegadus falcinellus |
| Black-crowned Night Heron | Nycticorax nycticorax |
| Squacco Heron | Ardeola ralloides |
| 'Western Cattle Egret' | Bubulcus ibis |
| Grey Heron | Ardea cinera |
| Purple Heron | Ardea purpurea |
| Pygmy Cormorant | Microcarbo pygmeus |
| 'Continental Great Cormorant' | Phalacrocorax (carbo) sinensis |
| Egyptian Vulture | Neophron percnopterus |
| European Honey Buzzard | Pernis apivorus |
| Eurasian Griffon Vulture | Gyps fulvus |
| Cinereous Vulture | Aegypius monachus |
| Short-toed Snake Eagle | Circaetus gallicus |
| Lesser Spotted Eagle | Clanga pomarina |
| Booted Eagle | Hieraaetus pennatus |
| Golden Eagle | Aquila chrysaetos |
| Levant Sparrowhawk | Accipiter brevipes |
| Western Marsh Harrier | Circus aeruginosus |
| Black Kite | Milvus migrans |
| Long-legged Buzzard | Buteo rufinus |
| 'Northern Steppe Buzzard ' | Buteo buteo vulpinus |
| Common Moorhen | Gallinula chloropus |
| Eurasian Coot | Fulica atra |
| Black-winged Stilt | Himantopus himantopus |
| White-tailed Lapwing | Vanellus leucurus |
| Little Ringed Plover | Charadrius dubius |
| Green Sandpiper | Tringa ochropus |
| Common Redshank | Tringa tetanus |
| Common Black-headed Gull | Chroicocephalus ridibundus |
| Armenian Gull | Larus armenicus |
| Common Tern | Sterna hirundo |
| White-winged Tern | Chlidonias leucopterus |
| Western Stock Dove | Columbia oenas |
| Common Woodpigeon | Columbia palumbus |
| Eurasian Collared Dove | Streptopelia decaocto |
| Laughing Dove | Spilopelia senegalensis |
| Common Cuckoo | Cuculus canorus |
| Alpine Swift | Tachymarptis melba |
| Common Swift | Apus apus |
| European Roller | Coracias garrulous |
| Blue-cheeked Bee-eater | Merops persicus |
| European Bee-eater | Merops apiaster |
| Eurasian Hoopoe | Upopa epops |
| Syrian Woodpecker | Dendrocopus syriacus |
| Great Spotted Woodpecker | Dendrocopus major |
| European Green Woodpecker | Picus viridis |
| Common Kestrel | Falco tinnunculus |
| Eurasian Hobby | Falco subbuteo |
| Peregrine Falcon | Falco peregrinus |
| Red-backed Shrike | Lanius collurio |
| Lesser Grey Shrike | Lanius minor |
| Woodchat Shrike | Lanius senator |
| Eurasian Golden Oriole | Oriolus oriolus |
| Eurasian Jay | Garrulus glandarius |
| Eurasian Magpie | Pica pica |
| Red-billed Chough | Pyrrhocorax pyrrhocorax |
| Western Jackdaw | Coloeus monedula |
| Rook | Corvus frugilegus |
| Hooded Crow | Corvus cornix |
| Northern Raven | Corvus corax |
| Coal Tit | Periparus ater |
| Eurasian Blue Tit | Cyanistes caeruleus |
| Great Tit | Parus major |
| Bearded Reedling | Panurus biarmicus |
| Greater Short-toed Lark | Calandrella brachdactyla |
| Lesser Short-toed Lark | Alaudala rufescens |
| Crested Lark | Galerida cristata |
| Woodlark | Lullula arborea |
| Eurasian Skylark | Alauda arvensis |
| Sand Martin | Riparia riparia |
| Eurasian Barn Swallow | Hirundo rustica |
| Eurasian Crag Martin | Ptyonoprogne rupestris |
| Common House Martin | Delichon urbicum |
| 'Western Cetti's | Warbler' Cettia cetti |
| Caucasian Chiffchaff | Phylloscopus (sindianus) lorenzii |
| Green Warbler | Phylloscopus nitidus |
| Great Reed Warbler | Acrocephalus arundinaceus |
| 'Caspian Reed Warbler' | Acrocephalus (scirpaceus) fuscus |
| Marsh Warbler | Acrocephalus palustris |
| Upcher's Warbler | Hippolais languida |
| Savi's Warbler | Locustella luscinioides |
| Eurasian Blackcap | Sylvia atricapilla |
| Garden Warbler | Sylvia borin |
| Lesser Whitethroat | Sylvia curruca |
| Eastern Orphean Warbler | Sylvia crassirostris |
| Common Whitethroat | Sylvia communis |
| Ménétriés's Warbler | Sylvia mystacea |
| Eurasian Wren | Troglodytes troglodytes |
| Eurasian Nuthatch | Sitta europaea |
| Western Rock Nuthatch | Sitta neumayer |
| Eastern Rock Nuthatch | Sitta tephronota |
| Eurasian Treecreeper | Certhia familiaris |
| Rose-coloured Starling | Pastor roseus |
| Common Starling | Sturnus vulgaris |
| Common Blackbird | Turdus merula |
| Song Thrush | Turdus philomelos |
| Mistle Thrush | Turdus viscivorus |
| Rufous-tailed Scrub Robin | Cercotrichas galactotes |
| Spotted Flycatcher | Muscicapa striata |
| Common Nightingale | Luscinia megarynchos |
| White-throated Robin | Irania gutturalis |
| 'Central Asian Black Redstart' | Phoenicurus (ochruros) phoenicuroides |
| 'Ehrenberg's Redstart' | Phoenicurus phoenicurus sammamisicus |
| Common Rock Thrush | Monticola saxatilis |
| 'Western Blue Rock Thrush' | Monticola solitarius |
| Whinchat | Saxicola rubetra |
| 'Byzantine Stonechat' | Saxicola maurus variegatus |
| Northern Wheatear | Oenanthe oenanthe |
| Isabelline Wheatear | Oenanthe isabellina |
| 'Eastern Black-eared Wheatear' | Oenanthe (hispanica) melanoleuca |
| Finsch's Wheatear | Oenanthe finschii |
| White-throated Dipper | Cinclus cinclus |
| House Sparrow | Passer domesticus |
| Eurasian Tree Sparrow | Passer montanus |
| Rock Sparrow | Petronia petronia |
| Dunnock | Prunella modularis |
| Black-headed Wagtail | Motacilla (flava) feldegg |
| Grey Wagtail | Motacilla cinerea |
| White Wagtail | Motacilla alba |
| Tawny Pipit | Anthus campestris |
| Meadow Pipit | Anthus pratensis |
| Tree Pipit | Anthus trivialis |
| 'Caucasian Water Pipit' | Anthus (spinoletta) coutelli |
| Common Chaffinch | Fringilla coelebs |
| Common Rosefinch | Carpodacus erythrinus |
| European Greenfinch | Chloris chloris |
| Twite | Linaria flavirostris |
| Common Linnet | Linaria cannabina |
| European Goldfinch | Carduelis carduelis |
| Red-fronted Serin | Serinus pusillus |
| Corn Bunting | Emberiza calandra |
| Rock Bunting | Emberiza cia |
| Grey-necked Bunting | Emberiza buchanani |
| Ortolan Bunting | Emberiza hortulana |
| Black-headed Bunting | Emberiza melanocephala |
| Common Reed Bunting | Emberiza schoeniclus |