Upper Akkar… One of the Middle East's Major Spots for Witnessing an Amazing Spectacle of Soaring Bird Migration!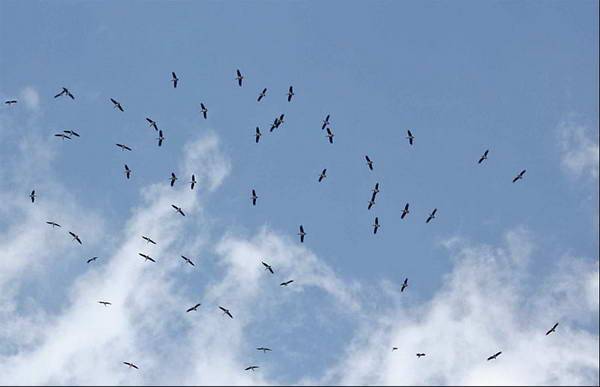 The African Rift Valley/Red Sea flyway, on which the mountains of Lebanon lie as a 'bottleneck', is one of the most significant flyways for migratory soaring birds (MSBs) in the world. Over 1 million soaring birds, many globally threatened, use this corridor between their breeding grounds in Europe and Asia, and wintering areas in Africa each spring and autumn. Making the Rift Valley/Red Sea flyway 'soaring bird friendly' is the main goal of the project "Mainstreaming Conservation of Migratory Soaring Birds into Key Productive Sectors along the Rift Valley/Red Sea Flyway", where the Lebanon component is executed by United Nations Development Programme (UNDP), Ministry of Environment and the Society for the Protection of Nature in Lebanon (SPNL) in partnership with BirdLife International. Black Storks – Upper Akkar by Richard Porter SPNL was thrilled to host a well-known international ornithologist and BirdLife's Middle East Advisor who wrote the field guide "Birds of the Middle East", Richard Porter, to a Migratory Soaring Birds Workshop, which was held September the 26th through October the 2nd, 2011 at SPNL's Visitors' Center in Upper Akkar, which is conserved by SPNL in collaboration with local communities through the Hima approach. Beginning with practical migratory soaring bird watching and finishing with theoretical class sessions, Richard Porter led an excellent workshop from Hima Upper Akkar, which is based out of beautiful North Lebanon, providing a great diversity of migratory soaring bird species and an excellent environment to develop and improve migratory soaring bird identification and observation skills. "We were so lucky that the migration was good while we were there. This was a real bonus! The site was the best I have visited in the Middle East for showing people soaring bird migration", said Porter. Participants represented the Ministry of Environment, Ministry of Agriculture, Ministry of Tourism, Lebanese Union for Shooting and Hunting, University of Balamand, Educational Center for Research and Development, Amateur Hunters NGO and Al-Sayd Magazine. They learned to develop migratory soaring bird watching, counting and identification skills, and acquired an understanding of the migration, threats and priority actions for their monitoring and conservation.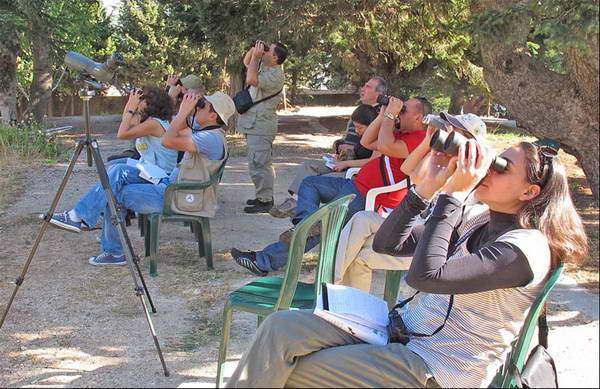 Raptor Watching – Upper Akkar by Richard Porter The workshop was not only suitable for newcomers to migratory soaring bird watching and identification, but also valuable for the little more experienced as it helped increase the participants' confidence in migratory soaring bird identification, and perhaps added new species to their repertoire. The main spotted MSB species during the workshop were the Black Stork, White Stork, Osprey, Lesser Spotted Eagle, Great Spotted Eagle, Short-toed Eagle, Booted Eagle, Black Kite, Egyptian Vulture, Honey Buzzard, Marsh Harrier, Pallid Harrier, Steppe Buzzard, Levant Sparrow Hawk, Eurasian Sparrow Hawk and Bee-eaters. As said by Porter, "The Upper Akkar is clearly a very important bottleneck site. I suspect that if a count over an entire autumn were made (mid August to late October), well over 100,000 soaring birds would be counted – possibly much higher". According to the participants, the workshop gave them the opportunity to learn new concepts, relax and enjoy the beautiful surroundings of all the field migratory soaring bird watching, which allowed them to both appreciate the fantastic and bird-rich Hima Upper Akkar, and also to practice their newly-learned migratory soaring bird identification skills! Most importantly, and as a group, explored how their actions, and especially if allied, can feed into a national strategy for conserving migratory soaring birds and the bottle-neck sites over which they migrate. "One of the most successful outputs, in my opinion, was the formation of a small committee of the participants to consider how to address the threats to MSBs", said Porter.

Steppe Buzzard (left) and Short-toed Eagle (right) – Upper Akkar by Richard Porter Tala Khatib Hima Education and Outreach Officer The Society for the Protection of Nature in Lebanon (SPNL) E-mail: talakhatib@gmail.com tkhatib@spnl.org Tel: + 961 1 748309 Website: www.spnl.org