British Birds – a new monthly newsletter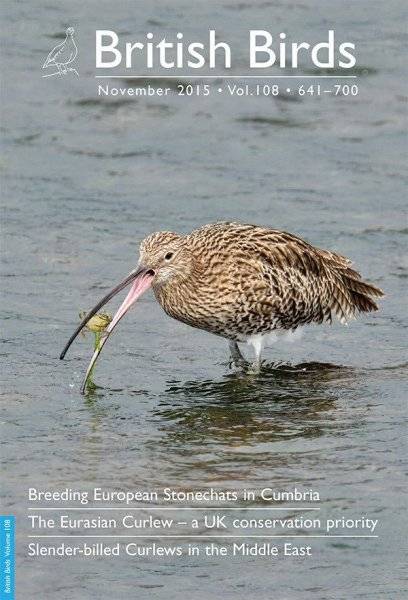 Many OSME members will be subscribers to British Birds or may have taken up recent trial offers. British Birds also produce a free e-newsletter every month which is available to non-subscribers. This newsletter offers a nice flavour of what has been published recently and what is planned, and has sections such as book of the month, news and comment, rarities and special offers.
This is a new initiative from one of Britain's' leading birding publication. It covers the UK and Western Palearctic and has been the birdwatchers' journal of record since 1907. It is read and recommended by many well known amateur and professional ornithologists, writers and photographers with Simon King stating that "British Birds is the gold standard of ornithological literature in the UK". There are often articles that are relevant to the OSME region, for example in the November 2015 there was a fascinating review of Slender-billed Curlew sightings in the Middle East.
British Birds is helping Middle East ornithology and conservation by being a sponsor for the forthcoming Arabic edition of Birds of the Middle East, the forthcoming Key Biodiversity Areas of Iraq and the proposed study of bird persecution in Arabia – all projects that OSME is actively promoting.
To receive the BB newsletters, just log on to www.britishbirds.co.uk and complete the sign up form at the bottom of the page. Give it a try!
British Birds Newsletter