Priority sites for conservation and protection: "Key Biodiversity Areas of Iraq"
From marshlands to mountains: Iraq's most vital areas for wildlife are mapped for the first time in an important new publication, Key Biodiversity Areas of Iraq. In recent decades, both Iraq's identity and its landscape have been scarred by conflict. But there's another side to this vast Middle Eastern country the news reports don't show: its stunning natural environments. From the world famous Mesopotamian Marshes – dubbed the 'Cradle of Civilization' – to mountain peaks; from woodlands to wetlands and from deserts to rivers, this vast, diverse country is home to an equally diverse array of wildlife, such as the endangered Persian Leopard and the endemic Basra Reed Warbler.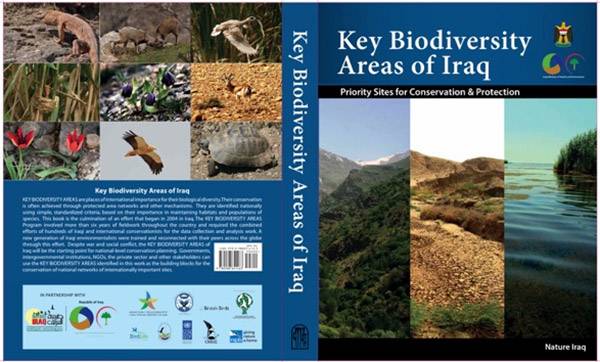 Now, for the first time, some of Iraq's most important natural areas have been mapped and listed, along with the threats they continue to face, in the comprehensive book Key Biodiversity Areas of Iraq, the culmination of over a decade's work from the Non-Governmental Organization (NGO) Nature Iraq, in cooperation with the Iraqi Ministry of Health and Environment. Against the background of conflict, scientists from Nature Iraq, Iraqi ministries and academic institutions have carried out comprehensive surveys throughout Iraq resulting in the identification of 82 Key Biodiversity Areas – the jewels in the crown for Iraq's wildlife. The surveys, mostly undertaken from 2005 to 2011, covered both summer and winter, and many sites were visited multiple times to ensure they were as thorough as possible. The result is an invaluable inventory of the country's most important sites for biodiversity – and the threats they face.
"Iraq's wildlife has shown tremendous resilience in the face of the troubles the region has faced, and this publication is an important first step in building a sustainable future for the country's nature," says Patricia Zurita, CEO of BirdLife International.
OSME were delighted to provide some financial support for this landmark publication, and we'll be writing a review of the book for the OSME website in the near future. In the meantime, Key Biodiversity Areas of Iraq: Priority Sites for Conservation & Protection, 2017, by Nature Iraq in collaboration with the Iraqi Ministry of Health and Environment, published by Tablet House Publishing, is available from www.nhbs.com