The Arabic App of Birds of the Middle East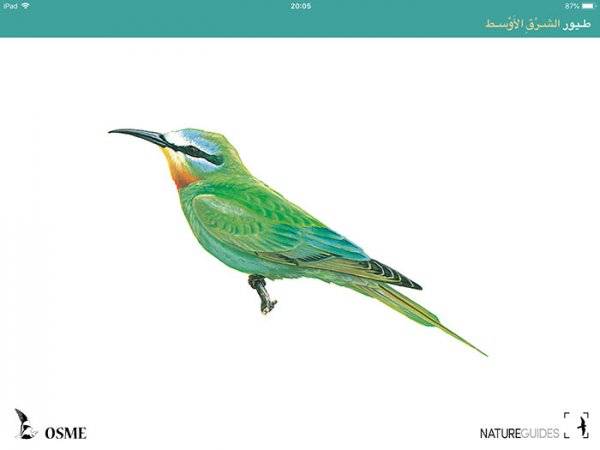 A key focus for OSME over the last year has been the production of a smartphone App version of the Arabic field guide to the birds of the Middle East. In April 2018 we were able to launch the iPhone version and just last week the final stage of the project was reached when the App was released on Android.
The Android version is free to download here
The Apple version is free to download here
OSME hope that this freely available smartphone App will complement the Arabic field guide that was launched at the Emirates Airline Festival of Literature in Dubai in March 2017. Making the smartphone version freely available was a crucial part of the project planning as we really want to use this as a way of engaging a new audience of potential bird enthusiasts across the region.
The project has been years in the making and has evolved over time from the original Aspinall and Porter field guide, into an Arabic version and now available for smartphones. To turn the project into a reality has been a huge team effort. Bloomsbury, under the guidance of Jim Martin, have provide a huge amount of support and encouragement, especially in the production of the Arabic printed version. The artists John Gale, Mike Langman and Brian Small gave us permission to use the original plates in the Arabic versions. The production of the printed Arabic version was jointly support by BirdLife International, RSPB and OSME, and significant funding was received from Avifauna, British Birds and the Hima Fund. The original English text was translated by Abdulrahman Al-Sirhan Alenezi with editorial support from Ibrahm Khader, Sharif Jbour, Nabegh Ghazal Asswad and Akram Darwish.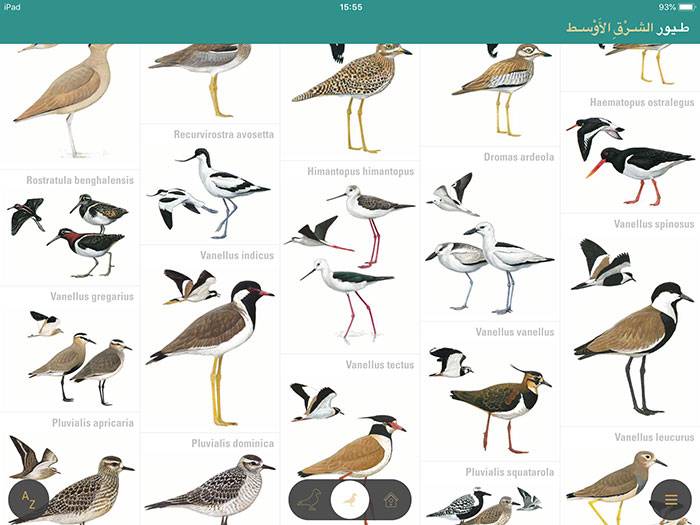 The production of the Apple and Android versions was expertly overseen by Fiona Barclay and the team at NatureGuides. The App version received considerable financial support from the HSBC Middle East Community Fund, British Birds Charitable Trust, Rockjumper Worldwide Birding Adventures, Bird Holidays, Chris Spooner and David Lindo (The Urban Birder), as well as donations from many OSME members and supporters in the Middle East and across the world. It was particularly fitting to receive a significant donation from Sylvia and Jack Aspinall in memory of their son Simon, who jointly authored the original field guide with Richard Porter. Richard of course, has been an inspiration throughout the project, offering advice and support from the earliest discussions, and expert input from start to finish.
Finally, all of OSME Council have been fully behind the project from the outset, but special thanks go to Chris Hughes for expertly managing the finances and keeping everything within budget (just!).
What a fabulous team effort – happy Middle Eastern birding!
Dr Rob Sheldon
Chairman, OSME