Free field guides for Central Asia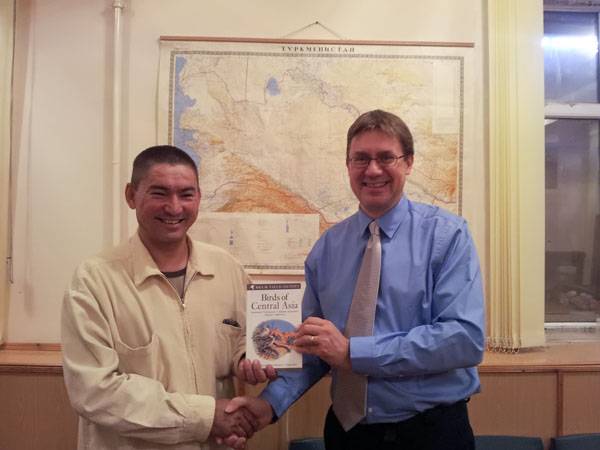 Atamurat Veyisov (OSME Country Contact) and Mark Day (RSPB). Photo: Stephanie Ward (RSPB)
The recent publication of the long awaited Helm field guide Birds of Central Asia by Raffael Aye, Manuel Schweizer and Tobias Roth, heralds the start of a new era of birdwatching in this fascinating region. For the first time, all of the species, together with illustrations and distribution maps, are presented in a single volume that it is practical to use in the field. Through OSME Chairman, Geoff Welch, the publishers, Bloomsbury Publishing, have kindly donated 25 copies to the RSPB (BirdLife in the UK) for distribution to the national BirdLife partners, local bird clubs and most active bird conservationists in Kazakhstan, Turkmenistan and Uzbekistan.
Dr Kuyvandik Poladov (UNESCO World Heritage Focal Point) and Mark Day (RSPB). Photo: Stephanie Ward (RSPB)
The first consignment of these were delivered to Turkmenistan in November 2012 when RSPB staff attended a meeting of the Caspian Ecological Forum in Turkmenbasi. The field guide is a major step forward for birdwatching, research and conservation in Central Asia and it is hoped that the guide will encourage more Central Asia nationals to develop an interest in enjoying, studying and conserving the birds and other wildlife of this exciting and important region.