Richard Porter becomes a Birdlife Member of Honour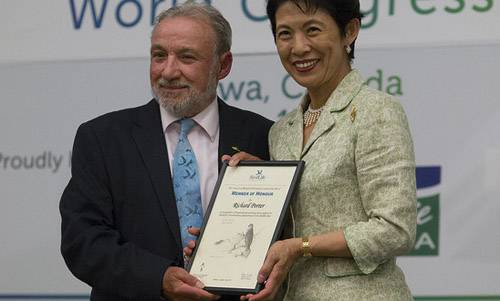 At the recent Birdlife International World Congress held recently in Ottawa, Canada, Richard Porter was made a BirdLife Member of Honour for his work in Yemen and Iraq. The award was presented by HIH Princess Takamado, BirdLife's Honorary President. It was noted that:
In various roles, including Head of BirdLife's Middle East Division, Richard Porter, BirdLife's Middle East Advisor, has worked tirelessly for conservation in the region, perhaps most notably on the island of Socotra, Yemen, and most recently in Iraq, where he has supported capacity development, and helped build the data resources from which the country's potential protected areas have been identified.
Richard Porter is a past Chairman of OSME and continues to support the society on a regular basis in a variety of valuable ways.
For further details see http://www.spnl.org/ten-new-members-of-honour-at-birdlife-world-congress//