Help wanted for raptor surveys in Turkey
CALL FOR VOLUNTEERS
JOIN RAPTOR MIGRATION CENSUS
IN TURKEY THIS SUMMER
Location: Adana Province, Turkey
Duration: 15 August – 15 October 2015
Job Type: Volunteer
Application Deadline: Open until filled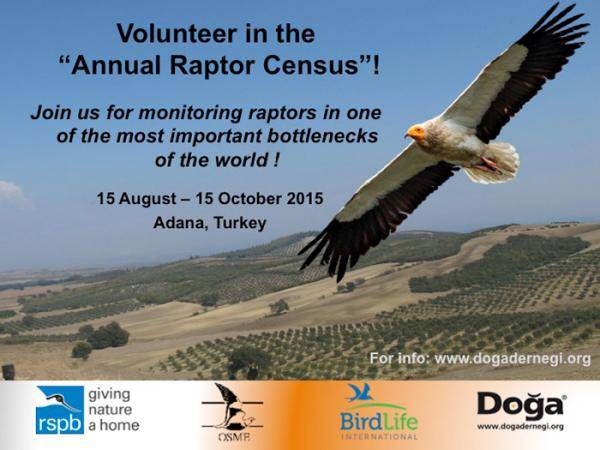 Background:
Doğa Derneği is a leading nature conservation organization in Turkey and a partner of Birdlife International, a network of grassroots organizations operating in over 120 countries and territories worldwide. In line with our mission to defend the rights of nature, we have been working as a grassroots organization, conducting scientific research, providing solutions for conservation, establishing partnerships, mobilizing volunteers, and driving policy change.
The Egyptian Vulture is an endangered raptor that is widespread across southern Europe, Africa, and Asia. Birds from SE Europe migrate around the eastern coast of the Mediterranean Sea, and pilot work in 2013 identified suitable raptor migration monitoring stations to count Egyptian Vultures and other raptors in southern Turkey.
In 2014, from 16th August to 16th October a team led by Doğa Derneği (BirdLife Turkey) with the support of Royal Society for the Protection of Birds (RSPB) and Ornithological Society of the Middle East (OSME), conducted the first full fall migration census in Adana province, Turkey, counting not only the Egyptian vultures but all the migrating raptors. Season's total number of migrating raptors was over 130.347 with an amazing figure of 47.594 Lesser Spotted Eagles, more than 95 % of the world population.
The annual census provides a robust time series to model population trends for many species, particularly for the western Turkish Egyptian Vulture population and thus serves as the basis to justify conservation measures.
2015 Census Dates and Duration:
Total duration is 15 August – 15 October 2015, but applicants are welcome to participate for only parts of this period. Minimum duration of commitment is 2 weeks for highly skilled participants, 4 weeks for volunteers who will require substantial training.
Duties of Volunteers:
(1) Daily observations and censuses of all migrating raptors with a particular focus on Egyptian Vultures,
(2) Assisting in data entry,
(3) Daily chores around the field base.
* Basic housing (shared rooms), local transportation, and basic food will be provided. The climate is warm and humid. Volunteers will be provided with basic bird watching and tracking training.
Required Qualifications:
Keen bird watcher with good eyesight and raptor identification skills; physical fitness to endure exposure to direct hot sunlight for > 8 hours every day (7 days a week); ability to follow established protocols and record data accurately; proficiency with computers and data entry; must capable of working independently and as part of a culturally diverse team.
Preferred Qualifications: Experience in raptor migration monitoring; valid driver's license and a good driving record.
To Apply: Please send your CV and cover letter to doga@dogadernegi.org quoting "Ref: RMC2015" in the e-mail subject line.
In your cover letter please describe your previous experience related to birdwatching (including species monitoring and identification, familiarity with bird species, bird counting and any other related areas) and in response to the below questions:
What previous bird watching experience do you have (recreation or in other organized groups)?
If you have been involved with organized bird counts, what techniques have you used to record and track bird species? What species of birds were you monitoring?
What equipment have you used for bird tracking and counting? Do you have bird monitoring equipment of your own that you can bring?
What is your motivation and interest in applying?
If you are interested in helping with this conservation project but unable to volunteer, please consider donating to the census effort!
For your donations:
Doğa Derneği EUR account no: 81644250
IBAN: TR 2000 0670 1000 0000 8164 4250
Doğa Derneği GBP account no: 81947415
IBAN: TR 0700 0670 1000 0000 8194 7415
Doğa Derneği USD account no: 81657753
IBAN: TR 6200 0670 1000 0000 8165 7753
Bank Name: YAPI KREDI
Bank Address: DIKMEN CADDESI NO: 227/14 DIKMEN, CANKAYA, ANKARA-TURKEY
Swift Code: YAPITRIS072