Mick Carroll aka "Pickering Mick", 26 August 1947 – 21 October 2015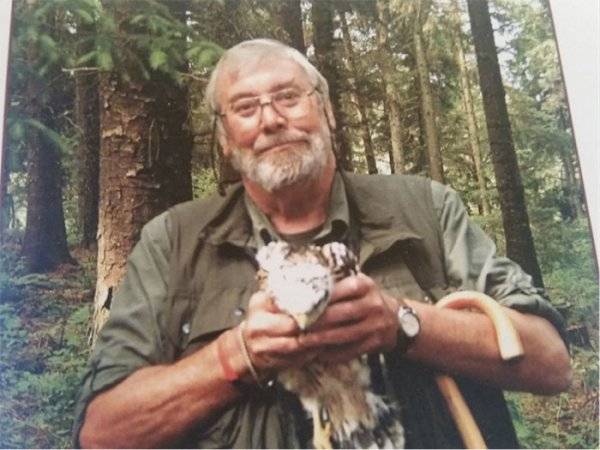 OSME, like many organisations in the ornithological world, are saddened to hear of the recent death of Mick Carroll, one of our staunchest supporters. Sal Cooke, an OSME Council Member, reflects here on the life and work of this most memorable chap.
Just yesterday (November 4th 2014) I had the privilege of attending the funeral service of Mick Carroll, a long standing OSME member, I had also visited him a number of times whilst he was installed in his hospice bed. Mick considered himself to be more fortunate than others in making his last journey, as he was fully in command of the whole process and kept his faculties to the very end.
Not surprising to anyone who knew Mick, he managed to persuade staff or visitors to regularly push his bed out onto his verandah, where he could continue watching for passing birds, often wearing his "I'd rather be birding" tee-shirt. Just the day before he died, with his newly acquired lighter weight binoculars around his neck, he was thrilled to have a Marsh Harrier fly overhead.
He must have been one of the more unusual patients, as he arranged his own living wake with over 110 guests attending his 68th birthday party also held in the hospice. Plus he insisted on one last trip out to see his beloved birds, moorlands and RAF station. A visit which was co-ordinated by many friends and service personnel alike, St Catherine's Hospice recorded the day here. https://www.stcatherineshospice-nyorks.org/hospice-makes-final-wishes-come-true/
The crematorium yesterday, in East Yorkshire, was incredibly well attended with a massed gathering of over 150 birders, authors, scientists, bird artists, film makers, naturalists and foresters along with most of the conservation organisations charitable or publically funded, being represented. I would be hesitant to attempt to list them in case I missed anyone or any organisation out. But it did feel like the Who's Who of the conservation world were present. People had travelled great distances to pay their respects to Mick, with many having done what the family had asked by wearing smart birding gear and displaying a poppy.
Many will know of, or have read about, Pickering Mick and his tireless contribution to the prevention of bird persecution across the English uplands and in particular in North Yorkshire, where he lived as an adopted Yorkshireman for over 44 years. Many more people will be aware of his various roles and his remarkable ability to be seen and heard by many, especially on the topic of his beloved Hen Harriers. But I suspect that many people will not know of some other aspects of Mick's contribution to parts of the ornithological world, quite removed from North Yorkshire. So it was important for me to do as Mick himself had asked, and although feeling a little self-conscious, I attended the service wearing the bright yellow and very distinctive OSME tee-shirt. Mick had told me weeks before he died, that he wanted me to wear it, to remind people of the importance of the Middle East in his life and how he felt about the importance of OSME's work.
Mick was born in Lancashire in 1947 and always considered himself extremely lucky to have been adopted at 6 months old by a couple, who would instil in him the virtue and importance of family, a hugely important facet of Mick's life. He used to say that it was his father, who encouraged his love of nature from an early age, and he clearly remembered the excitement of their first outing together, to a moor near their home at Colne in Lancashire, to see his first Short-eared Owls and Ring Ouzel. We heard lots of tales of his boyhood from his lifelong friend during the service. This was a poignant reminder to me, knowing that Mick has brought most of his grandchildren to the Yorkshire Coast and in particular to RSPB Bempton, to make sure that they could experience similar moments with their grandfather as he did with his father. I am sure the importance of the next generation's knowledge and enthusiasm was in his mind, when he frequently asked me about how OSME were getting on with the Birds of the Middle East Arabic version, as he recognised that this would be a hugely important project for the region. He often remarked "who will take those Omani children out and show them the wonders of birds?"
His first-hand experience of our region was primarily due to the fact that Mick had joined the RAF at the age of 19. He served as an RAF Gunner, in Cyprus, Oman, Bahrain, Germany (which was where he had his first encounters with Hen Harriers in the field), then to British Honduras and his last posting was to Northern Ireland. It was whilst on operations in Northern Ireland that Mick suffered a back injury which ended his military career at the age of 30 years old. This, however, did not mean an end to connections with the RAF, as his conservation skills were utilised substantially at RAF Fylingdales North Yorkshire, over many years in habitat creation and monitoring schemes.
During the late 1960s to early 1970s, the RAF alongside the Royal Artillery was deployed in Southern Oman. Initially to assist the Sultanate's own forces with training and development ofskills. Mick was a part of this force and in 1968, although not particularly reported on at the time, his regiment found themselves having to react to quite serious incursions. Subsequently Mick was part of the force sent to guard Salalah airport. The memories of this time wereto stay important to Mick right to the very end.
From those early days in the Dhofar region, to the present time, Mick always had a soft spot for Oman and the Middle East. But being pragmatic when having left military life, he realised that he would need to pursue another career which would mean not travelling abroad as much as he would have liked. He and Helene, his wife of over 44 years, moved to Pickering and he took the opportunity to study agriculture and farm management at both Newcastle and Durham, gaining various positions on a North Yorkshire Estate and other farms. However, his back injury eventually got the upper hand and he realised he could no longer do the more physical work required. He then took up a position with English Country Cottages, which given his area being Northern England meant he did really "get out and about" and so set about creating his extraordinary network across the county and beyond. This network soon included the coastal birding groups of Scarborough, Filey Brigg and Flamborough Head, and included the East Yorkshire Ringing Group of which he was a founding member.
Mick's ability to create and sustain friendships was clearly evident throughout Mick's life. For example, when he and Helene decided to go abroad to celebrate their 25th wedding anniversary. Rather than travel by themselves, they joined a trip to Israel organised by the East Yorkshire Ringing Group and as we would expect, Mick made lots of local contacts. Many of these individuals Mick kept in touch with over the years and if his Israeli friends came over to Birdfair, then they usually tried to meet up.
It was through the Flamborough Ornithological Group affectionately known as FOG, that his passion for Oman and the Middle East re-surfaced, as two of the founding members at Flamborough were Andrew Lassey and Andrew Grieve (both long standing members of OSME). Mick loved to visit Flamborough from the late 1990s to hear of the regular trips to Oman and later to Kazakhstan.
Mick and Helene jointly volunteered for Andrew Grieve at Blacktoft Sands Reserve over a long period, even opening up the reserve on New Year's Day itself, one year, when Andrew was counting raptors in Egypt! It was whilst Andrew was serving on Council that he persuaded Mick to join OSME and ever since, he has been a great supporter, attending summer meetings and always involving himself in the AGM fully.
Interestingly, one of the things that stood out for Andrew Lassey on one of his last visits to the hospice, was the importance Mick placed on telling Andrew that he had put all his affairs in order and all his dues were paid up, including importantly that of OSME.
Mick had always wanted to return to the region but often other things got in the way. When he found he had both the time and finances, he set about trying to organise such a trip. Although many were approached, no one had the right "time slots" for Mick's required dates. So typically of Mick, he simply arranged to travel alone, employed a local guide with a vehicle and took a copy of the Birdwatching Guide to Oman by OSME members Jens and Hanne Eriksen. The trip was in February 2013. Mick stayed for just over 2 weeks . He based himself at Salalah and ventured to Thumrait (which he remembered from his previous visit) and to the Quitbit Hotel in the desert, of which he had heard so much.
Mick thoroughly enjoyed himself, there is even an entry in the bird log at Quitbit simply signed Pickering Mick. But his personal highlight of the trip was at Montasur where he recognised an old pair of military issue binoculars being used by an old Omani. Through the aid of the local guide and a smattering of English it became obvious that this chap was a local Omani fighter during the same period as when Mick himself was based there. Indeed the man thanked Mick profusely for all the British had done to save his country, which was a really special moment for Mick as a military man.
No one could fail to notice the importance of Mick's RAF links at his funeral, with present day service men and women lining the route into the crematorium grounds, with full military precision being deployed as the coffin was brought into the crematorium by six RAF serving members as pallbearers.The RAF Padre who conducted the service, ironically shared the fact that he had been on the RAF Ornithological trip to Spain when Mick had fallen ill and was subsequently diagnosed with the cancer that was to finally take his life.
In talking to the RAF personnel whether the Wing Commander, David Keighley or the members of the regiment who had volunteered for the day's duties. They all spoke of Mick as someone who never announced he was coming to visit, but would just turn up to give a hand with things, or to listen to others and advise. One service man said "there are those that talk a lot and those that do" and in his opinion "Mick was one of the "doers" of the world".
When putting this piece together Nick Moran (BTO and OSME Council Member) also reflected in a similar vein.
"Mick was a long-serving BTO Regional Rep for North East Yorkshire, where he did a fantastic job engaging and mobilising volunteers to take part in surveys and submit data. His success in this area was refreshingly 'old school': Mick largely steered clear of the computer (or "the Devil's box" as he referred to it – Helene dealt with most of his emails!) preferring instead to pick up the telephone or talk to people face-to-face. A call from Mick always began with an unmistakable "Now then"…and invariably ended with the recipient agreeing to get on with whatever Mick had asked them to do!"
We all smiled at the fact, that even the last day out to his beloved Moors, provided carefully by the RAF and the Hospice, was to a degree "manufactured" by Mick to ensure that the relevant agencies were all present in the same room. Why? So he could witness for himself that they were starting to discuss the next Hen Harrier project on land that Mick knew, the RAF no longer needs.
As we all stood in silence for the Last Post, I guess we were all reflecting as to whether we will ever see the likes of Mick again.
For me I pondered on the fact that as we all engage more and more digitally, there was an important message echoing throughout the day. Put simply, we must try to ensure that we do not lose the ability to develop and maintain those very important human skills that Mick clearly utilised daily.
Mick Carroll a true catalyst for nature conservation who operated in his own unique way.