Lebanese Authorities will not leave hunters free to flout the law
OSME is very pleased to read the following statement on the website of the Society for the Protection of Nature in Lebanon (SPLN) and salutes the prompt action of the Minister of the Environment.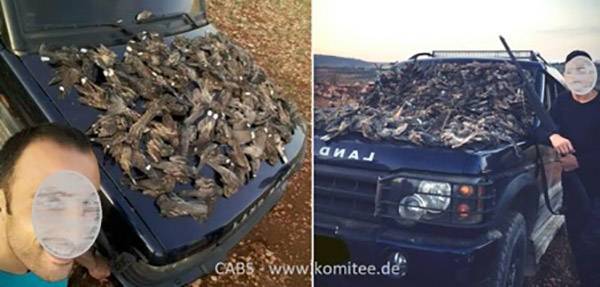 Lebanese Authorities will not leave hunters free to flout the law
The Ministry of the Environment made a statement on the 6th October confirming the court summons of a citizen charged on two counts for infringements of the newly implemented Hunting Laws in Northern Lebanon: illegal killing of 217 nightjars (non-game birds) and proudly posted a video online showing the kill on the bonnet of his vehicle.
Following a detailed investigation, Minister of the Environment Tariq Al-Khatib, requested the Attorney-General of the North, Judge Ghassan Bassil, bring a case against Mohammed Arab; and anyone else who appears to be an accomplice, instigator or an accessory to the killing of protected species. After recording and uploading the video on 24th September 2017 and being tracked by security agencies, he will now face justice before the court. Thus proving the power of social media in challenging the state and aiding the application of Environmental law.
It should be noted that, in accordance with article 15 of the Hunting Act, those who violate the law even during the open season (15 Sept – 31 Jan) shall be punished by imprisonment and a fine or by one of these two penalties, and in any case the permanent confiscation of the weapon used and destruction of other prohibited equipment used in the offence.
Lebanon's 2017 hunting season began on Sept. 15 and will end in January based on new regulations for hunters that were announced by Environment Minister Tarek Khatib last April.
"We don't want to create chaos; we want these new regulations to end the chaos," Khatib said at the time. Violations of the law could result in penalties such as fines.