Finding Steppe Whimbrels in the Middle East
Guest blog by Gary Allport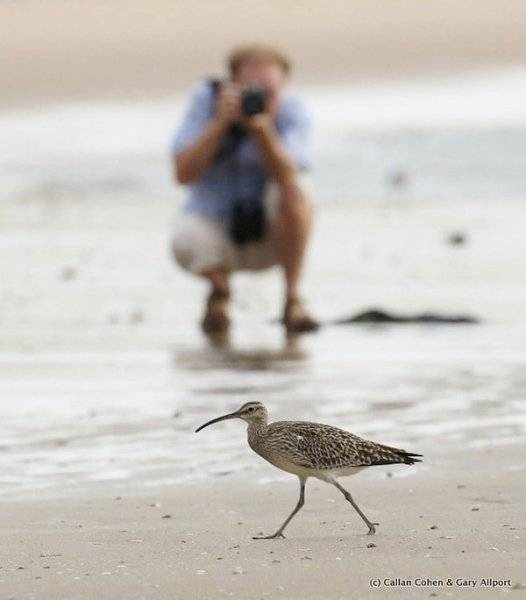 A Steppe Whimbrel in Maputo in February 2016 was thought to be a female as she was large and very long-winged. Note the wing tip (primaries) extending well beyond the tail tip. This bird was characteristically approachable. Photo: Callan Cohen
The finding of two Steppe Whimbrels Numenius phaeopus alboaxillaris in Maputo, Mozambique in January 2016 led to considerable interest in this little-known taxon. These were the first in Africa since 1965 and only the 7th/8th confirmed records ever outside the breeding grounds (see here). Further searches in 2016 found a small number of these birds overwintering in eastern southern Africa (see here).
Since the only known breeding grounds are in the steppes of the Bashkyria and Orenburg regions of Russia and probably in Kazakhstan too, it is very likely that the whole of this tiny population of Steppe Whimbrel migrates regularly through the Middle East. A single bird satellite tagged in Mozambique in 2016 migrated to Aden, Yemen (the tag then fell off).
The purpose of this blog post is to help birders find them in the field in the OSME region, including information on the likely times of passage, places to look and suggested field methods. It should also be noted that museum collection may yet hold further specimens (e.g. see here).
When to look
The small population of alboaxillaris breeds in the Russian steppes arrives to breed in early-April, a month earlier than the more northerly breeding tundra-breeding congeners. Steppe Whimbrels departed Maputo on 28th February, 3rd and 27th March. The majority of nominate race birds left later in mid-late April. One alboaxillaris returned to Maputo Bay in early August 2016, and possibly as many as 3 birds were seen at the type locality in Inhambane, Mozambique in early August 2016 and again in 2017 (see here). So it seems likely that migrating adult Steppe Whimbrels will pass through the Middle East earlier than nominate phaeopus and possibly migrate singly or in very small groups. March to early-April and then again in July would be good times to search
However, juvenile Steppe Whimbrels are almost unknown. There is one record of a bird that could be a juvenile, a specimen collected alongside an adult alboaxillaris in Durban, South Africa. We don't know where juveniles spend their non-breeding season and it could possibly be further north. It is therefore worth being a vigilant for Steppe Whimbrel throughout the year in the Middle East.
Habits
The overwintering Steppe Whimbrels in southern Africa have all been 'loners', preferring to feed on sand banks with high densities of Bubble Crabs and have not been seen mixing with larger flocks of Whimbrels feeding on adjacent mudflats. It may be worth focussing on single birds which choose sandbanks of bays and river mouths to feed.
They are also generally very aggressive towards other Whimbrels. They will join high tide roosts but will behave independently, and are much more confident and tame than other whimbrels. If a flock of roosting whimbrel is flushed the one bird left standing on the beach is the Steppe Whimbrel. High tide wader roosts may well be the best way to maximise the chances of finding a Steppe Whimbrel, especially if it is on passage for a short period of time and not establishing a long term territory.
Identification and clinching the record
Identifying Steppe Whimbrel in the field has been made possible with digital photography. There are four 'clinch shots', plus one additional useful image, needed to capture all the id features (see here).
In flight, underwing.
This is the critical shot, best taken as the bird leaps into the air on takeoff but that's often tricky to get. If you are approaching a bird then it is best to be as low down as possible, otherwise just 'burn off' shots as the bird flies away or past. If distant then it really needs other whimbrel in shot showing underwing in order to be certain of comparative pattern.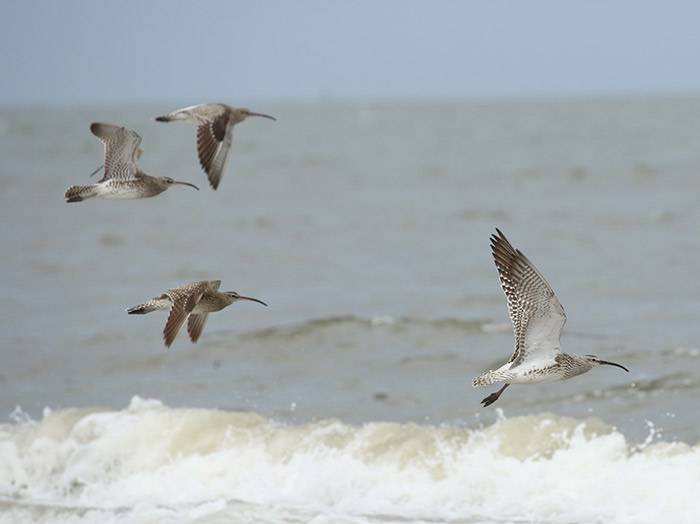 A classic underwing shot of the second (male) alboaxillaris in Maputo, Mozambique in 2016 with other birds for comparison. This is the critical shot but insufficient to fully clinch the identification. Photo: Callan Cohen

In flight rump and tail.
This can be ok from side-on but best taken from behind as the bird lands, as it splays its tail fully to brake showing the upper rump, back, lower rump, upper tail coverts and tail pattern to best effect.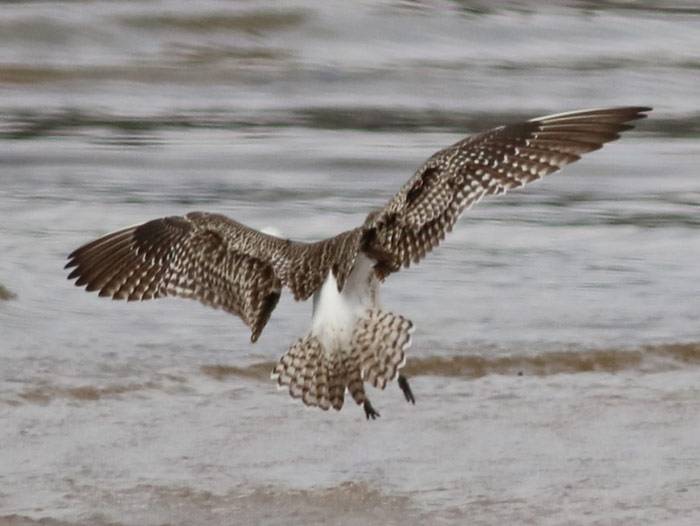 Female Steppe Whimbrel, Feb 2016 landing and splaying its tail showing the whole of the rump and upper tail pattern. Photo: Gary Allport
In flight, upperwing.
Best on full downstroke. Again best as the bird lifts off but often fine in a general flight shot. The easiest shot to get. You need to see the inner primary pattern.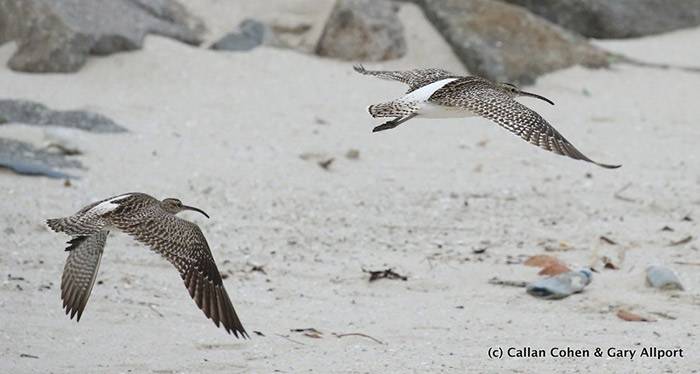 Nominate phaeopus (left) and alboaxillaris (right – female, Maputo Feb 2016) showing upperwing pattern. Photo; Callan Cohen
On the ground side-on.
As low down as possible, ideally with another Whimbrel alongside, to get size, structure, wing length, face and breast pattern, rear flanks, vent and undertail.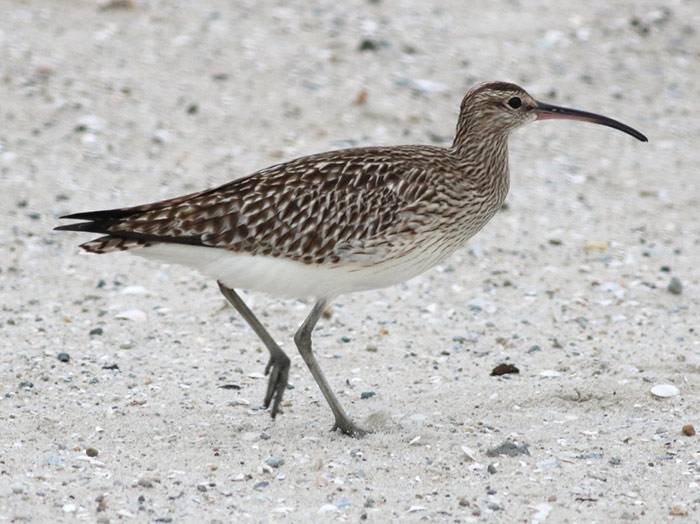 Female Steppe Whimbrel, Maputo, Feb 2016. Photo: Gary Allport
On the ground, bending forward to reveal undertail. This often the best way to check vent undertail pattern, but is not necessarily essential.
What to do next
If you have photos of a suspected Steppe Whimbrel then please send them to gary.allport@birdlife.org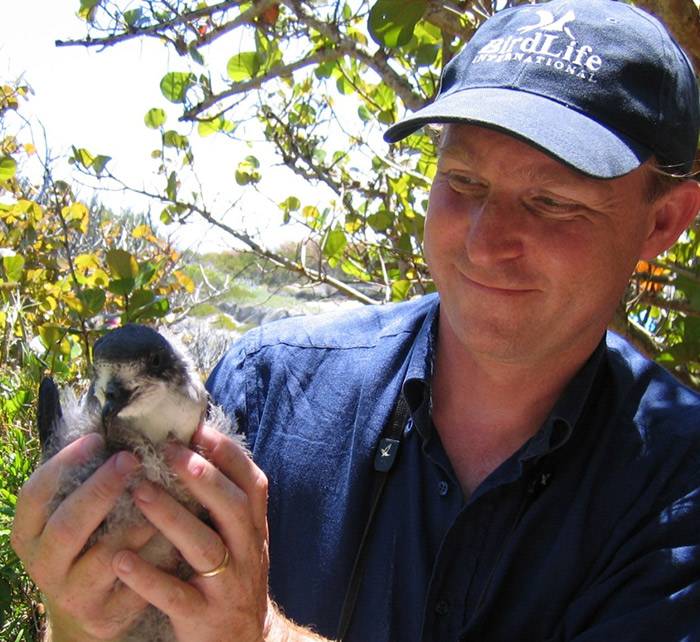 Gary Allport is Senior Adviser to the CEO of BirdLife International. From the UK he lives in Maputo, Mozambique and has worked for BirdLife since 1990 as Head of BirdLife's programs in Africa and the Pacific regions. For the last ten years he developed strategic relationships for BirdLife in Europe and Washington DC. He celebrated 50 years of birding last year.