I LOVE NATURE 4
A guest blog by Behrad Farkhondeh from Iran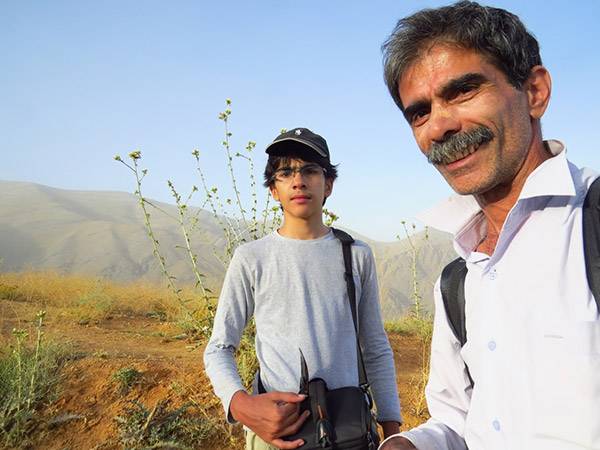 Since childhood, my father was taking me to see nature. He always wanted me to become interested in nature. We were going to climb mountains, valleys and forests near Tehran.
When I was only 9 years old, by reading the small book "Birds of Tehran" I become really interested in birds and I was curious to see birds in the natural environment. Fortunately my father has been interested in nature and it was a chance for me. So my father and I went birdwatching every weekend. First we went to the parks and gardens of Tehran to find birds.
My first bird watching records were White Wagtail and White-eared Bulbul. When we saw these species and identified them with our small book we became so glad and happy and made a decision to see most of the birds of Tehran.
For one year we went to most habitats of urban birds in Tehran and I could not see many birds of my city. My only guide and reference was my little book but it was not enough for me.
Accidentally we were introduced to the Tarlan bird watching club. It was the first bird watching group in Iran. Tarlan was holding some birdwatching tours and meetings every month and trying to promote bird watching among people and interest them to see and save birds and nature.
My father and I were attending in many Tarlan meetings and some birdwatching tours. In our first meeting Tarlan members saw a little boy who was very interested in birds and birdwatching and knew the name of some birds. They were so amazed and I got amazed too. I was finding many great and good teachers and mentors there and they have taught me many things about birds and birdwatching. I also found there are many places in Iran for bird watching and there are many special and beautiful birds in the whole of Iran such as Iranian Ground Jay who is just found in deserts and plains of central Iran. At these meetings we found many friends and sometimes we went along with them on their birdwatching trips and over time I was learning how to explore nature to find birds.
And also I got a compact camera and tried to take some photos of whatever I would see in nature specially birds and record them with photo.
One of my first enjoyable records was Lammergeier! When I record it with a photo I got so excited. In ancient Iran and Zoroastrian religion Lammergeier is a holy and respected bird. According to a belief in stories and poems whoever sees this bird would become blissful in life.
After a while I was reading some books about wildlife of Iran specially birds, mammals and reptiles, ornithology and whatever was related to the environment and Biodiversity of Iran. Iran has many varied habitats and climates and this makes it have many different wildlife species. So my father and I were eager to travel to different parts of my country to see them.
When I heard the name of Iranian Ground Jay the only endemic bird of Iran, I was really interested to record it! So my father and I planned to journey into the east of Esfehan province to find the pride of Iran's deserts and we made it. We saw many ground jays on that journey and it was a prize from nature to us!
After two years I became interested in wildlife photography and I took a second hand DSLR camera and Tele zoom lens. Picturing wildlife specially birds has been my target by photography and I have always tried to take good photos of whatever I would see in nature and show them to other people who knows little about birds and wildlife of their country and try to interest them and encourage them to take care about environment and wildlife specially birds.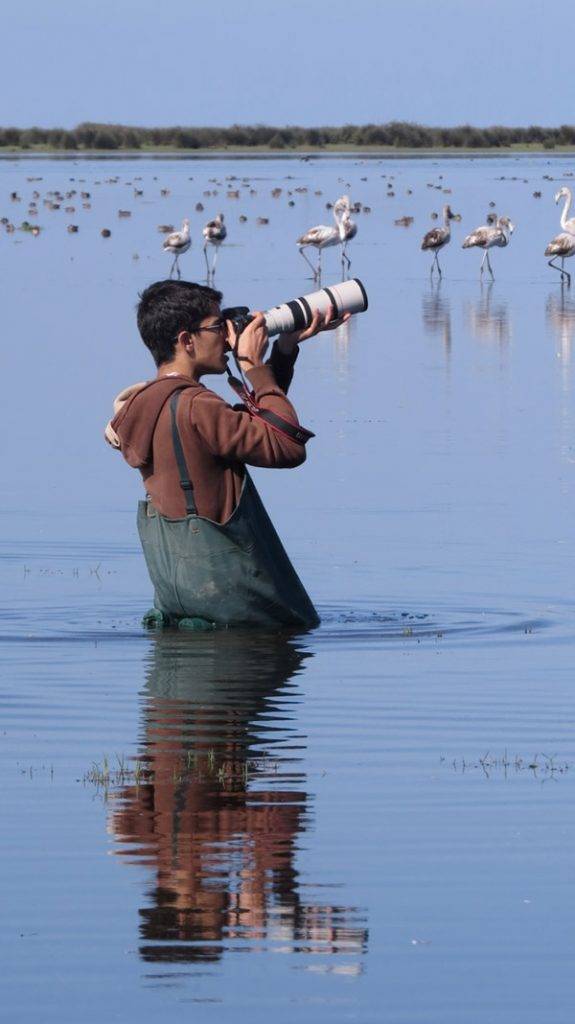 The Siberian White Crane is the loneliest bird in the world that every autumn migrates to "Fereydunkenar wetland" in the north of Iran and stays there till end of winter lonely. People call him "Omid" (it means hope). The life of this male bird has a very sad story. He was not always the only one. He migrated to Iran with his pair and their chick a few years ago but the two others have been killed by hunters. Recent years he has traveled thousands of miles lonely. When I heard about it I would be crying. What have we done that this beautiful bird is going to extinction very soon and now we could not do something to save western population of Siberian White Crane in Iran. I wanted to see him maybe as the last ones who have seen this beautiful bird. When my father and I traveled to Fereydunkenar wetland for the first time we could not see the crane. We went there next year again and after a while we would finally see it and became so glad. I was really wanting to do something to rescue a generation of Siberian white Cranes but it was too late for this…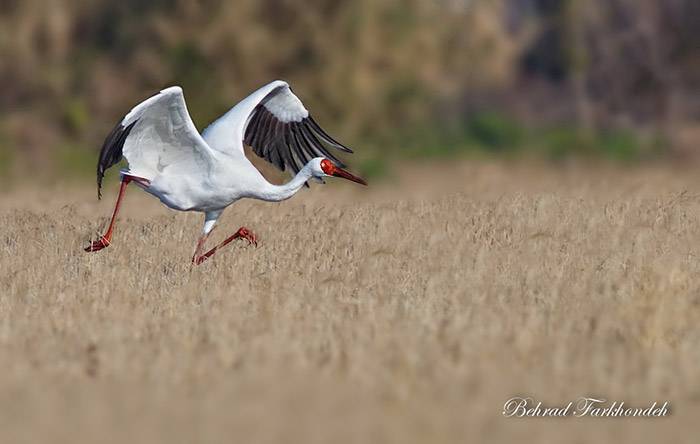 I have travelled to different areas and habitats specially IBAs and Protected areas for bird watching. I also have been birding in wetland habitats because they attract many different birds, especially migratory birds. Fortunately Iran is located in one of the main migration corridors of migratory birds and it has many international wetlands and Ramsar sites that cater for many important and critically endangered birds such as Lesser White-fronted Goose, Sociable Lapwing, Red-breasted Goose, White-headed Duck and some other precious species. And some wetlands attract great population of some water birds. I am really interested in wetlands because wherever they located, they would be biodiversity hotspot of their area.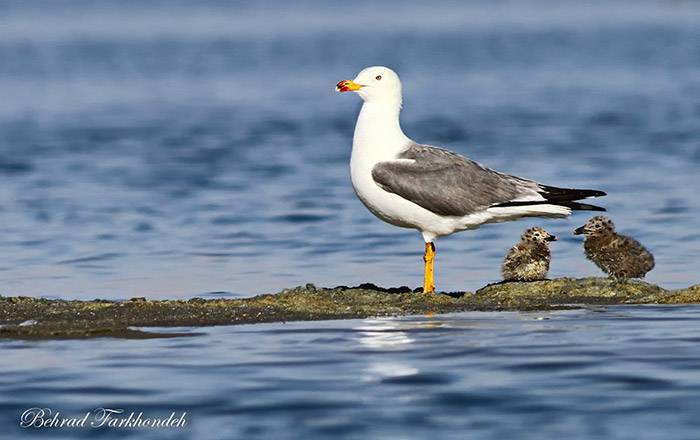 I got a special gift from one of my great teachers. That gift was a book with title "Wetland Benefits". By reading this valuable book I understood wetland's functions. I learned many things about biological and economic values of this blessing ecosystem. I made a decision to see most of international and important wetlands of Iran and try to record endangered and valuable migratory birds.
One of my favorite critically endangered birds was Lesser White-fronted Goose. This one of the most endangered migratory birds in Eurasia and Iran has some of the most important wintering habitats of this bird. I have traveled to some of the wetlands where this bird has been recorded. According to threats such as draining wetlands, destroying habitats and hunting, many of the great habitats no longer have this bird in winter, so I did not succeed to record it. But after two years I finally saw it in Bujagh international wetland in south of the Caspian Sea. I also recorded my favorite and critically endangered wader "Sociable Lapwing" after three years searching in many wetlands in the south-west of Iran.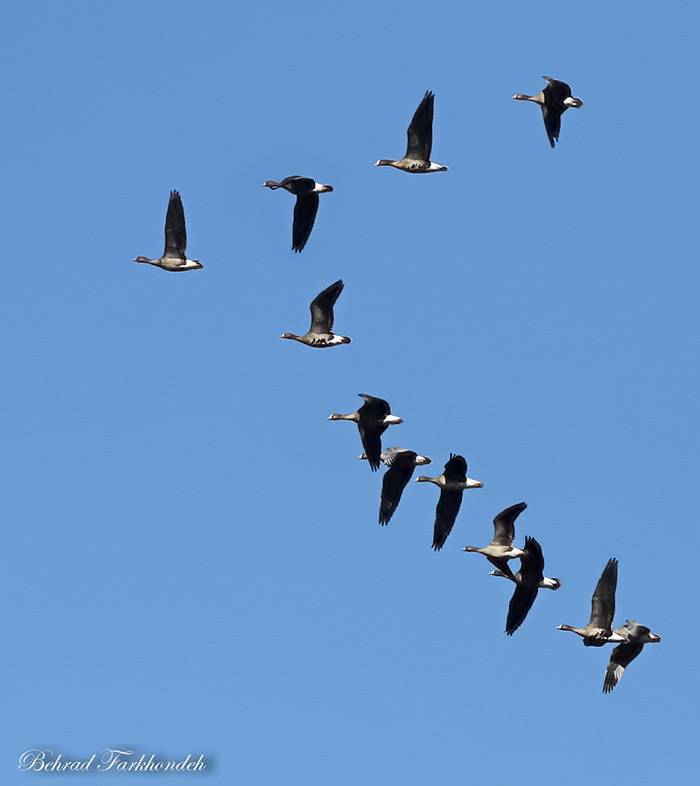 On multiple birdwatching journeys, I found there are many threats to wetlands and migratory birds in Iran that if it they continue we will lose them both. There are many international and great wetlands in north and south-west of Iran and they have many problems for water birds but unobtrusive hunting by local people is the important one. I have traveled to these two areas to see wetlands and bird habitats and identify migratory species and try to talk with local people who lives near there about wetland and migratory birds and their biological and even economical values because I believe local people in any place could be the best keeper of nature or the worst threat for it.
I have tried to picture the beauty of migratory birds in their habitats and introduce them to people and inform them about the benefits of wetlands and migratory birds. I had some conferences about wetland benefits and migratory birds for my classmates in school. I had an exhibition of my wildlife photography works in school and I introduced students and visitors to the variety of wildlife in Iran.
For understanding the importance of wetlands and learning more about identification of birds I have begun research about waterbirds breeding with a focus on the form of their nest and eggs and I have traveled to some of the great and important waterbirds breeding zones in Iran and have collected information by field work and study.
On my birdwatching journeys I have been always looking for any animal, sometimes mammals or reptiles have become my main targets for recording and photography. For example my father and I traveled 2800km to see Persian Wild Ass who is one of the most beautiful creations I have ever seen.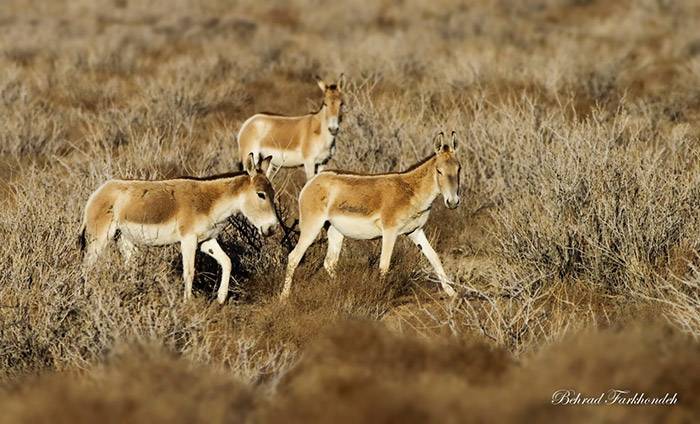 We took our great gift from nature when we saw Persian Leopard from 10 meters!
I owe to my family and teachers specially my father who encouraged my interest to grow. He has always been with me and took me on many journeys and always give me good advice and tips.
Now I am about 17 years old. In 8 years of my birdwatching and travel I have recorded 370 bird species from 550 birds of Iran and I have taken photos of about 330 of them!
I hope I will grow in a correct way and be helpful and effective for my country's wounded nature and wildlife.