Autumn raptor migration kicks off – and so do their protectors!
This autumn migration 2019 through the OSME region will be exciting to follow. The raptors, storks and other birds making their perilous journey from their breeding grounds in Eurasia across the killing fields in the Middle East to their winter quarters in Africa will have more attention, protection and engagements than ever.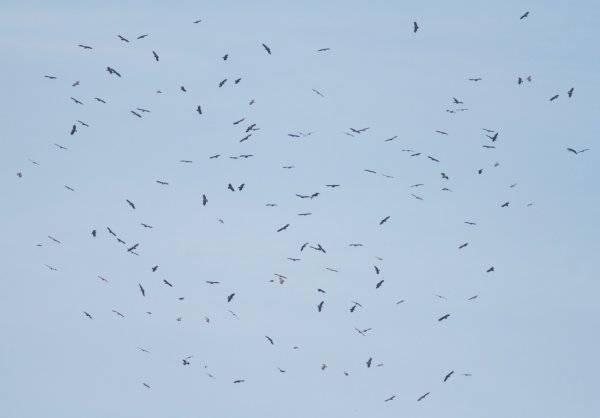 To monitor bird migration at certain places where geography causes birds to congregate – known as "bottle necks" – is an attractive way to get people from diverse backgrounds together and with the help of social media and modern technology this is more visually available than ever.
For OSME this is at the core of our ambitions and involvements. We have worked hard to contribute to the assessement of illegal bird killing (see article in the latest Sandgrouse!) across the Middle East as well as produced the Arabic bird guide app to spread knowledge and learning. With the new Youth Development Fund we now take this further and will be able to reach even more youth, communities and local talents.
"I thank Birdlife Sweden, BirdLife Switzerland, OSME, Birdlife International for their continued interest and support to help SPNL (Birdlife Lebanon) and all SPNL local partners; the Himas and the Homat al-hima, the municipalities , MECRH & schools in our campaign. The ministries of Environment, Interior and Justice and the law enforcement, even H.E President of Lebanon General Aoun and the amazing SPNL and bird supporter and activist Mrs . Claudine Aoun Roukoz, Advisor to the President of Lebanon, support us in what has been going on for years to put an end to the illegal killing of birds in Lebanon." says Assad Serhal, chairman of SPNL.
"We also thank BirdLife Sweden for the amazing training of our four Homat al-hima youth from Ras al-Matn hima, that hopefully lead to more in depth involvement of Lebanese youth in bird conservation and birdwatching, in place of bird hunting! We are so much looking forward to our next bird camp with you all, this September, and also the CABS camp coming up."
See www.spnl.org for the dynamic and committed work of SPNL.
9 September will see me and a couple of young Swedes and a Swiss volunteer (yes those are different countries) arriving in the mountain community of Ras al-Maten in central Lebanon. Together with SPNL, BirdLife Sweden and BirdLife Switzerland we are trying out a pilot raptor count that will last for three weeks and have two main aims; to identify and count as much raptors and storks as possible and to train/inspire local participants in these skills. After the first week we will be replaced by British and Dutch volunteering trainers, including OSME profile Richard Porter.
We are setting up an account on the bird migration site Trektellen and you will able to follow our daily counts there and on the OSME Facebook page!
Simultaneously several other migration counts and projects are going on and we try to collaborate to maximise the impact and the awareness raising among the local public!
Tomas Axén Haraldsson
OSME Youth Development Officer