I Love Nature 8
Guest blog by Ikram Quttaineh from Palestine
I am a 32-year-old Palestinian woman, holder of a master degree in rural sustainable development. Like many other Palestinians, I got to know more and more about birds by watching TV documentaries. My thesis about "Ecotourism" gave me the opportunity to get together with people working in the field of Nature Conservation in the region. I still remember my first encounter with birdwatchers in the field, when I almost whispered to myself: "are they really serious?!" Soon I found out that it seems to be more interesting to watch the birdwatchers than watching the birds themselves! Actually, I started slowly to watch both, which taught me a lot.
In 2015 I started to work for the German Hanns Seidel Foundation, as project coordinator with focus on nature conservation projects in Palestine. Palestine is located at the junction of three continents, something which shaped the region into a "bottleneck" and unavoidable transit/migratory route for bird migration. About 500 million migratory birds use this narrow airspace during the migration season and it has 373 recorded bird species. Despite the fact that there is species richness, there is, to our deep sorrow, a huge lack in birdwatchers. We do not have more than 10 birdwatchers, in a land where birds contribute to a healthy relationship between nature and human beings.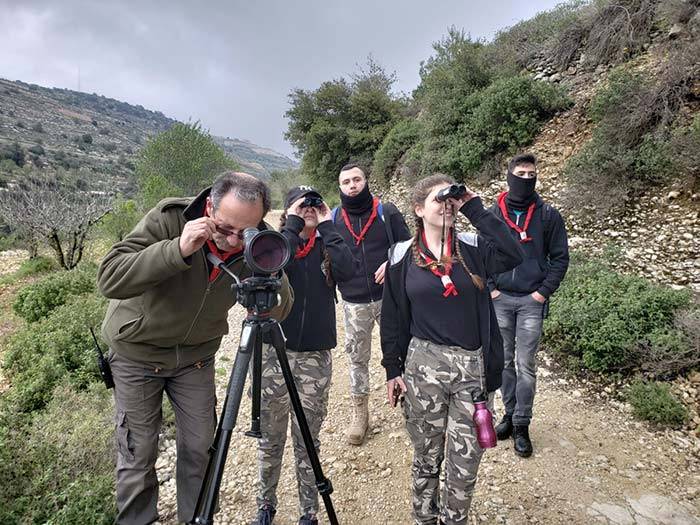 Challenge is the only word that could fit into this context, though our folk tales usually begin with the stories of birds. But this time we have the birds themselves as the major protagonists and we have to invite more audience to attend our own story. It is a challenging task with all the political, social and cultural ramifications, yet it is still within the realms of possibility. Throughout the years, I have coordinated many community events comprised of different activities aimed at educating about the potentials and benefits of the nature reserves and ecotourism. The activities include bird watching tours, flora and fauna identification, releasing hunted birds, planting native trees and cleaning campaigns.
Mr. Saed Shomaly, our talented tour guide who led the bird watching tours succeeded in encouraging different sectors of the society to join us, among them women, children and photographers. The great success of these community events was embodied in its ability to provide the citizens with the first connection with nature and introducing them to the world of bird watching!
The large amount of community event participants empowered advocacy groups to exert pressure and influence on decision makers, in order to take responsibility for the protection of nature. In addition, many of the photographers continued to take pictures of the birds and send them to the local media, thereby exposing the story of birds to a new and wider audience. We have to admit that the beauty of these pictures played a crucial role! Furthermore, we initiated the first birds' conservation projects in Palestine such as "Conserving the Swifts of Bethlehem " and "Conserving the Barn Owl at the Jordan Valley ".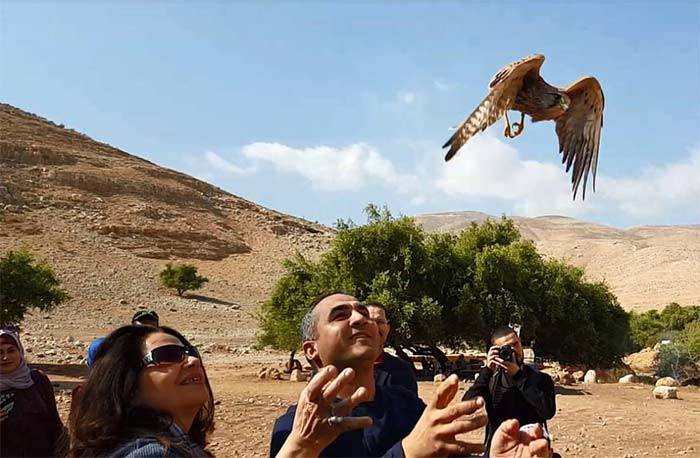 Last but not least and after admitting of being proud of the fact that I've been infected by this "disease", the "Bird watching disease", I can say now that my favorite bird is the next one that I see. I was very excited when my husband accompanied me to one of these bird watching trips in Jerusalem. It was his first encounter with birdwatchers in the field, when he said surprisingly "Ikram, they are real!". Yes they are real and his words brought me back to the reality, a reality which we mostly knew from the TV documentaries.