Birds of Cyprus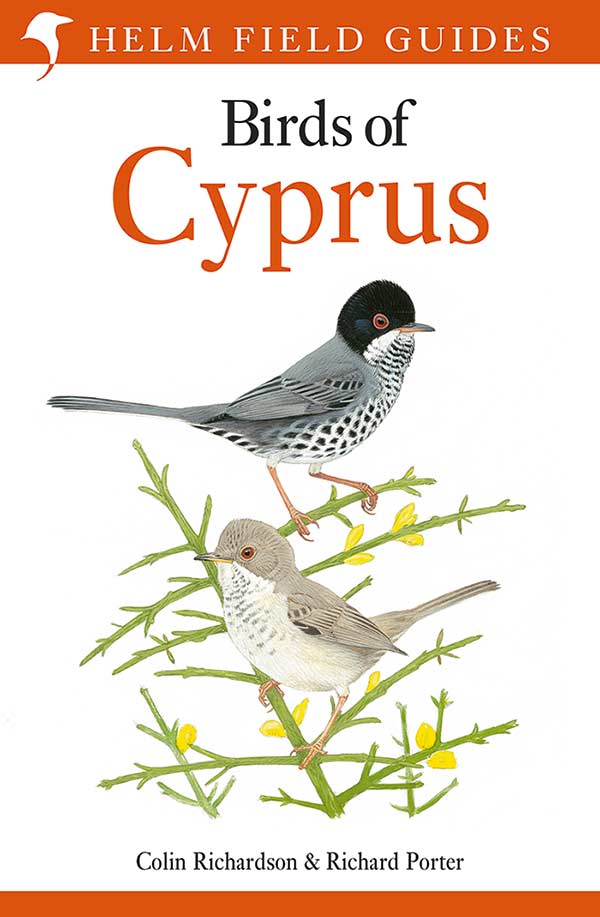 First, a declaration of interest. I know both the authors and over the years have met or corresponded with the artists. I've been to Cyprus many times, my first visit being in 1966 when I was in the RAF. I've participated in many bird surveys on the island for the RAF Ornithological Society in conjunction with Cyprus conservation groups, both before and after the founding of BirdLife Cyprus, and know at first hand its recent history and the problems that keen and determined conservationists have faced.
What inspires me about this book is that it presents the joint effort of conservationists in both parts of this divided island. As Tasso Leventis states in the Foreword, "The recent signing of a Memorandum of Cooperation between BirdLife Cyprus and KUŞKOR, the Turkish Cypriot bird protection society is a welcome step for better nature protection, island-wide."
Cyprus lies on the East Mediterranean/Black Sea migration flyway; migrant and resident birds alike may concentrate in the island's 34 Important Bird Areas, but there are also many other locations that deserve protection. Illegal bird trapping and killing on Cyprus remains a serious problem (Brochet et al 2016, 2019, Shialis 2017), but recent prosecutions have been successful and there is considerable work now done through school visits to conservation centres. Education is always the key and this book will undoubtedly play its part in the many challenges ahead. Support of Cypriot conservation initiatives continues from RSPB UK and from Naturschutzbund Deutschland (Nature and Biodiversity Conservation Union, Germany). It remains to be seen whether the UK leaving the EU will improve or complicate conservation issues in Cyprus.
The format of this field guide generally is similar to the rest of the Helm stable, but the structure and content of the species accounts have been changed, the status data now opening the account, and the maps of this relatively small area are to a more useful scale. The introductory material is pleasingly both plainly expressive and literate. It covers:
Taxonomy, Nomenclature and Sequence (mostly IOC-style with some sensible minor departures)
Illustrations and ID text (straightforward)
Bird Topography (succinct yet detailed)
Voice (short and sweet)
Status, Distribution and Habitat (standard status abbreviations; for habitat information, you are directed to the excellent Birdwatching Site section and to the species accounts)
Maps (brief and helpful)
Important Dams and Reservoirs (17 indicated: perhaps this idea will feature more often in future field guides?)
Code of Conduct and Submitting Records (good basic common sense)
Bird Killing in Cyprus (what to do and who to contact – vital information)
Bird Conservation in Cyprus (useful context and detail concerning BirdLife Cyprus and KUŞKOR)
Birdwatching Sites (an excellent innovation and a mine of very useful information about 69 sites by district or region: Paphos, Akrotiri Peninsula and Limassol District, Larnaca District, Troodos Forest, Nicosia District, Northern Cyprus). The directions are clear, all site descriptions include GPS data, many are illustrated by a photograph and the principal species of each site are listed in seasonal contexts.
The book rightly makes no mention of the rules of travelling to and from the Republic of Cyprus to Northern Cyprus, because these are subject to change: you need to do your homework on these rules if you are considering crossing from one side to the other before you go to the island.
Turning now to the species accounts, they are succinct and informative, with maps not being provided for vagrants. I would like to see the IUCN Red List Category symbols used in all field guides on the same line as the species name, and also the local/regional equivalents, where available; after all, a widespread numerous but declining species may be classed as Least Concern, but in any single country, it could deserve Vulnerable status, useful context for the reader. That apart, I have no dissatisfaction to record about the information packaged in each account. Indeed, I'm very glad to see enlarged accounts to cover subspecies differences, as for Common Chiffchaff Phylloscopus collybita. Here, brevirostris, abietinus and tristis are all illustrated. Although many of the illustrations by the artists have appeared in other Helm Field Guides, many have been made for the book. The print quality and colour rendering show no annoying inconsistencies. One tiny print copy-editing glitch is that although the three subspecies of Black Redstart illustrated are identified on Plate 77, the species name has been omitted. Maybe this might just have been done to ensure reviewers actually looked at each Plate!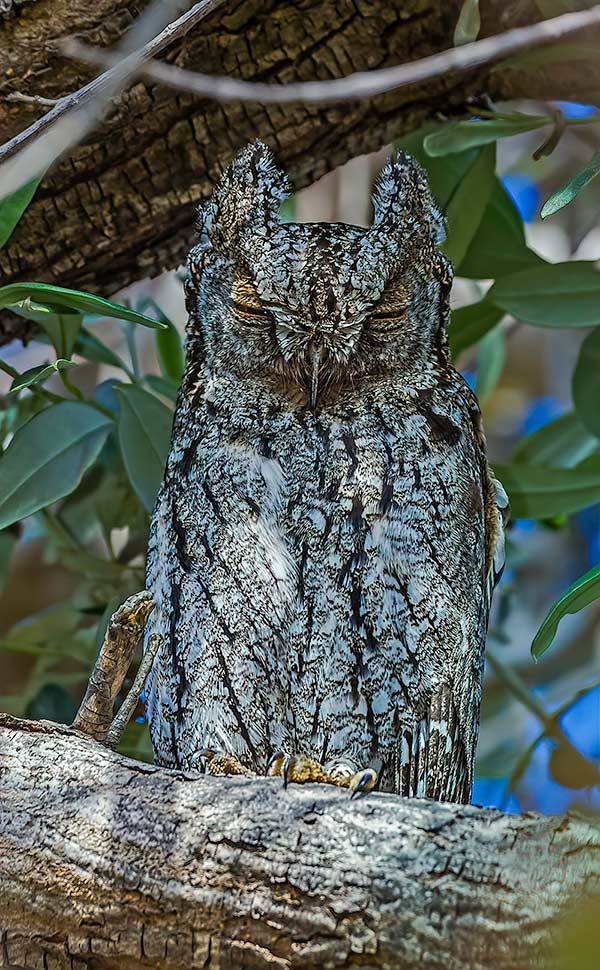 Taking a couple of examples of Cyprus taxa of intrinsic interest, one such whose species status has only recently been generally accepted is the breeding endemic Cyprus Scops Owl (or as BirdLife International puts it 'Cyprus Scops-owl') Otus cyprius. Its call differs from all other taxa that comprise the single-note European Scops Owl O. scops in that it has a double-note, with the emphasis on the first; that's so striking and obvious, but until plumage and DNA differences were published in 2015 (Flint et al 2015), the case for species status was somewhat threadbare.
The authors take the prudent line of listing Cyprus Coal Tit as the cypriotes subspecies of Eurasian Coal Tit Periparus ater. That cypriotes has a low level of genetic variation indicating long isolation, a characteristic common to island endemics, does not respond to playback of a selection of European subspecies and has striking plumage differences from the nominate and all subspecies that reach or pass Cyprus on migration has been deemed by some authorities as insufficient for elevation to species rank.
This is because such playback tests have not featured all 21 subspecies, nor has this exercise been carried out for all subspecies on all 21 breeding grounds. For those subspecies which have been researched, the data are extensive enough for the opposite conclusion to be drawn until such time it is disproven, a null hypothesis approach. I might add in my view that Cyprus Coal Tit forages very differently; it is less dainty, perhaps better described colloquially as 'more butch'. Indeed, in comparison to Coal Tit in the UK, it looks structurally different, squarer and bulkier. The head in particular looks angular most of the time. In the OSME Region List, based on how many similar cases have developed over the last decade amongst other passerines, we treat it as a full species, part of the superspecies thus: P. [ater] cypriotes. It may become part of a smaller species-group.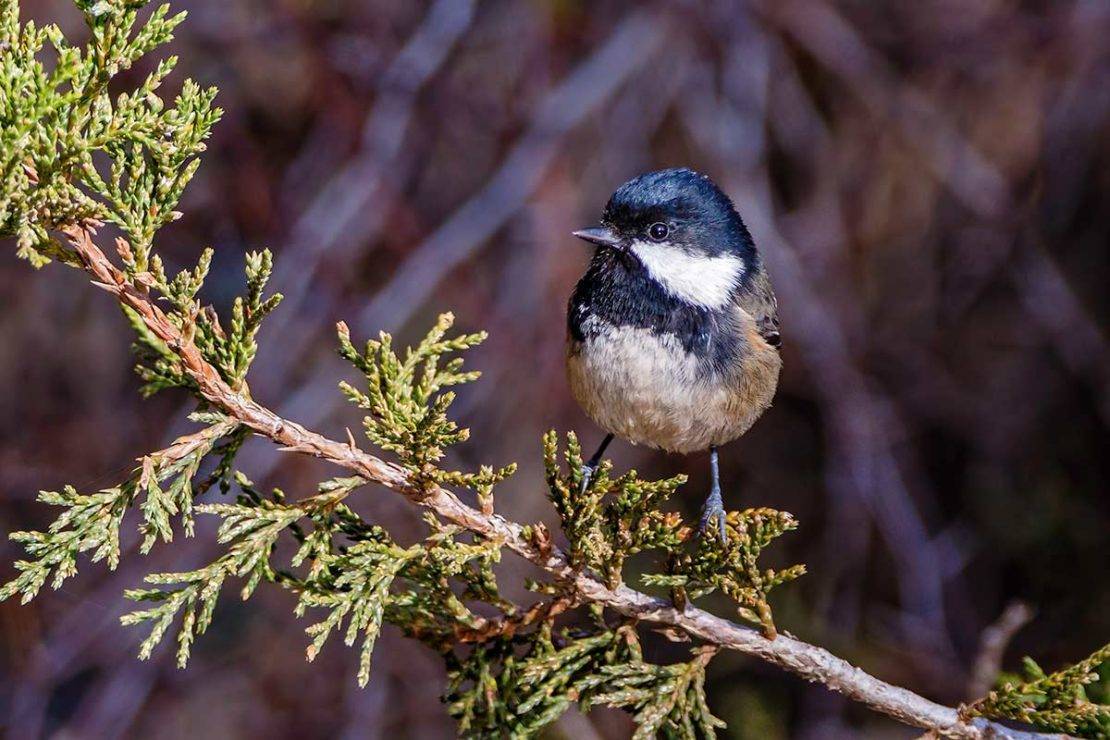 This book, being small enough to fit into a large pocket, will be very useful to visiting birders, especially to those who are inexperienced or new to Cyprus. Although the text is only in English, it would seem straightforward for local conservation organisations to produce Greek and Turkish supplementary indexed lists, referable by page or Plate number, so that the book finds the widest possible audience on the island.
Going through these texts brought memories of many happy discoveries and frustrating failures concerning vagrants and uncommon passage migrants, of which there are many in Cyprus. Amongst those memories are: seeing a huge flock of Greater Flamingo Phoenicopterus roseus through the shimmering heat-haze of Akrotiri Salt Lake; catching brief sight of a Levant Sparrowhawk Accipiter brevipes speeding into Chrysochou Bay from Turkey and passing overhead; missing Cream-Coloured Courser Cursorius cursor at Akrotiri Gravel Pits and Mandria beach; participating in a month-long survey of Eleonora's Falcons Falco eleonorae; being totally awed by an immensity of Western Yellow Wagtails Motacilla flava covering many fields at Mandria; finding a Bimaculated Lark Melanocorypha bimaculata near St George Church just south of Akrotiri Gravel Pits and photographing in a ploughed field near Mandria a large pipit that my better half had found that turned out to be Blyth's Pipit Anthus godlewskii. If that doesn't fire your imagination enough to persuade you to buy this book…
My wish is that anyone in or visiting Cyprus who buys this book will have such joyful experiences!
LITERATURE CITED
Brochet, A-L, W van den Bossche, S Jbour, PK Ndang'ang'a, VR Jones, WAI Abdou, AR al-Hmoud, NG Asswad, JC Atienza, I Atrash, N Barbara, K Bensusan, T Bino, C Celada, SI Cherkaoui, J Costa, B Deceuninck, KS Etayeb, C Feltrup-Azafzaf, J Figelj, M Gustin, P Kmecl, V Kocevski, M Korbeti, D Kotrošan, JM Laguna, M Lattuada, D Leitão, P Lopes, N López-Jiménez, V Lucić, T Micol, A Moali , Y Perlman, N Piludu, D Portolou, K Putilin, G Quaintenne, G Ramadan-Jaradi, Milan Ružić, A Sandor, N Sarajli , D Saveljić, RD Sheldon, T Shialis, N Tsiopelas, F Vargas, C Thompson, A. Brunner, R Grimmett & SHM Butchart. 2016. Preliminary assessment of the scope and scale of illegal killing and taking of birds in the Mediterranean. Bird Conservation International26: 1-28.
Brochet, A-L, S Jbour, RD Sheldon, R Porter, VR Jones, W al-Fazari, O al-Saghier, S Alkhuzai, LA al-Obeid, R Angwin, K Ararat, M Pope, MY Shobrak, MS Willson, SS Zadeghan & SHM Butchart. 2019. A preliminary assessment of the scope and scale of illegal killing and taking of wild birds in the Arabian Peninsula, Iran and Iraq. Sandgrouse 41: 154-175.
Flint, PR, D Whaley, GM Kirwan, M Charalambides, M Schweizer & M Wink. 2015. Reprising the taxonomy of Cyprus Scops Owl Otus (scops) cyprius, a neglected island endemic. Zootaxa 40: 301-316.
Pentzold, S, C Tritscha, J Marten, DT Tietze, G Giacalone, M Lo Valvo, AA Nazarenko, L Kvist & M Päckert. 2013. Where is the line? Phylogeography and secondary contact of western Palearctic coal tits (Periparus ater: Aves, Passeriformes, Paridae). Zool. Anzeiger. 252: 367-382.
Pentzold, S, MI Förschler, DT Tietze, C Randler, J Martens & M Päckert. 2016. Geographic variation in coal tit song across continents and reduced species recognition between Central European and Mediterranean populations. Vert. Zool. 66: 191-199.
Shialis, T. 2017. Update on illegal bird trapping activity in Cyprus. BirdLife Cyprus, Nicosia.
Mike Blair
(Text identical to the review in Sandgrouse)