Update on the 'Mangrove White-eye' in Saudi Arabia
Guest blog by Jem Babbington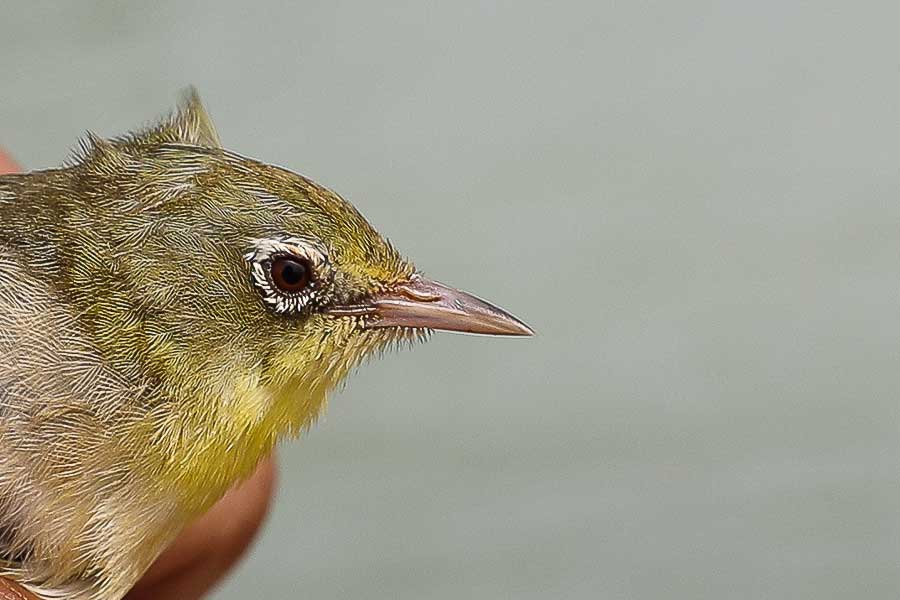 The Abyssinian White-eye Zosterops abyssinicus occurs in the highlands of southwestern Arabia and eastern Africa in well-wooded areas above 1,000 m above sea level. Interestingly the discovery of mangrove dwelling White-eyes by Steve Newton extending 100 kilometres along the Red Sea coast of Saudi Arabia between the villages of Shuqaiq and Amq, approximately midway between Jizan and al Qunfudah in March 1994 suggested that these "mangrove white-eyes" were morphologically distinct from the highland white-eyes, and thus might represent a unique species or subspecies. This was suggested due to the bird's choice of habitat, as well as smaller size and brighter plumage compared to the nearby montane populations of Abyssinian White-eye Zosterops abyssinicus arabs. Since this discovery a small population of the Oriental White-eye Zosterops palpebrosus was identified in the mangroves of Mahawt island, Oman where they used similar habitat and occurred only in the canopy of mature mangroves similar to the behaviour of the 'mangrove white-eyes' in Saudi Arabia. The latter birds, however, appear not to be this species as they have very obvious differences in plumage and bill colour.
Since the work conducted by Newton no birds were seen, until Phil Roberts and I discovered two birds feeding in the top of mature mangrove trees at the water's edge 2 July 2013 at Either mangroves c75 km south of the southernmost location noted by Newton extending their range to over 175 km of the Saudi Arabian Red sea coast. Subsequently very few sightings have occurred, with all being from a few small patches of mature remnant mangrove forest between Al Qunfudhah in the north and Either in the south suggesting this enigmatic white-eye may be very rare within a highly restricted and threatened range, and presumably at risk of extinction.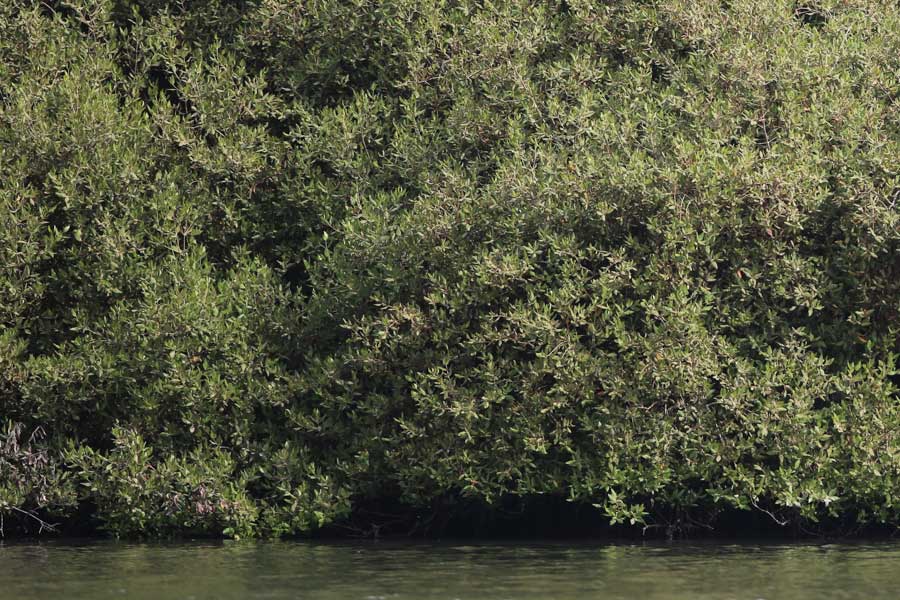 To determine the identity of the mangrove white-eyes, we used mist nets to capture birds from both the highland (5 birds trapped) and mangrove populations (four birds trapped) in Saudi Arabia. This allowed us to compare morphological measurements, photographs, and small blood samples from both populations. Our results indicate that the mangrove white-eyes are indeed morphologically distinct from the highland white-eyes – they are clearly smaller in all measured features (wing length, tail length, tarsus length, bill depth, bill length, and body weight) and have more gold in the throat and more olive green in the upperparts. However, genetically the mangrove white-eyes are identical to the highland white-eyes (we analyzed mtDNA).
Obviously, given the small sample size, all conclusions must be treated cautiously, however, these results suggest that the Abyssinian White-eyes living in the highlands have very recently colonized the mangroves along the Red Sea. They have diverged morphologically but not genetically from their parent population in the mountains. White-eyes are one of the world's great speciators. They have the tendency to colonize new areas and rapidly acquire adaptations to local environments. It is possible that the mangrove white-eye population is an example of a new population at the very start of the process of speciation.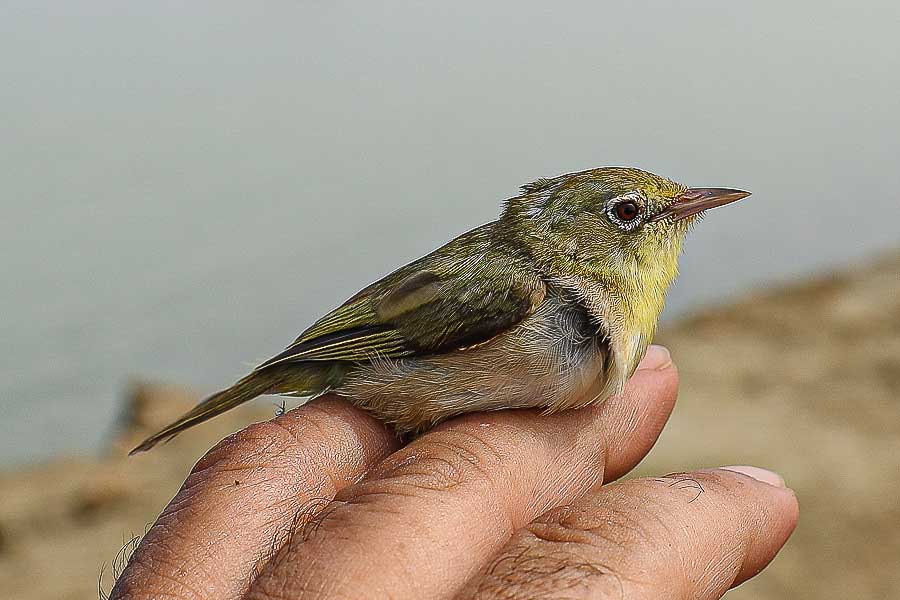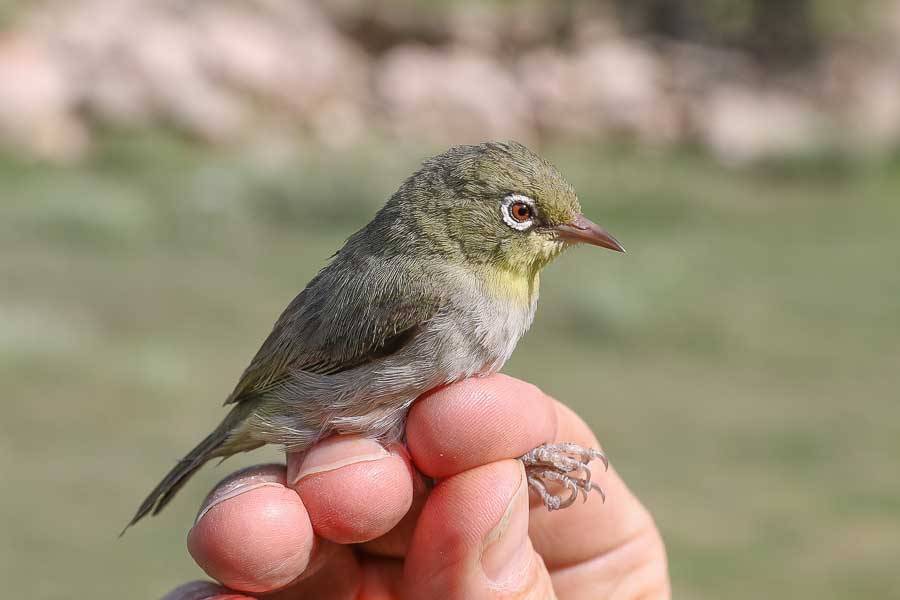 In addition, we examined DNA from museum specimens from other white-eye populations in surrounding areas (Socotra Island and eastern Africa). This analysis indicated that the Arabian white-eyes Zosterops abyssinicus arabs in our study are most similar to the Socotra White-eye Zosterops abyssincus abyssinicus. The results provide tantalizing evidence that the Arabian and Socotran white-eyes may be genetically distinct from white-eyes in Africa. Socotra White-eye is in fact already treated as a full species by IOC World Bird List (v10.1) and OSME ORL (5.2). If this is the case, then the Arabian and Socotra populations represent another endemic species to Arabia. However, more study is required to confirm this.
The full paper published in the Journal of Ornithology- Morphological differences between 'Mangrove White‐eye' and montane Abyssinian White‐eye Zosterops abyssinicus arabs in Arabia despite no differentiation in mitochondrial DNA: incipient speciation via niche divergence? Jem Babbington, Christopher R. J. Boland, Guy M. Kirwan & Manuel Schweizer
Is available free to download here: https://www.researchgate.net/…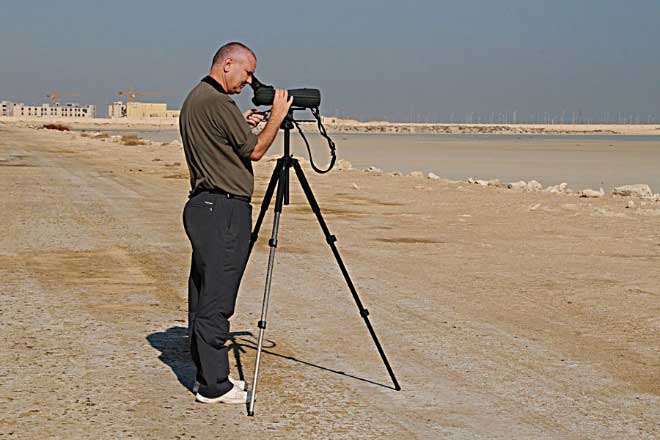 Jem Babbington is an English birdwatcher, ringer and photographer currently located in Dhahran, Eastern Saudi Arabia. He spends as many hours as his commitments allow in the field mainly on his local patch of Dhahran. He has travelled throughout Saudi Arabia in pursuit of some of the lesser known species such as Arabian Magpie Pica asirensis, since his arrival in August 2010.