Armenian Ups and Downs: Diary notes and photographs of three visiting naturalists in Armenia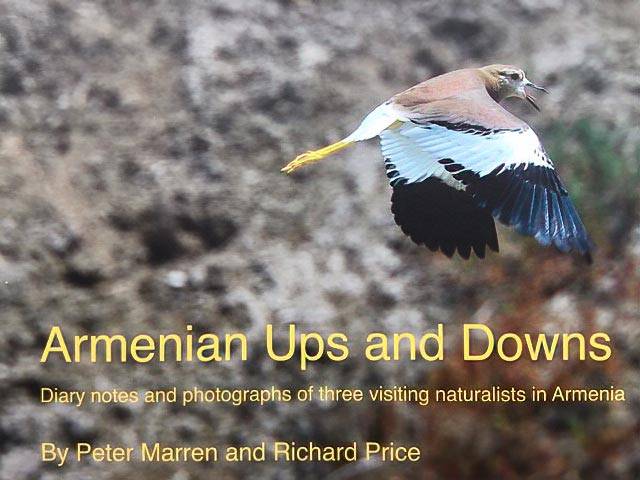 By Peter Marren and Richard Price. Privately published. 2020. Hardback. 76pp. Price £20 (£15 for OSME members)
[Available from Home Farm Publishing Company, Letheringsett, Norfolk NR25 7JL, UK]
Armenia is a small mountainous country in the Lesser Caucasus mountains, at the fringes of the Western Palearctic. It has stunning scenery, spectacular wildlife and an amazing history stretching back thousands of years. Add to that the friendly people, superb cuisine and some very passable wines (Armenia is home to the world's oldest-known winery, although neighbouring Georgia is generally regarded as the 'cradle of wine'), and you have the ingredients for a great destination for anyone with a sense of adventure. This slim, attractive landscape-format book is really a posh trip report of a jolly three-man expedition to Armenia.
Increasing numbers of birders have been visiting Armenia in recent years, mainly on organised bird tours, and the private trip under review here followed much the same route as the bird tours do, with 10 full days in the field. Starting out in the lush deciduous woodlands around Dilijan in the north, they visited the Pambak mountains for Caucasian Black Grouse and then travelled to the far south, via the mighty Lake Sevan, to Meghri, on the border with Iran. Here they found specialities such as Red-tailed Wheatear as well as many interesting butterflies and flowers. Heading back northwards, the three friends made a short detour for distant views of Caspian Snowcock before visiting the soon-to-be world-famous fishponds at Armash and the arid mountain gorge at Vedi. Their final full day was spent on the slopes of Mount Aragats, Armenia's highest mountain.
This was clearly an enjoyable trip with much great wildlife and flora seen at the height of the Armenian spring. They missed a few of the key bird species, but seeing everything was not the point of the exercise. This book documents the joys of travelling around Armenia with short but informative daily diary entries from Peter Marren, illustrated with photographs by Richard Price. Many of the photos are good, but a few don't meet the highest standards expected in a publication priced at £20. There is also no list of species seen on the trip, but this is a good general introduction to the wonderful wildlife of this fascinating country.
Nigel Redman