Trevor Poyser Species Conservation Fund supports Saker Falcon and Egyptian Vulture project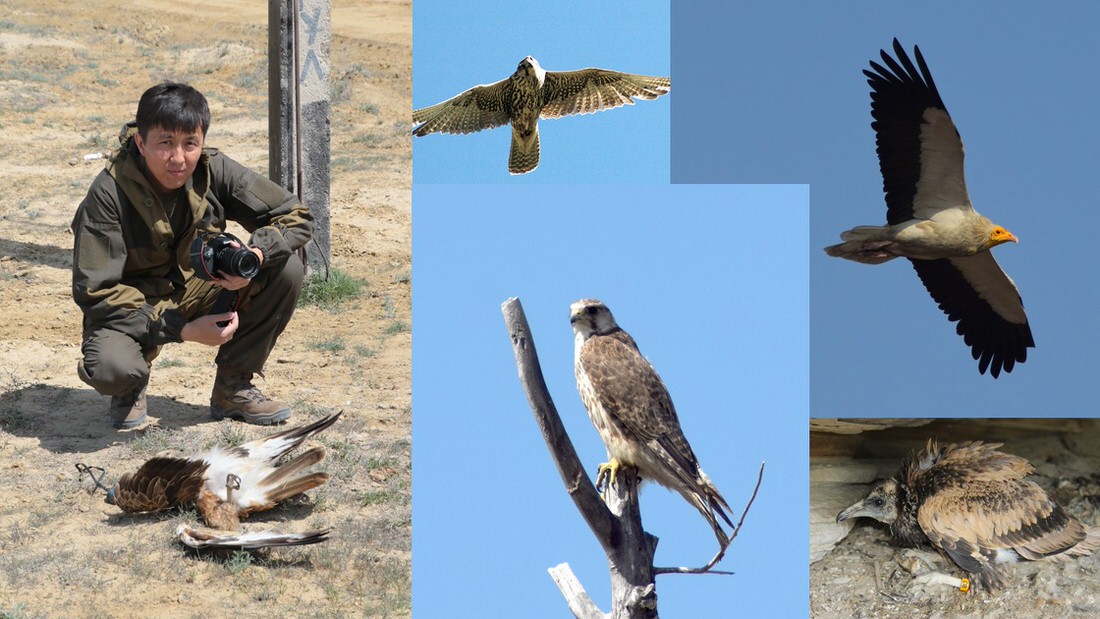 The 2022 Trevor Poyser Species Conservation Fund grant has been awarded to the Biodiversity Research and Conservation Center Community Trust (BRCC) in Kazakhstan for the "protection of Saker Falcon and Egyptian Vulture in the Karatau Mountains, South Kazakhstan." The award was announced at the recent OSME Winter Meeting where the project leader, Nurlan Ongarbayev, outlined the project. The focus will be in the Karatau Monutains where both species are known to breed although there are few data on numbers, distribution and nesting behaviour. The key threats to the population are not well understood although there is some information that electrocution could be a key issue. In September 2020, Nurlan surveyed a 60 km length of overhead powerlines and located the remains of six Saker Falcon, nine Long-legged Buzzards, eleven Steppe Eagles and one Golden Eagle. This project aims to understand more about the distribution of the target species, assess the key threats and propose mitigation measures.
OSME are delighted to support this project that focuses on two globally Endangered species that are found throughout the OSME region. This is the third Trevor Poyser Species Conservation Fund grant that has been awarded following on from projects in Turkey (Egyptian Vulture) and Lebanon (Syrian Serin). Trevor Poyser was a giant of ornithological publishing, joint founder of the renowned publishers T & AD Poyser famous for their ground-breaking books, particularly the Species Monograph series. Very sadly Trevor died in his nineties in 2018 but he kindly left us a significant legacy to spend on research and conservation within the OSME region. The Trevor Poyser Species Conservation Fund was established by OSME in his memory.
For more details on the Trevor Poyser Species Conservation Fund visit the OSME website