OSME Chairman's overview of 2022
It is pleasing to reflect on what has been another successful year for OSME despite ongoing and emerging challenges. This annual review is much longer than usual due to the staggering amount of work we've supported over the last twelve months. Thanks to the amazing support of OSME members and donors we have continued to increase our expenditure through our three small grants programmes, supporting a wide-range of projects across the Middle East, the Caucasus and Central Asia.
During 2022 we supported nine projects through our Conservation Fund, including our first ever project in Turkmenistan supporting the Menzbir Ornithological Society to undertake raptor surveys. Birds of prey featured in a number of Conservation Fund projects during the previous 12 months, including supporting our friends at the Batumi Raptor Count. The long-running annual autumn survey at the spectacular migration bottleneck of Batumi is one of the leading raptor migration monitoring programmes in the world, and OSME were delighted to help match fund a crowdfunding campaign to secure the necessary funds to keep this programme going for another year.
Autumn raptor surveys by the Batumi Raptor Count (Georgia)
Piloting spring surveys at Batumi (Georgia)
Steppe Eagle investigation at Tuz Lake (Turkey)
Birds.kz and a family of central Asian websites (Kazakhstan)
Raptor surveys in Turkmenistan (Turkmenistan)
Satellite tracking Egyptian Vultures (Uzbekistan)
Avifauna assessment of the Sanur Valley (Palestine)
Supporting International Vulture Awareness Day on Socotra (Yemen)
Great Bustard bursary (Turkey)
Although a number of last year's projects are yet to be completed there are some emerging results that shows that OSME's support has a positive conservation impact. The satellite tracking of the globally endangered Egyptian Vulture is revealing the migration of breeding birds from Uzbekistan for the first time (Figure 1). This will enable researchers to recommend effective conservation measures to help reverse the decline in this poorly understood population. The project was supported by a consortium of funders and more details are available here and here.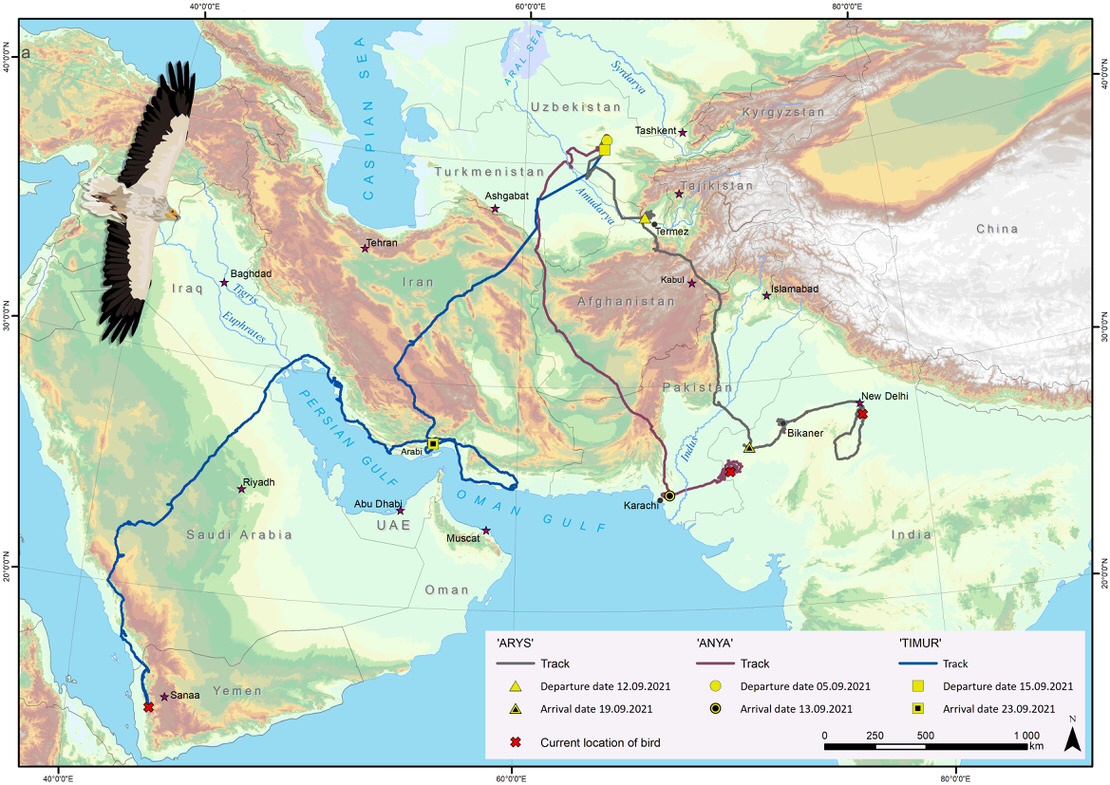 Following on from the publication of a special issue of our journal Sandgrouse (see below), we joined forces with the Eurasian Bustard Alliance to offer a one-off bursary to support research and conservation of the globally vulnerable Great Bustard. Several strong applications were received but unfortunately, we were only to support one. The successful application from Doğa Derneği and Ibrahim Kaan Özgencil will focus on "Identifying and mitigating threats the newly discovered Great Bustard Otis tarda tarda populations in Central Türkiye are facing."
Our total expenditure through the Conservation Fund in 2022 was £23,680 which continues the run of record-breaking years since 2014 (Figure 2). Huge thanks to the March Conservation Fund for their continued financial support which I'm delighted to say has been increased for the upcoming year. A long-standing anonymous donor has also continued to support our small grants programme and has also informed us that this will continue in 2023.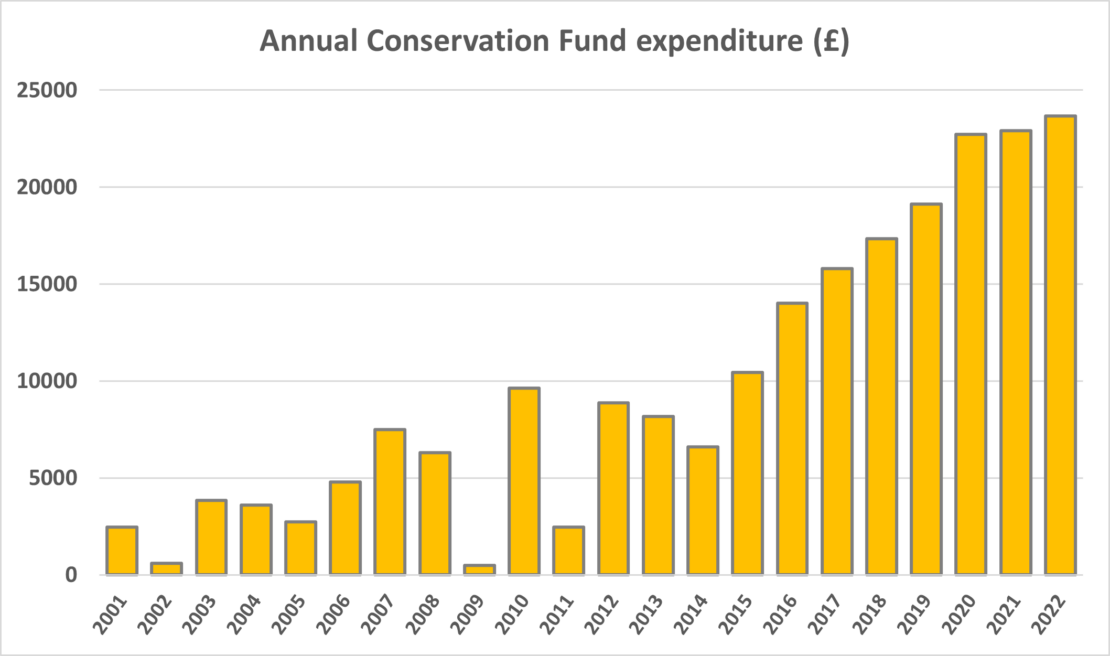 In January, we awarded our third Trevor Poyser Species Conservation Fund grant (Figure 3) to the Biodiversity Research and Conservation Center Community Trust (BRCC) in Kazakhstan for the "Protection of Saker Falcon and Egyptian Vulture in the Karatau Mountains, South Kazakhstan." The project aims to understand more about the distribution of the target species, assess the key threats and propose mitigation measures. Fieldwork is now complete and a report will be available via the OSME website in the first quarter of 2023. We have sufficient funds to continue this dedicated small grants programme for at least a further three years and are looking at ways we can continue this in the future. OSME Council have been really pleased with the level of interest that we have had in the Trevor Poyser Species Conservation Fund and the high quality of the applications we've received to date. Projects seeking support for the upcoming year have been received and reviewed and an announcement will be made soon.
Applications to the Conservation Fund and Trevor Poyser Species Conservation Fund are thoroughly reviewed by an independent committee that makes recommendations to OSME Council. During 2022 the committee was chaired by Dr Maxim Koshkin with expert input from Dr Nabegh Ghazal Asswad, Sharif Jbour, Dr Alyona Koshkina, Hana Raza and Maïa Sarrouf Willson. On behalf of OSME Council I'd like to thank the Committee for their hard work and expertise in reviewing applications and providing clear guidance on which projects should be supported.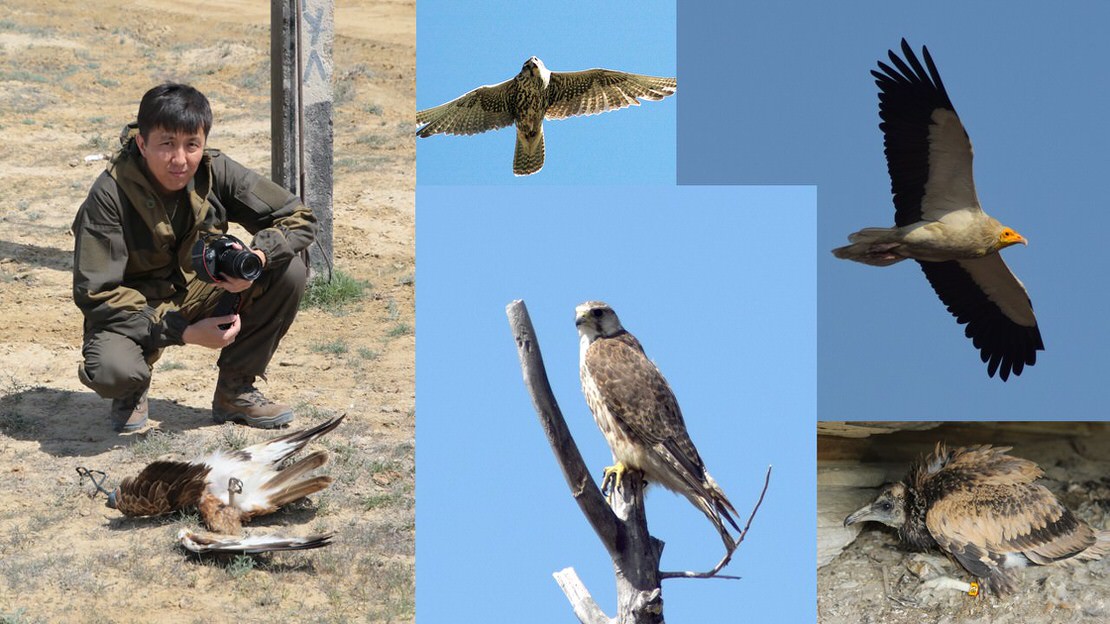 After the challenges of the global pandemic, our Youth Development Fund had a fabulous 2022. The fund is overseen by Tomas Haraldsson, OSME's Youth Development Officer, and during the previous 12-months has supported more projects than ever before, including several new and exciting initiatives. In December 2021 we supported our first youth project in Aswan, south Egypt. Aswan is the main city in southern Egypt, adjacent to the river Nile and next to important bird areas such as Lake Nasser and the lagoons and wetlands of the Nile Valley. Local young birdwatchers, an ecotourism enterprise and the national BirdLife partner, Nature Conservation Egypt (NCE), joined forces and held an excellent weekend of training and awareness raising activities. A follow up project supported by the Harrison Zoological Museum Trust was planned for December 2022 but this has now been scheduled for January this year. This is another exciting partnership that enables OSME to continue to develop medium and long-term support for our Youth Development projects.
Also in Egypt, throughout 2022 we've been in discussions with NCE to help support the Galala Raptor Count.Training young birdwatchers and researchers in raptor identification and monitoring techniques will be an integral part of the project going forward. For this project we welcomed Nautica Environmental Associates as a new OSME Corporate Sponsor who have agreed to fund this project with a significant donation.
Kuşkor and BirdLife Cyprus held a bird camp in November aimed at teenagers from the two communities in Cyprus (Figure 4). Seventeen participants joined the weekend long bird camp in November, that included a tour of some of the local Important Bird Areas, as well as an introduction to birdwatching and conservation. At least 55 bird species were encountered over the course of the weekend, including two Little Owls which were caught during a ringing demonstration. This second Cyprus bird camp builds on the success of the inaugural event in 2021, and OSME look forward to continuing to work with Kuşkor and BirdLife Cyprus to support youth development activities in the future.
We expanded our work in Turkey, including supporting the School of Avian Ecology organised by Ibrahim Kaan Ŏzgencil and Melisa Soyluer. A total of 27 young conservationists, including one participant from each of Azerbaijan, Morocco and Russia, attended a week long intensive programme of seminars, workshops and activities. The project has a dedicated website and a guest blog will be on the OSME website in the near future. Ringing activities run by the Eymir bird ringing station were also supported and we received excellent feedback from organisers and participants. Ibrahim Kaan Ŏzgencil also hosted the first OSME supported webinar aimed at young Turkish conservationists as well as OSME Supported Members. This is a webinar series we hope to expand in 2023.
In Azerbaijan, the Besh Barmag autumn bird camp returned thanks to substantial funding from the Azerbaijan diaspora. The activities were organised and run by previous participants of the bird camp programme which is how OSME wants to see our work develop at the local level. Similarly, an exciting project collaboration with BirdLife Europe and Central Asia supported preliminary surveys of the globally near threatened Marbled Teal in Azerbaijan. The Azeri survey team was comprised of young birdwatchers and conservationists who had previously attended the Besh Barmag bird camps – Youth Development in action!!
Overall, an amazing £21,755 was spent through our Youth Development Fund in 2022 and it is especially pleasing to see many donations being made specifically to support this area of our work.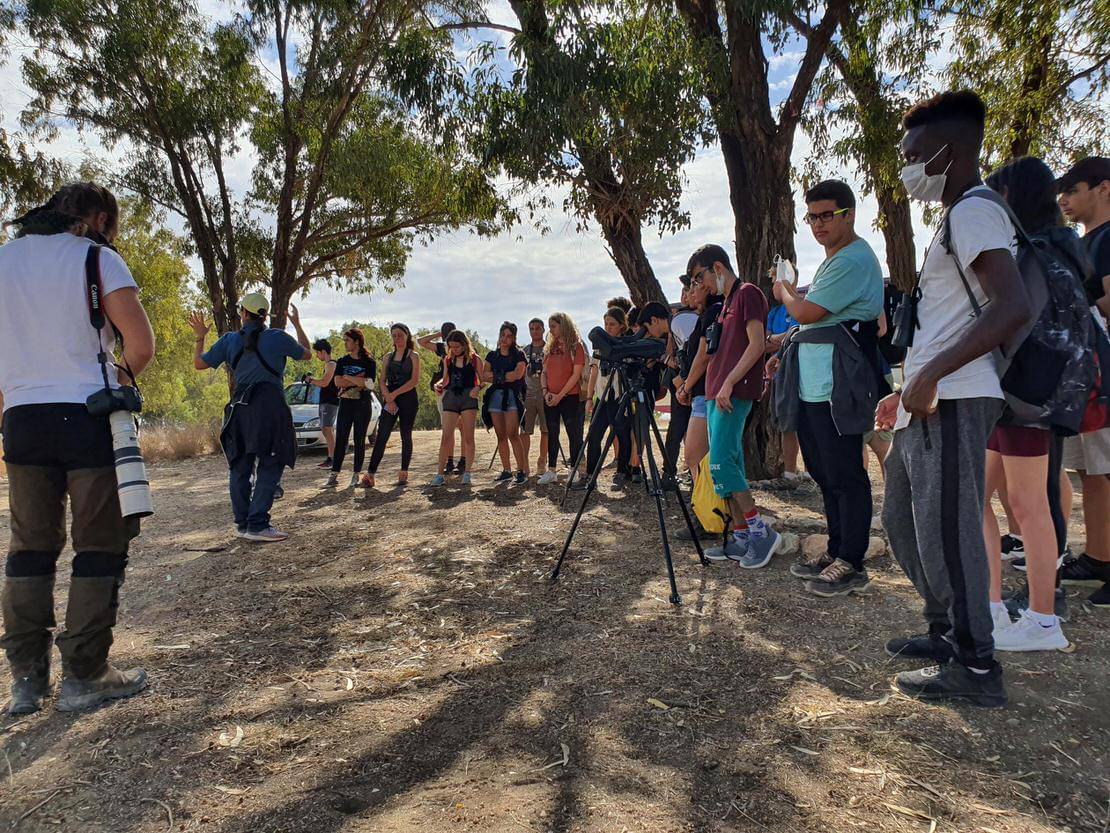 Small grants expenditure exceeds £50,000

When our three small grants are combined, OSME funded projects across our region to the value of £50,435. This is an incredible achievement and is the first time our expenditure through our various grant programmes has exceeded £50k. It will be difficult to maintain this overall level of expenditure in the coming years but OSME Council will continue to look for future funding opportunities.

New partnership with Opticron
At the Global Birdfair in July, leading optics supplier Opticron agreed to support our Youth Development Fund by providing quality telescopes and binoculars for our bird camps and other events. Many of the enthusiastic young birdwatchers who attend our camps for the first time don't have binoculars and this hinders their ability to get involved in all the activities. In the spring, two Opticron 20-60x Adventurer II WP telescopes were provided to the young Azeri team surveying Marbled Teal (Figure 5) and in the future more of our Youth Development projects will be supplied with 8×42 Adventurer binoculars.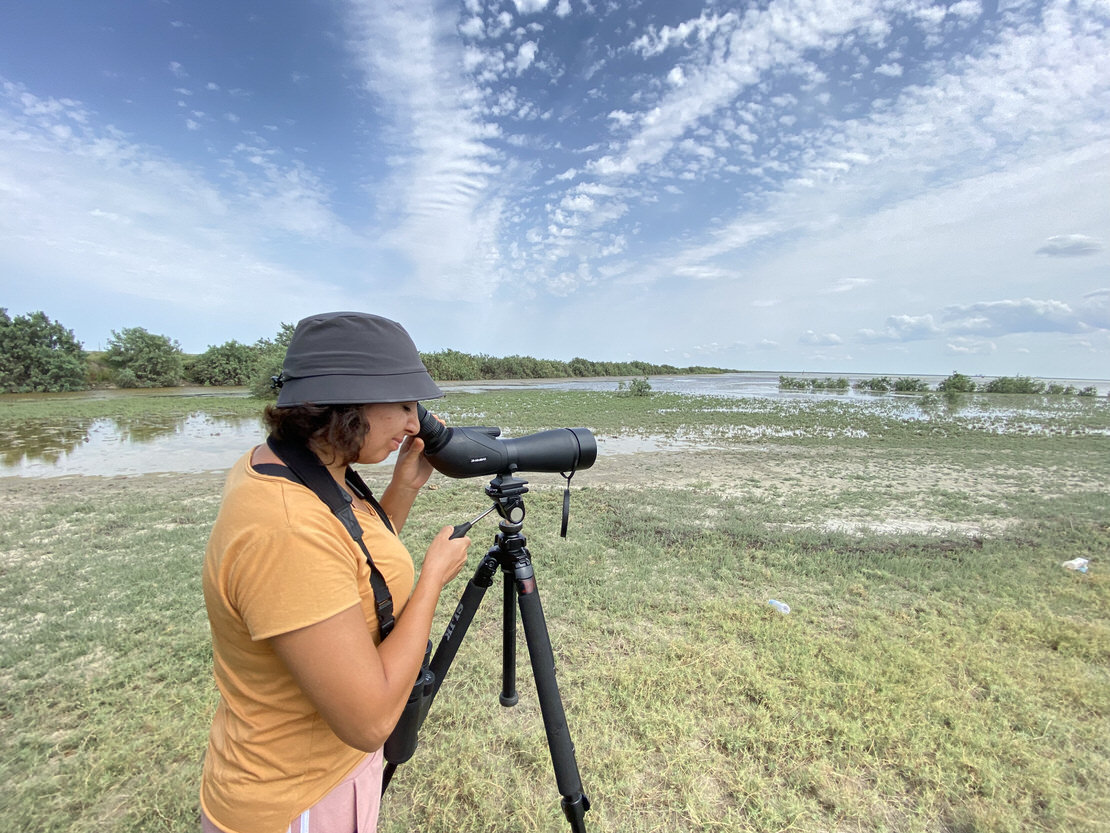 Sandgrouse
Issue 44(1) of our well-respected journal Sandgrouse was dedicated to the globally threatened Great Bustard. The special issue included the Proceedings of the International Conference 'Advancing the Conservation of the Great Bustard in Asia,' as well as several papers specially commissioned to provide a comprehensive overview of the status of the species in the OSME region. The issue was very well received and will no doubt be the key scientific reference for this species across central Asia, the Caucasus and the Middle East for decades to come. Huge thanks to Dr Mimi Kessler (Eurasian Bustard Alliance & IUCN SSC Bustard Specialist Group) and Nigel Collar (BirdLife International & IUCN SSC Bustard specialist Group) for their support of the Sandgrouse Editor Dr Paul Donald in the production of the special issue. The wonderful island of Socotra was the theme of the second issue of Sandgrouse which was published in December, although postage to members was delayed until January 2023. More members than ever are now opting to receive the journal in digital format which helps OSME make a significant saving on postage costs. This is greatly appreciated as the cost of postage is rising sharply. Members wishing to switch to digital format can email sandgrousedigital@osme.org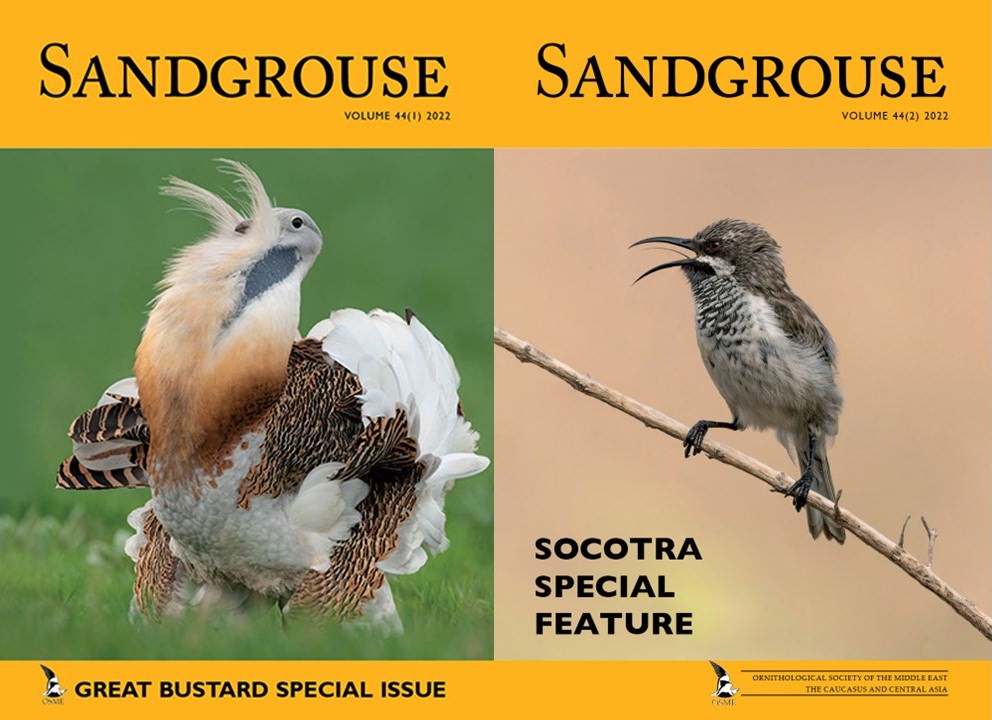 The Global Birdfair and Falsterbo
In July 2022 the Global Birdfair returned, now at the Rutland Showground, and OSME continued a long-running presence at the event. It was the first time for more than two years that we were able to meet many of our members and supporters face-to-face. In September, for the first time, OSME also had a presence at the Falsterbo equivalent of the Birdfair (Figure 7), thanks to Tomas Haraldsson and OSME members, Stephen Menzie and Abdulhakim Abdi.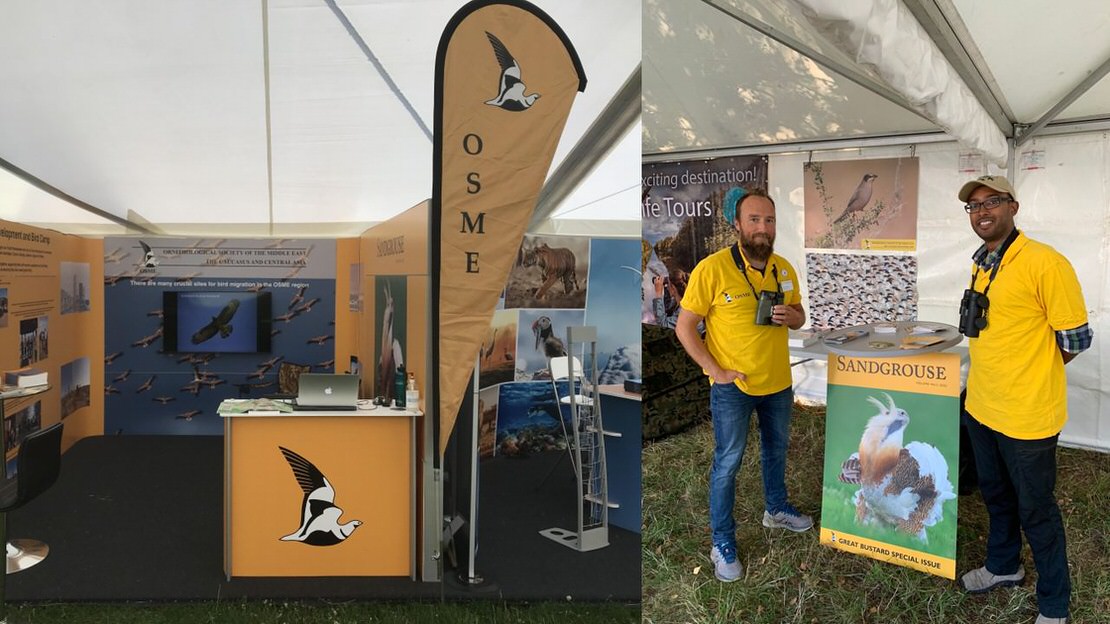 Communicating with members and supporters
The e-newsletter that was launched in 2021 continued with three more issues in 2022 thanks to the sterling efforts of Phil Roberts, Georgia Locock and a host of contributors. The number of subscribers continues to grow and the feedback so far has been wholly positive. It is easy to subscribe and is freely available to members and non-members. Our Facebook page is increasingly popular with visitors from across the OSME region. More content than ever is being published in local languages, Turkish, Azeri, Georgian and Arabic, thanks to in-country OSME members volunteering as guest editors. Engagement on our other social media channels (Twitter and YouTube) has been sporadic due to a lack of capacity within OSME Council. Can you help with OSME's social media channels? Then please contact me chairman@osme.org
We continued with online meetings during 2022 with two events held in January and November. Of the eight speakers across the two meetings, seven were from the OSME region. The Annual General Meeting was also held online in November and it has been agreed by OSME Council that all future AGMs will continue to be held remotely. The transition to online meetings has certainly enabled OSME to engage with many long-standing international members which was previously impossible with the focus on face-to-face meetings. OSME Council remain uncertain what role face-to-face meetings will have in the future and we're keeping this under review.
Membership recruitment remains a concern for OSME, as it does for most similar-sized charities and organisations. Overall, we saw a slight decline in membership again during 2022 which has a significant impact on our unrestricted funds. Whilst OSME currently remains in good financial health and we are seeing record levels of income and expenditure, a significant proportion of this is restricted to our small grants programmes. The day to day running of OSME, including the publication and distribution of Sandgrouse, requires unrestricted funds of which membership subscriptions have been the main source. This is an issue that OSME Council will be looking at in detail in the coming year.
During 2022 there were a number of changes on OSME Council with Sajidah Ahmad standing down as Secretary and being succeeded by Marko Halonen at the 44th AGM. Tomas Haraldsson was also elected back on to Council as our Youth Development Officer, and Chris Hughes (co-treasurer) and Mike Blair (ORL manager) continue as co-opted members of Council as their official terms ended. Paul Stancliffe's term also came to and end at the 44thAGM in November. I'd like to take this opportunity to thank all OSME Council members for their hard work and dedication over the course of the last 12 months.
Finally, thanks to all OSME members , supporters and donors for their help during 2022, we wouldn't have been able to achieve so much without your continued support.
Dr Rob Sheldon chairman@osme.org