Training young people in bird monitoring in Egypt
Guest blog by Basma Sheta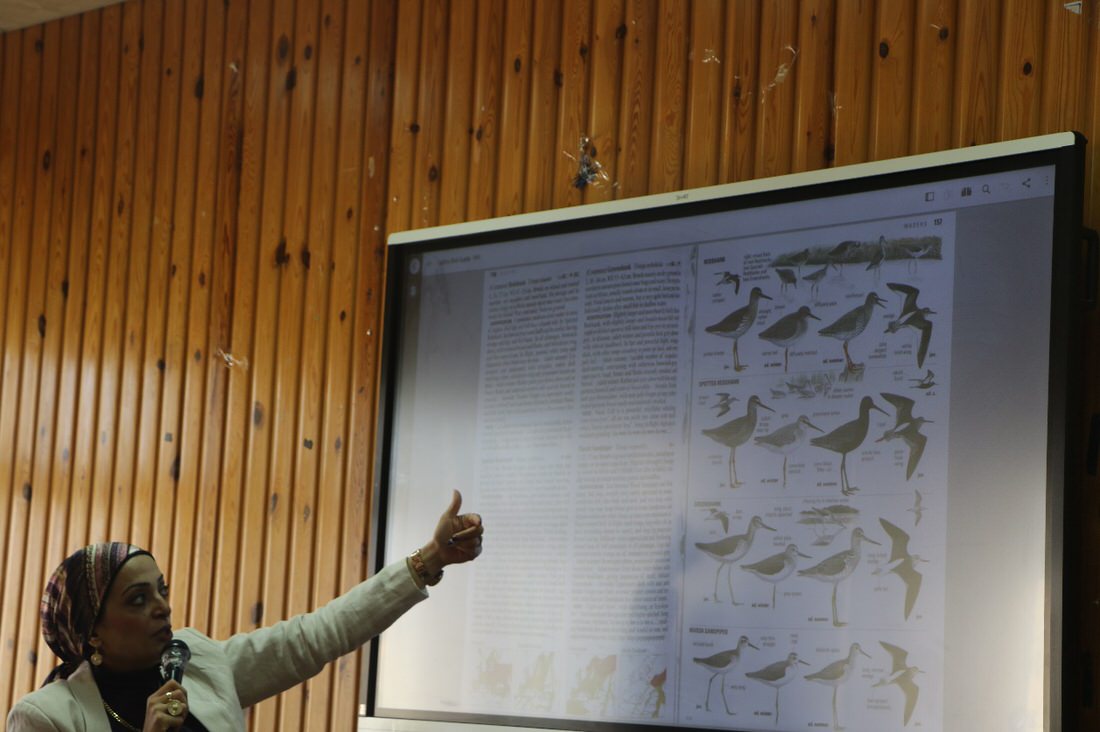 I am really pleased to write this account of a training programme in the basic techniques of bird monitoring that was undertaken at Lake Manzala, Egypt in autumn 2022 and funded by the OSME Youth Development Fund.
Egypt occupies a central position between Africa and Eurasia making it an important stopover for migratory birds. There are two main migratory flyways crossing over Egypt; the Mediterranean-Black Sea and East Africa-West Asia flyways overlap with the more regional Rift Valley-Red Sea flyway. Birds that migrate through the Rift Valley-Red Sea flyway from Europe and Asia follow the eastern Mediterranean coast or the Jordan Valley to northern Egypt, where some of them also spend the winter along the coasts of the Mediterranean, Nile Valley, or the Red Sea, or they continue southward towards the East African Rift Valley and Sub-Saharan Africa. Numerous bird species, including those in the orders Anseriformes and Charadriiformes, use this flyway (BirdLife, 2018). The wetlands along the Mediterranean coast, the Nile Delta, and the Nile Valley are Egypt's most crucial habitats for waterfowl. BirdLife International has designated 34 significant bird and biodiversity areas (IBAs) along the Nile Valley and the Red Sea coast, including four globally renowned migratory bird stopping locations, and so-called Ramsar sites (Ramsar Convention, 2018). The IBAs are divided into wetlands, offshore islands, and scrub/wadi/desert. Gulls, terns, and herons breed in sizable colonies on the nearby islands.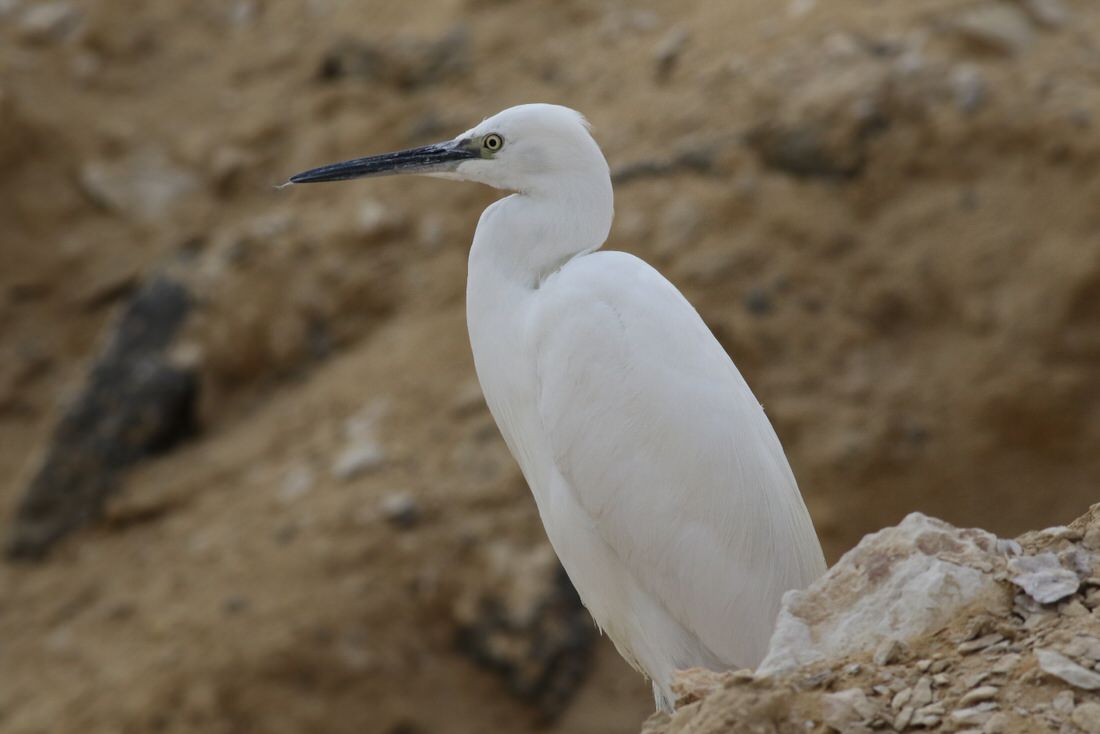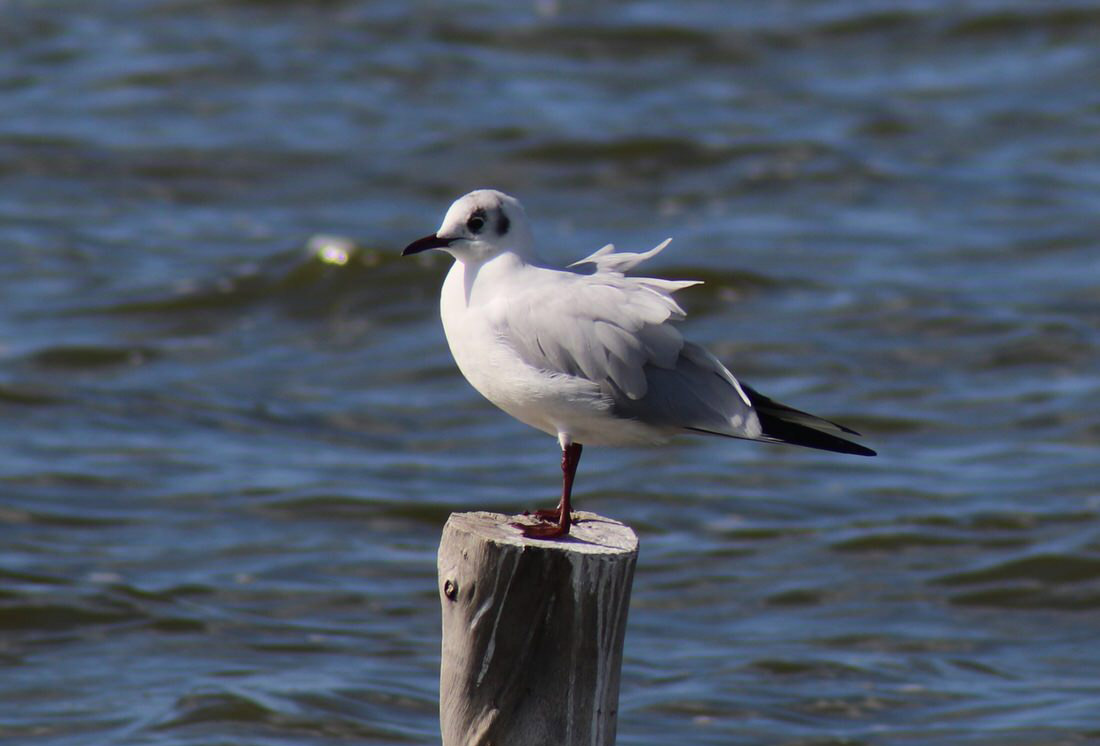 For the autumn period 2022, the project's main goal is to build the capacity of young students to better understand ecology, and waterbird identification. We are in urgent need of qualified birders to cover Egyptian IBAs. These students were trained on systemic bird monitoring throughout the entire duration of the project. This goal was achieved through extensive training with all dense scientific material about the basics of identifications and how to perform bird survey techniques. Then we walk through each waterbird group; herons, ducks, plovers, gulls, terns, etc.
The students were divided into groups to practice extracting their own key identification tips for common and closely related species. A series of field visits were done in the coastal area and Manzala Lake border to train in a practical way on bird identification and census techniques using point counts and line transects. This project will be an important step towards conserving the bird's suitable habitat for an important IBA for wintering migratory birds and water birds nesting inside it. The only way to ensure valid data for birds and the continuity of bird census is to train the ecologist on bird identification methods in a professional way.
We are looking forward to continue this work in 2023 and beyond, and below are two quotes from female participants to exemplify the importance of such capacity building initiatives: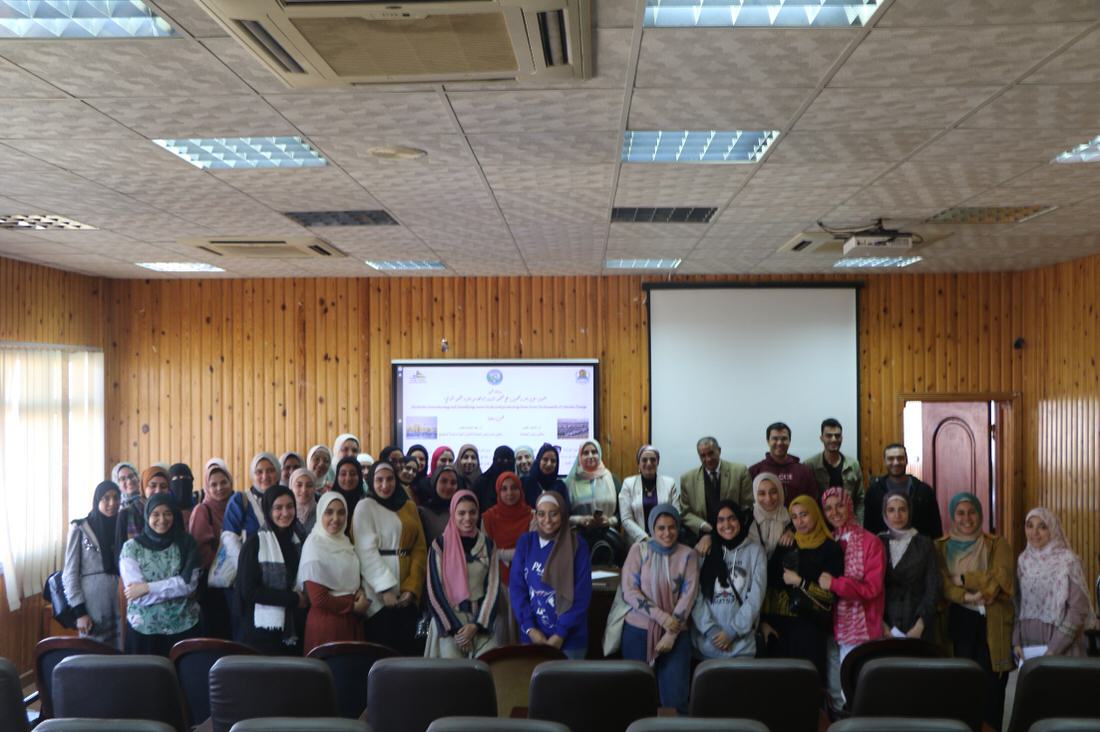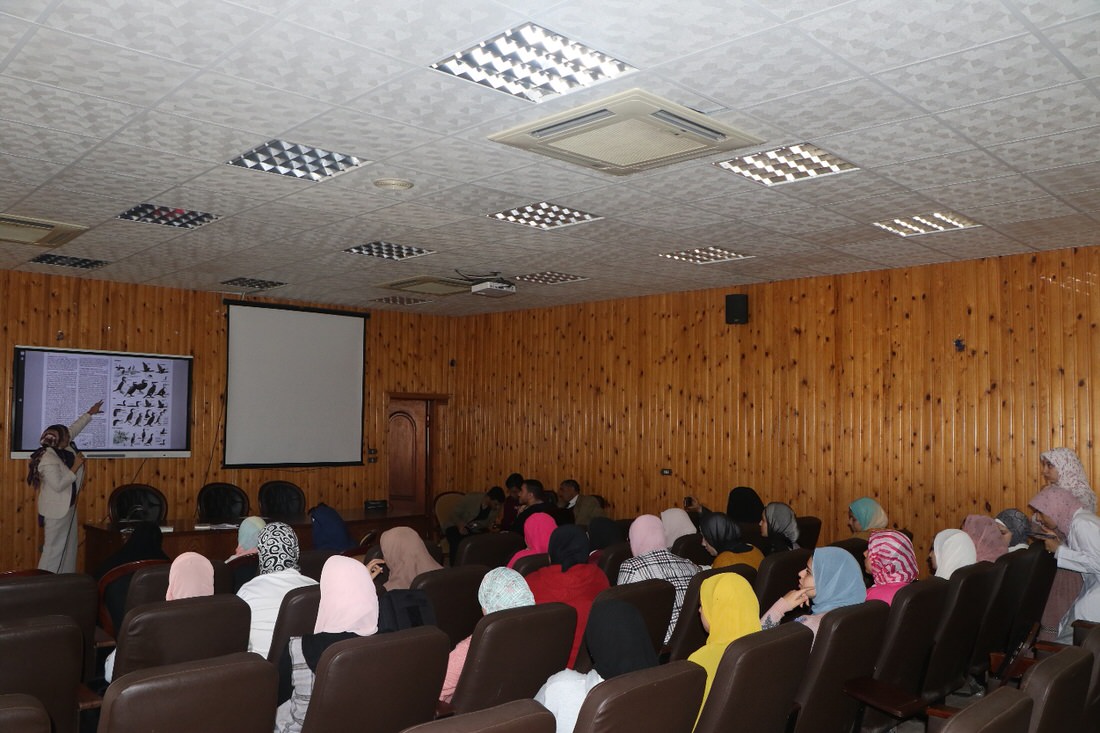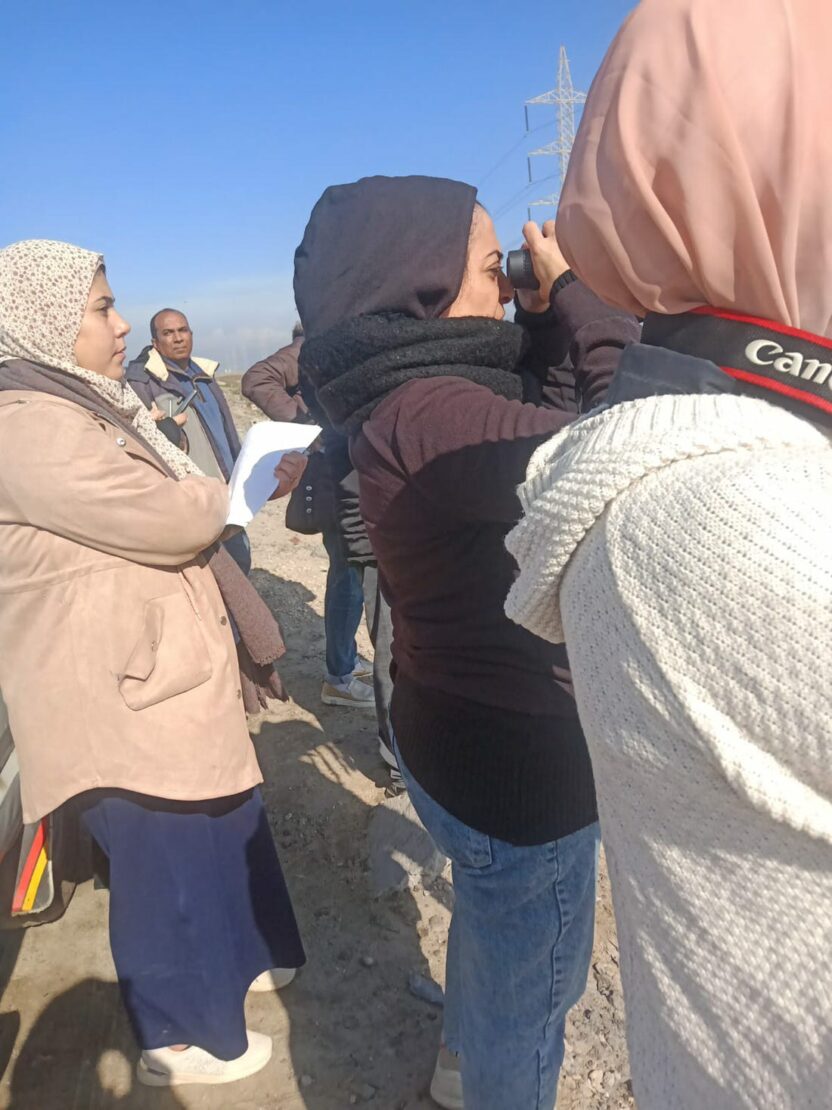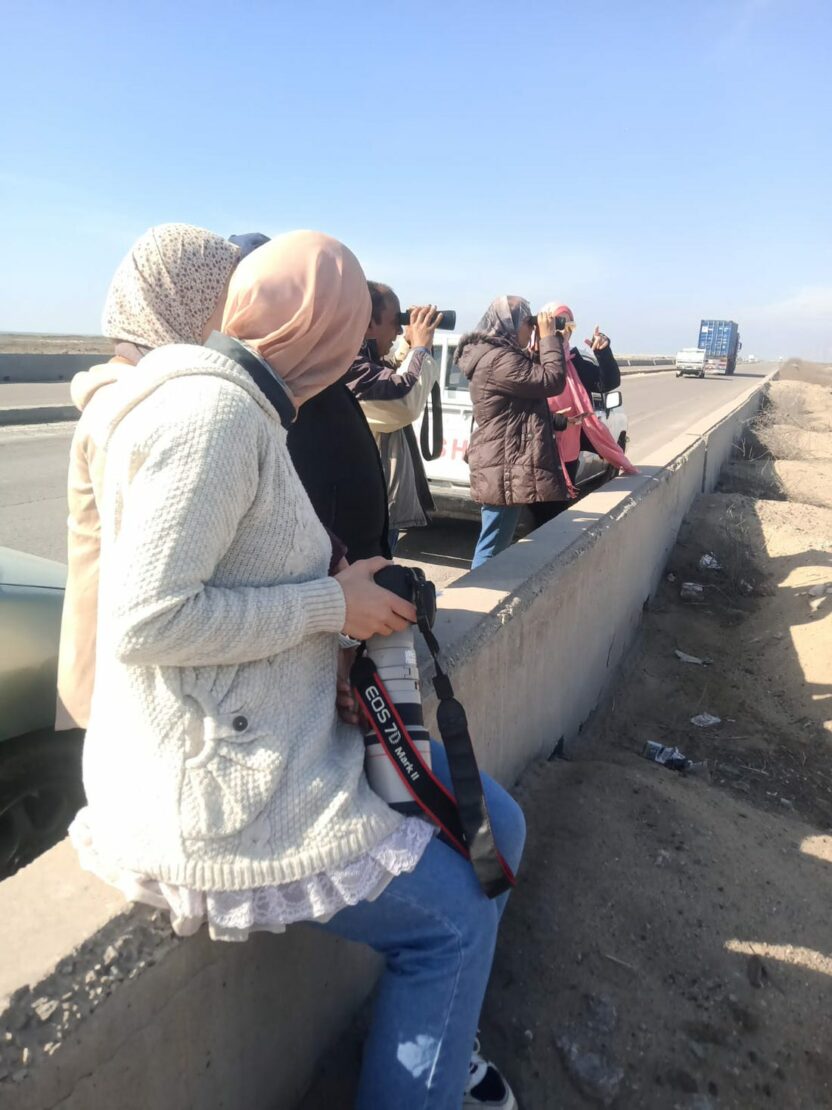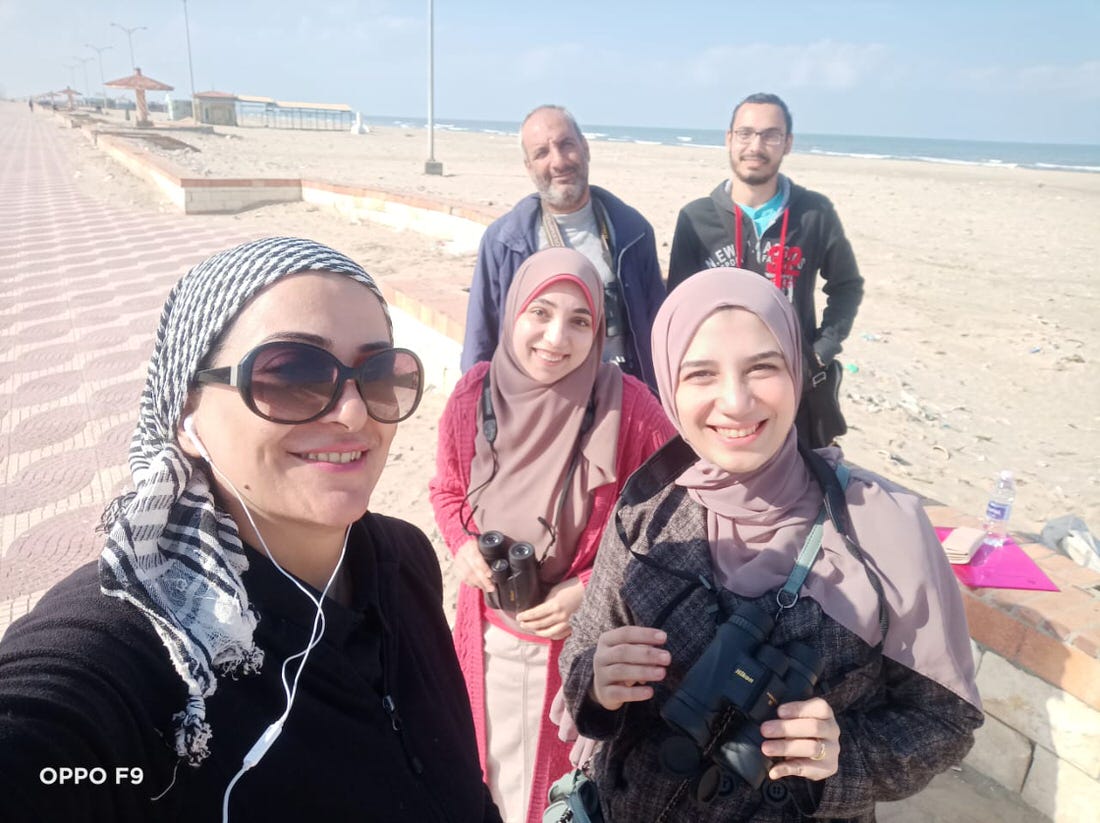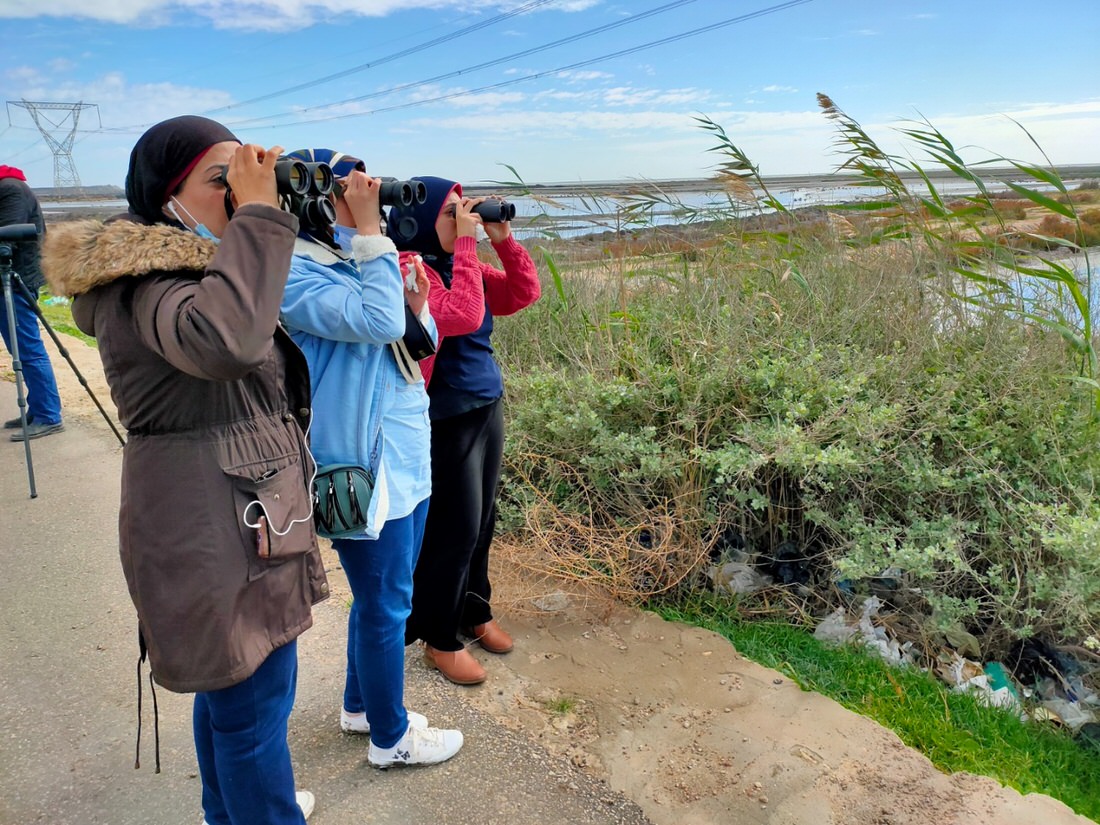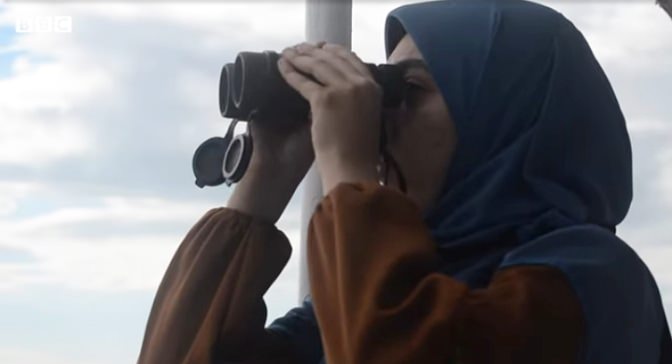 "I am Omnia Waheed Asaad, a master student in Damietta University's Fauna and Animal Ecology Programme and a Zoology Department bachelor's degree holder. Since 2020, I have been a team member in the research project "Study about the genetic structure of migratory birds infected with avian influenza" financed by The Science, Technology, & Innovation Funding Authority.
My work within the influenza project drew my attention to the importance of this topic for Egypt because of its important position along migratory bird flyways and as a wintering area for birds that may carry the avian influenza virus. So, I decided to write my master's thesis entitled: the spillover ecology of avian influenza in migrating waterfowl ducks.
Briefly, I will study the behavior of migratory birds which may carry the virus and its relationship with resident birds and the possibility of transmitting the virus to them. Last winter I attended a workshop about the classification of water birds in which I learned about the basics of classification and how to differentiate between similar groups, methods of bird monitoring, and also how to write data sheets, after that I participated as a team member in winter bird count activities in Lake Manzalla, lake Burullus as well as the coastal area in Damietta.
Defiantly those activities will help me in my thesis but also for me the most enjoyable time is when I learn about birds and share my enthusiasm for them with others."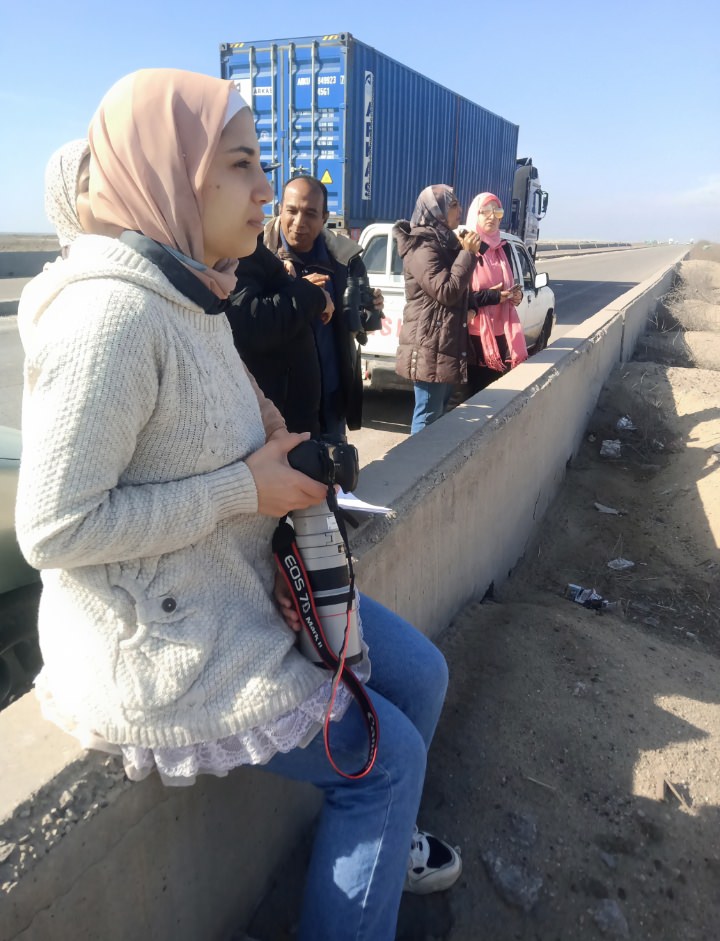 "I am Reem Elgamal. As a master's student from the Faculty of Science, specializing in the population structure of Egyptian fruit bats and its metapopulation, I recently attended a workshop training on water bird identification. Although my research focuses on bats, attending this workshop was a valuable experience as it highlighted the importance of water birds and their role in maintaining wetland ecosystems. I learned how to accurately identify different water bird species based on their physical characteristics, behavior, and habitat preferences. This skill is crucial for monitoring and conserving water bird populations, especially in the face of threats such as habitat loss and pollution. The benefits of attending this workshop were numerous, including gaining a deeper understanding of bird ecology, developing practical skills for conducting fieldwork, and networking with other researchers in the field. Additionally, the conservation of wetlands and water birds is important for maintaining the health and biodiversity of ecosystems, which can indirectly impact bat populations. Overall, attending this workshop has broadened my knowledge and skills as a researcher and reinforced the importance of protecting all species and their habitats. "