Massive declines of the Yellow-breasted Bunting compared to the Passenger Pigeon
It is not often you hear buntings compared to pigeons, but last week an excellent, yet worrying, scientific paper was published that shows massive declines in the once common and relatively widespread Yellow-breasted Bunting. The scale and speed of the decline has drawn comparisons to the infamous story of the Passenger Pigeon, so wonderfully told in a 'Message from Martha' by Dr Mark Avery .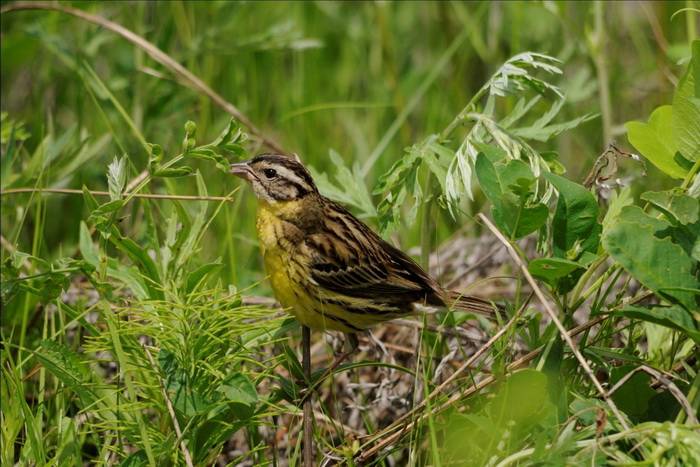 The Yellow-breasted Bunting was thought to be one of the world's most abundant bird species, but the study published in Conservation Biology shows that the population has declined by 90% and retracted its range by 5000km since 1980. The species was once distributed over vast areas of Eurasia, its range stretching from Finland to Japan, and were widespread in parts of the OSME region.
"The magnitude and speed of the decline is unprecedented among birds, with the exception of the Passenger Pigeon, which went extinct in 1914 due to industrial-scale hunting", said Dr Johannes Kamp from the University of Münster, and lead author of the paper. "High levels of hunting appear to also be responsible for the declines we are seeing in Yellow-breasted Bunting."
The fact that it has taken so long to realise the scale and extent of these declines, highlights the need for co-ordinated monitoring activities across many countries. In many parts of the OSME and OBC regions there is very little data on long-term population trends for many species. Without such information it is difficult to target conservation efforts. The story also highlights the need for collaboration between countries and regions across migratory flyways, and also highlights the scale of unsustainable hunting and illegal bird killing on a growing number of species around the world.
Simba Chan, Senior Conservation Adviser at BirdLife International, "In the last decade birdwatching has become increasingly popular in China. We believe birdwatchers will play an important role in data gathering. With sufficient training and reference material in their national language, it should not be difficult to start a wide range monitoring scheme in China and many other Asian countries to help us avoid repeats of this decline in other species."
The need for local language field guides and the role of citizen science are themes we will come back to on the OSME website in the coming months.
For further information visit the BirdLife International http://www.birdlife.org/asia/news/superabundant-bird-decline-mirrors-passenger-pigeon and OBC http://orientalbirdclub.org/2015/06/08/yellow-breasted-bunting-decline/ websites