Batumi – "this one is very rare, it's on the red-list"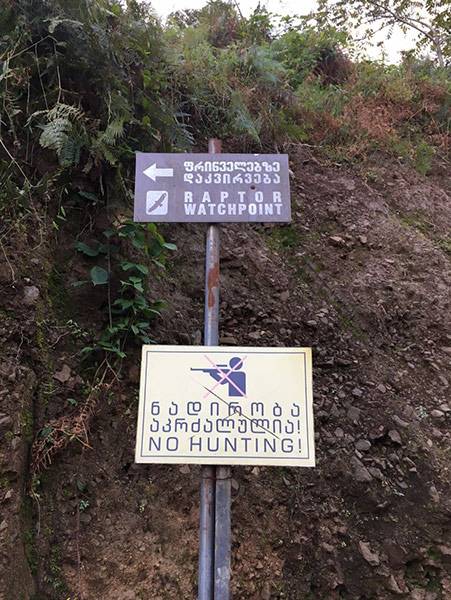 I recently blogged about how amazing Batumi can be for migrating raptors – The Serengeti of the Skies. Unfortunately, there is a less amazing side to Batumi, and it involves the illegal killing of birds. In 2015, OSME were pleased to support a project by the Batumi Raptor Count that aimed to assess the species (mainly raptors) and the numbers being killed. More than 200 individuals were observed being killed from the monitoring point at Sakhalvasho, and during standardised body counts, the remains of 445 were located. The most common victim was the honey buzzard (also one of the commonest migrating raptors at Batumi). At the raptor watchpoints, as well as monitoring the number of birds, the counters also record the number of gunshots heard. A total of 6661 shots were heard, and it is thought that for every 4th shot, a bird of prey dies. You can read a summary of the results here. And remember this is data primarily from just one village, so the overall numbers across the country will be substantially higher.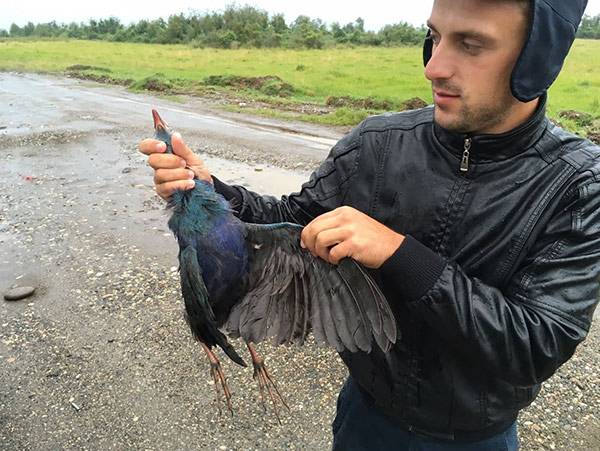 Whilst in Batumi, I took the opportunity to visit an area known as the Chorokhi Delta. It is a site that is well-known to me due to the regular sightings of the Critically Endangered Sociable Lapwing, although I have never been there. Unfortunately, it has a reputation for the large amount of hunting that occurs there – all of which is illegal and unregulated. The only thing that regulates the hunting, is the presence of birds. If birds are present they are shot. I only had one opportunity to visit the Delta, and unfortunately it was awful weather. I was accompanied by Aslan of Sabuko, and it was only a brief visit that lasted 40 minutes before the rain became too heavy. However, in that short period of time, we walked about 500 metres and saw a total of 47 active hunters and heard a minimum of 22 shots. We witnessed 2 snipe being shot, flushed by dogs from a patch of wet grassland adjacent to the path; one got away, surviving for another day. The hunters are very approachable and one of them was happy to show us his spoils for the morning. We were surprised when he pulled out a Purple Swamphen from the boot of his car. His words will stay with me for ever – "this one is very rare. It's on the red-list." It certainly isn't a common bird in Georgia, it was the first one that Aslan had seen, I hope that one day he will see a live one.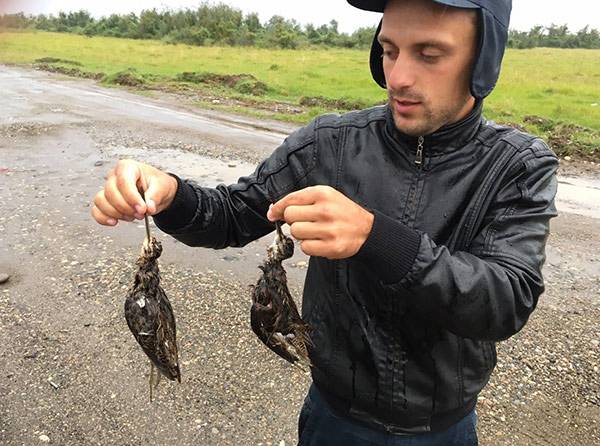 Illegal bird killing is a serious threat to birds across the OSME region and tackling it is one of our key priorities. We will continue to support and work with organisations and individuals across the region, and we welcome applications to our Conservation and Research Fund for projects that focus on illegal bird killing. If you would like to support our work, you can join OSME or donate via our website.
Many thanks to Batumi Birding and Sabuko for supporting my visit.
Rob Sheldon
Chairman, OSME
Batumi