FOR THE BRIGHTER FUTURE OF SOCIABLE LAPWING
A guest blog by Oleg Kashkarov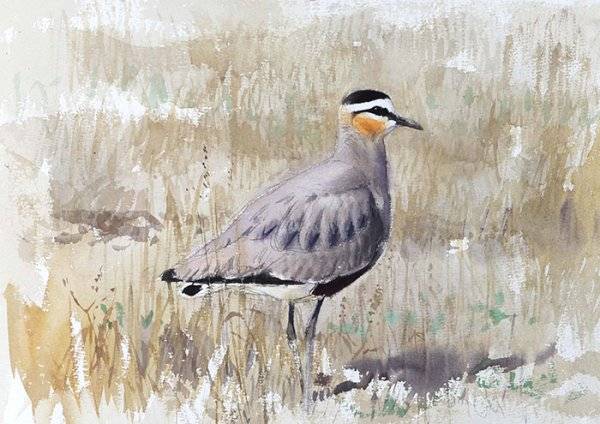 The Uzbekistan Society for the Protection of Birds started implementation of practical actions aimed at raising awareness of non-governmental and governmental conservation bodies, educational institutions and local communities of Kashkadarya region about Sociable Lapwing as one of the world's rarest birds.
Sociable Lapwing is a critically endangered species that is subject to a catastrophic risk of extinction. Talimarzhan reservoir in Kashkadarya region is the place where half of its world population stops during autumn migration. The UzSPB initiative on this rare species preservation has been approved and supported by Kashkadarya Territorial Department of the Ecological Movement of Uzbekistan, the Bio-inspection of Kashkadarya and Surkhandarya regions, and the Union of Hunters and Fishermen.
On June 26, 2018 the meeting in the conference hall of JV 'Gissar Neftegaz' in Karshi brought together representatives of the Ecological Movement of Uzbekistan, inspectors of bio-inspection of Kashkadarya and Surkhandarya regions, staff of the Union of Hunters and Fishermen, the governance and the rangers of Sundukli and Dehkanabad hunting farms, and lecturers of Karshi State University.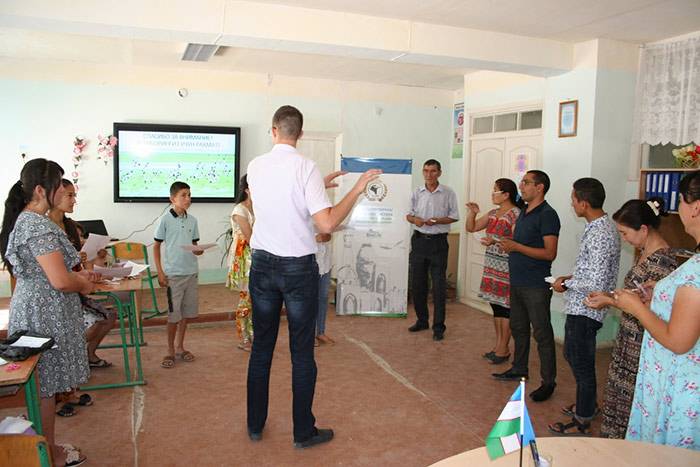 The UzSPB CEO, R.D. Kashkarov spoke about UzSPB activities aimed at Conservation of species and territories and noted that the work to preserve Sociable Lapwing and the territory of Talimarzhan is among UzSPB's high priority objectives for coming years.
In the presentation 'Sociable Lapwing is our very important guest' UzSPB Education Coordinator, O.R. Kashkarov said that Talimarzhan is the only Sociable Lapwing stopover and roosting site on its autumn migration route from Kazakhstan to India. The main threats to this species are overgrazing, which leads to desertification and a reduction in the fodder base. Locals and hunters can also represent a possible threat because this bird is not afraid of people. Therefore, UzSPB representatives urged staff and rangers of the bio-inspection to protect this bird from any possible disturbance.
Since care of the Sociable Lapwing means close cooperation with environmental organizations, stakeholders identified on the meeting were invited to participate in observations of the Sociable Lapwing together with UzSPB staff in October 2018. Inspectors, rangers and hunters who wished to participate in this fieldwork will be trained how to observe this bird. In future, this will allow them to join Sociable Lapwing Monitoring Programme.
During the meeting, inspectors and hunters received information about Lesser White-fronted Goose – endangered species that can be observed on Talimarzhan on migration and wintering. Staff of the Bio-inspection, Union of Hunters and Fishermen and rangers were given posters and identification tables with the differences between Lesser White-fronted Goose and White-fronted Goose.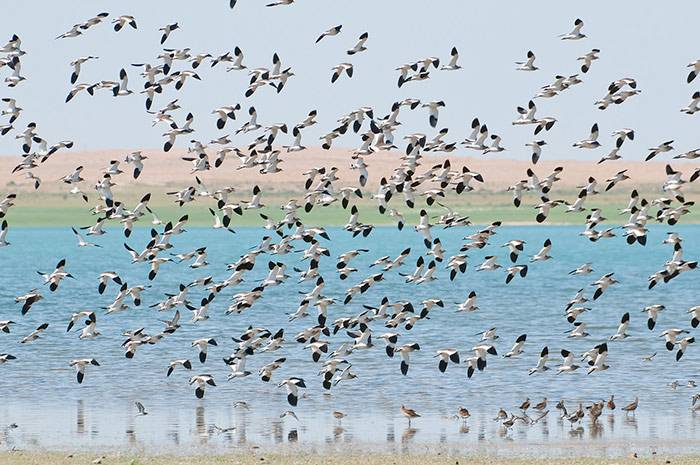 On the same day, UzSPB representatives visited regional Bio-inspection and erected banners with pictures and emotional calls to take care of Sociable Lapwing in one of the rooms. During the installation of banners, the Head of the Bio-inspection E. Polatov stressed the need for meetings and events aimed at informing about rare and endangered bird species. He also asked UzSPB to produce and provide their organization with an additional set of banners to install in one of the offices.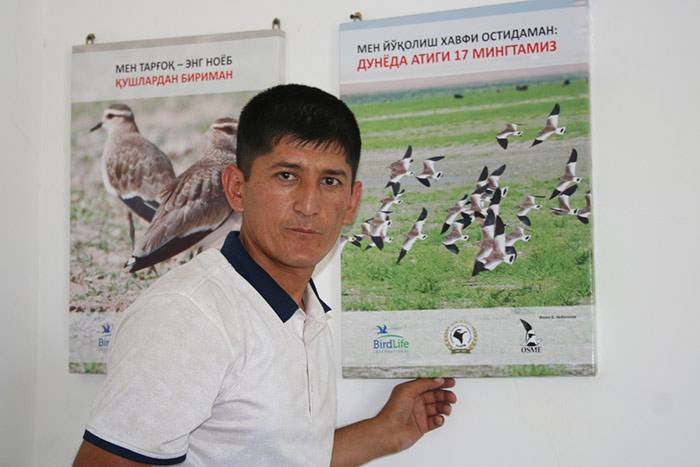 On June 27, 2018, UzSPB staff visited school №20 of Nuristan village in Nishan district of Kashkadarya region to meet school director, administration, biology and Russian language teachers and the psychologist. UzSPB representatives told teachers and school administration about the species and the need for urgent measures to protect it. Despite the summer holidays, 22 students of 6, 8, 9 and 10 years took part in the meeting. Participants learned that in October almost half of all Sociable Lapwing remaining in the world would stop close to their houses; they will need respect and care.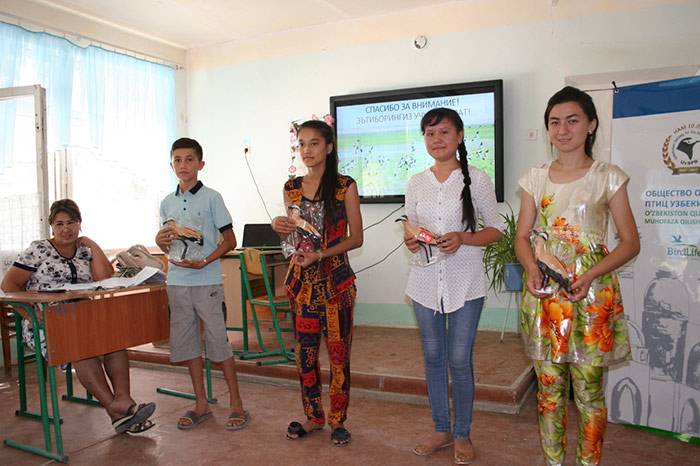 In order to understand information about Sociable Lapwing better, students of the school were invited to play 'Sociable Lapwing Migration' game. Together with schoolchildren and teachers the school director took part in t game. The meaning of the game was to demonstrate visually difficulties and threats that Sociable Lapwings can face during their flight from nesting places in Kazakhstan to wintering grounds in India. Participants of the game also learned threats these birds could expect on their roosting sites at Talimarzhan reservoir. For example, during the game one of the "Sociable Lapwings" was disturbed by curious children, another was shot by hunters who took advantage of the fact that birds were not afraid of people. Participants of the game promised to take care of these rare birds in the fall, and to tell their relatives and friends that Sociable Lapwings are very rare. At the end of the meeting, banners were hanged in the biology room, which will remind children that Lapwings needs to be protected from all kinds of disturbance. The school also handed over the models of these birds, which will make it possible to acquaint pupils with their features in biology lessons.
Banners were also hung in one of the rooms of the primary school in Jayran village, a branch of school №20, which is located on the shore of Talimarzhan. The biology teacher promised to speak about Sociable Lapwing again to pupils of both schools at the beginning of the school year and to tell us when birds will be seen in the vicinity of Nuristan and Jayran settlements.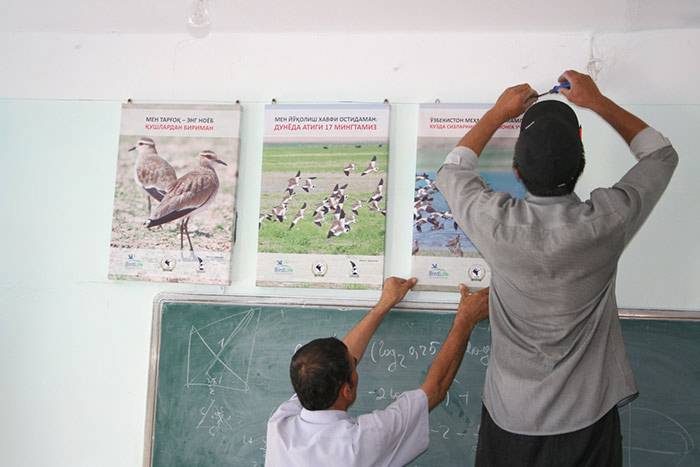 In October 2018, the UzSPB plans to carry out field research on number, distribution and nutrition of Lapwings at Talimarzhan. In parallel with studies, a field training to monitor the species will be organized for the staff of the bio-inspection. It is also planned to open 'Sociable Lapwing' club in the school of Nuristan village. Altogether, this will allow launching a Monitoring Programme for Sociable Lapwing, based on the participation of local residents and staff of nature conservation organizations in Kashkadarya region.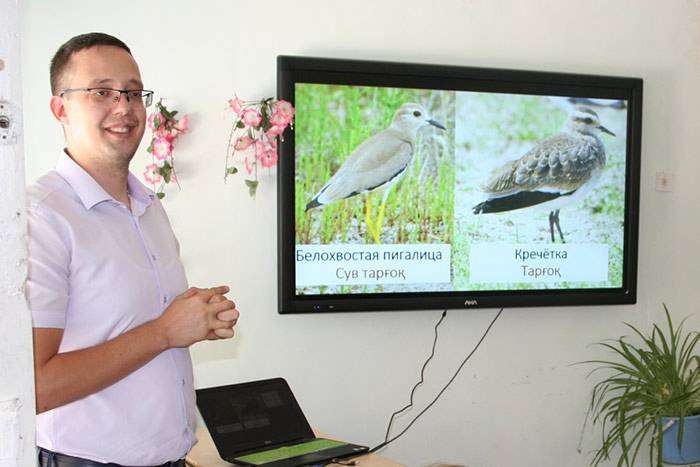 Oleg Kashkarov has worked for the Uzbekistan Society for the Protection of Birds (UzSPB) for over 10 years, since it was founded. He coordinate UzSPB awareness raising and education activities implementing applied conservation actions on KBAs together with local communities, UzSPB volunteers, its members and supporters.
Funding this work through the OSME Conservation Fund was made possible due to the support of AviFauna Nature Tours. See here for details: http://www.avifauna.se/avifauna/om-avifauna/fagelskyddsfonden
'UzSPB members of staff are proud of the Sociable Lapwing as one of the rarest birds in the world being in their country. Feeling a sense of responsibility, we want to take care of this bird and campaign for its brighter future to this end'.