Bird trapping in Cyprus – an update
Guest blog by Guy Shorrock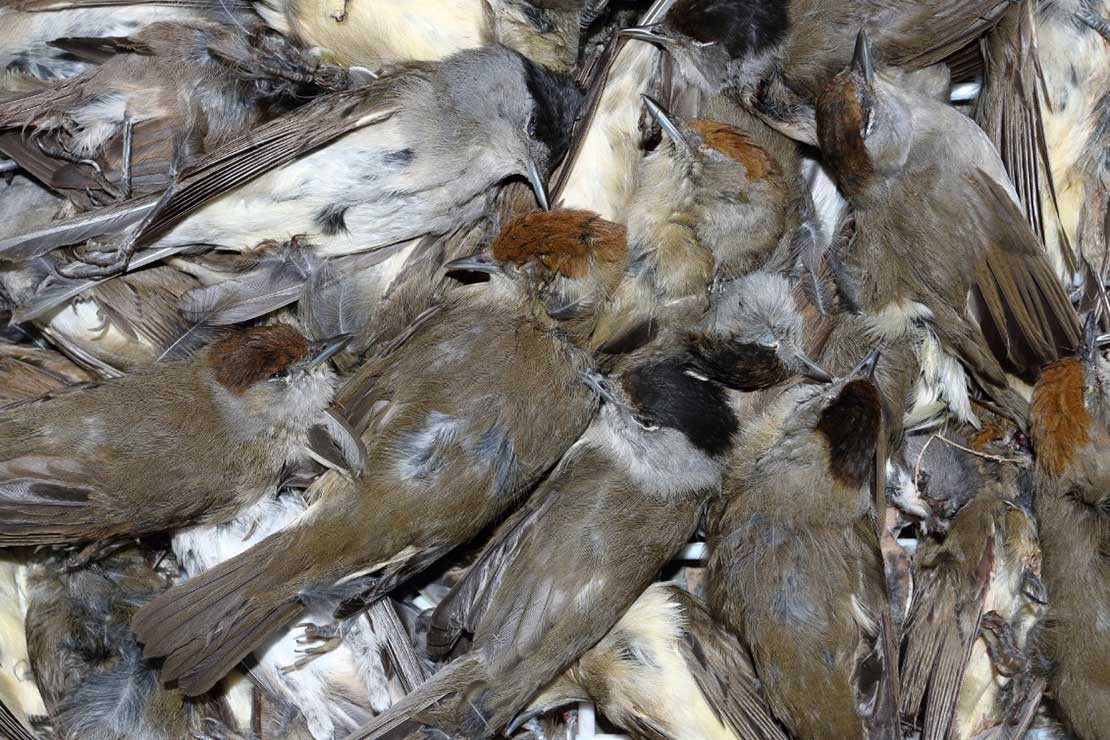 In April 2020, BirdLife Cyprus published the autumn 2019 bird trapping survey. This suggests that an estimated 440,000 birds may have been killed within the survey area over the autumn. Whilst still shocking, this is a further decline from previous surveys with levels now at 11% of the 2002 baseline, and lowest since the survey started. However, there is a contrast between what is happening on the British Sovereign Base Area (SBA) and the Republic of Cyprus.
The SBA authorities working closely with BirdLife Cyprus, the RSPB and Committee Against Birds Slaughter (CABS) have reduced the number of illegally trapped and killed songbirds to an estimated 117,000 in 2019, down from around 900,000 in 2016. In the Republic an estimated 301,000 were trapped, the second year of increase since 2017, and undermining previous progress.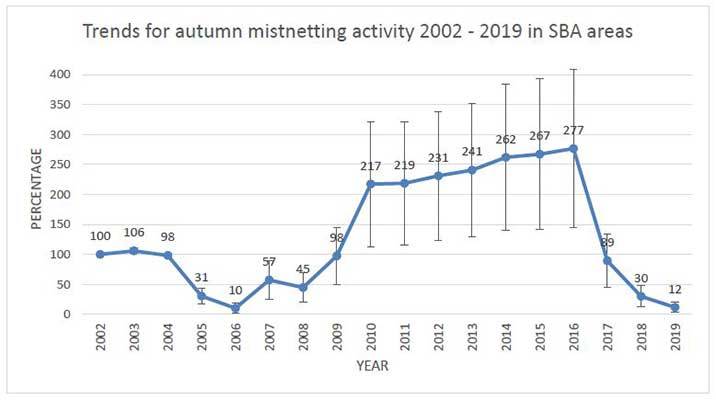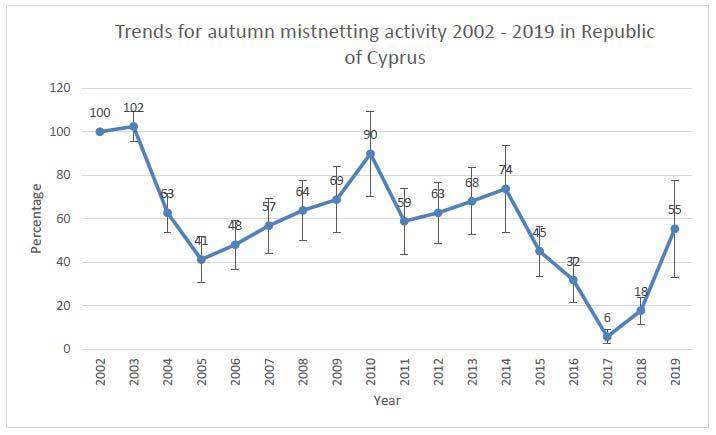 The problem of illegal killing, taking and trade of birds (IKB) around the Mediterranean is well documented. In 2015, BirdLife International launched 'The Killing', was the first comprehensive scientific study to quantify IKB revealing the brutal extent of bird crime around the Mediterranean, with an estimated 25 million birds being illegally killed each year. In 2017 an update, 'The Killing 2.0 – A View to a Kill' adding the results compiled from Northern Europe, Central Europe and the Caucasus. Cyprus, on one of the main flyways with hundreds of thousands of birds migrating between Europe and Africa, ranked in the top five worst IKB countries (after Egypt, Italy, Syria, Lebanon). It also ranked first for birds killed per capita, and second after Malta in relation to birds killed per km2.
Trapping, predominantly during the autumn, is to supply 'ambelopoulia', an expensive traditional delicacy for restaurants and home consumption. Many songbird species are trapped, including blackcaps, robins and chiffchaffs; a dozen birds may sell for over 80 Euros in a restaurant. Whilst all bird trapping has been illegal since 1974, and traditionally was done using limesticks, the situation escalated in the 1990s with the use of mist nets and electronic calling devices to lure and trap migrating birds. This industrialised trapping allows huge profits to be made and is connected with organised crime.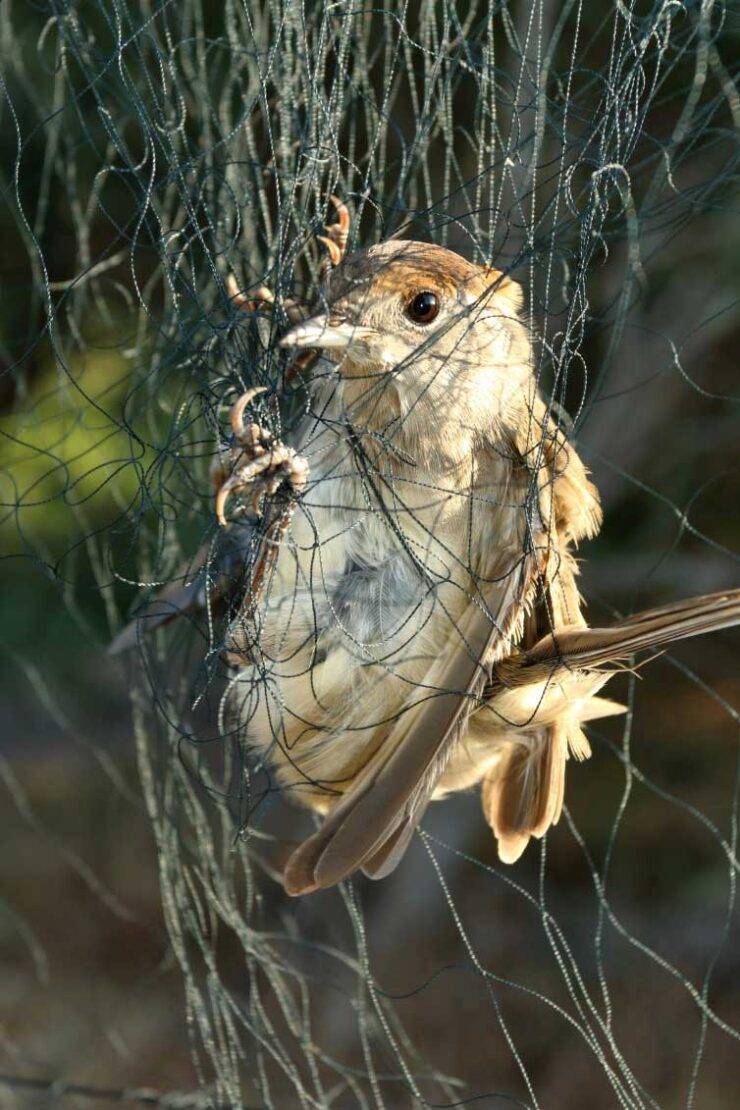 The UK authorities have two military SBAs on Cyprus. The Eastern one (ESBA), and particularly the area of Cape Pyla, has been a key trapping hotspot where trappers had planted large areas with a non-native acacia, an invasive species, in order to set their nets. These are watered with illegally abstracted groundwater running through kilometres of irrigation pipes.
RSPB got involved in 2000, and two years later set up a systematic monitoring program to measure autumn trapping levels. This was taken on by BirdLife Cyprus and run continuously to the current day, providing a unique dataset to reliably assess long-term trends. Initially, there was a positive enforcement response from the SBA and, in particular, the Republic of Cyprus authorities, leading to a significant decline of around 80% in overall trapping levels. Unfortunately, after 2007 autumn trapping levels started to rise, peaking in 2014 above the 2002 baseline, when over 2 million birds were estimated to have been killed.
In 2008, the Committee against Bird Slaughter (CABS) started working in Cyprus to support the enforcement agencies and building up a huge database of trapping sites. In recent years, Chris Packham and a film crew have been out to highlight the trapping problems. Against rising trapping levels, in December 2014, an acacia removal program started on Cape Pyla in the ESBA and was initially looking very promising. Unfortunately, local protests from the trapping community brought this work to a halt in 2016. In autumn that year, trapping levels in the ESBA peaked at 183% above the 2002 baseline. At this time, CABS and BirdLife Cyprus were counting 30-40 electronic calling devices playing at night on Cape Pyla indicating the serious scale of the problem.
Against this backdrop, this same autumn RSPB Investigations started a covert surveillance operation with the SBA police, with support from BirdLife Cyprus. This work has continued every autumn with funding from Oak Foundation and MAVA Foundation, and has resulted in the prosecution of 26 individuals.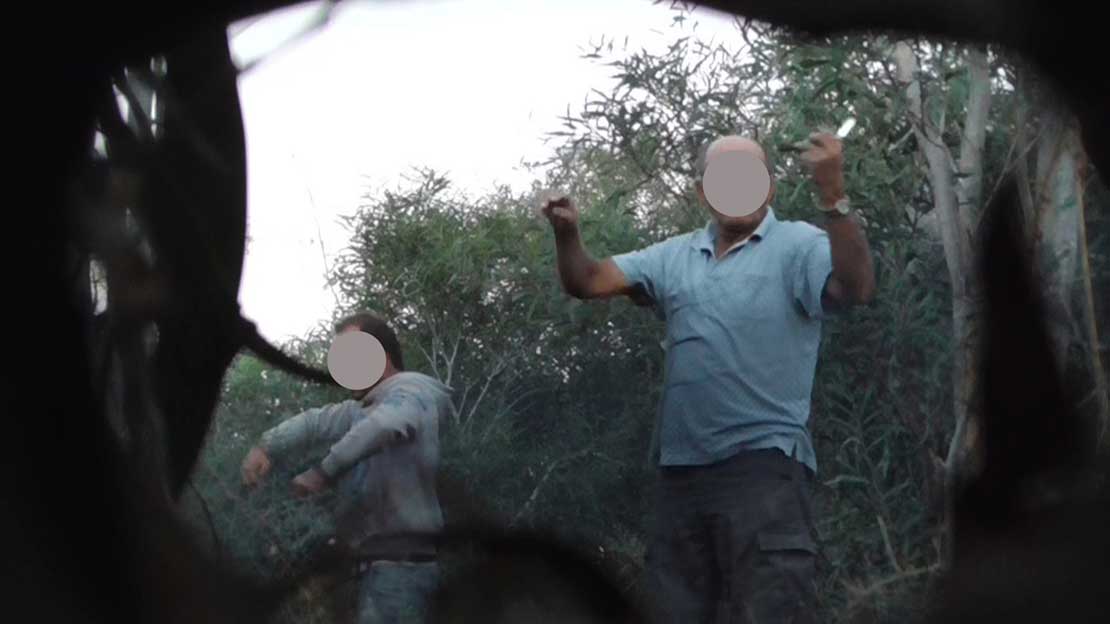 In addition to being far more meaningful deterrent sentences, this enforcement work, along with ongoing and increasingly effective lobbying and publicity efforts by BirdLife Cyprus and the RSPB, appears to have been a real catalyst for the SBA authorities. Chief Constable Chris Eyre and others have taken a series of progressive measures, using a wide range of criminal and civil sanctions to ratchet up the pressure on the trappers. This has included exclusion orders to keep convicted trappers away from their acacia plots, vehicle seizures, and revoking leases and EU subsidies from convicted farmers. A high specification surveillance drone is now used to support enforcement work. Whilst acacia clearance is on hold, the military have been removing the irrigation infrastructure and large patches of acacia are dying back, reducing their attractiveness for trapping.
When I went onto Cape Pyla at midnight last autumn it was eerily quiet with no calling devices to be heard. The recent survey results have confirmed a huge reduction in trapping levels on the ESBA since 2016 and the partnership between the SBA authorities, BirdLife Cyprus, RSPB and CABS is having a really positive impact with hundreds of thousands fewer birds being trapped.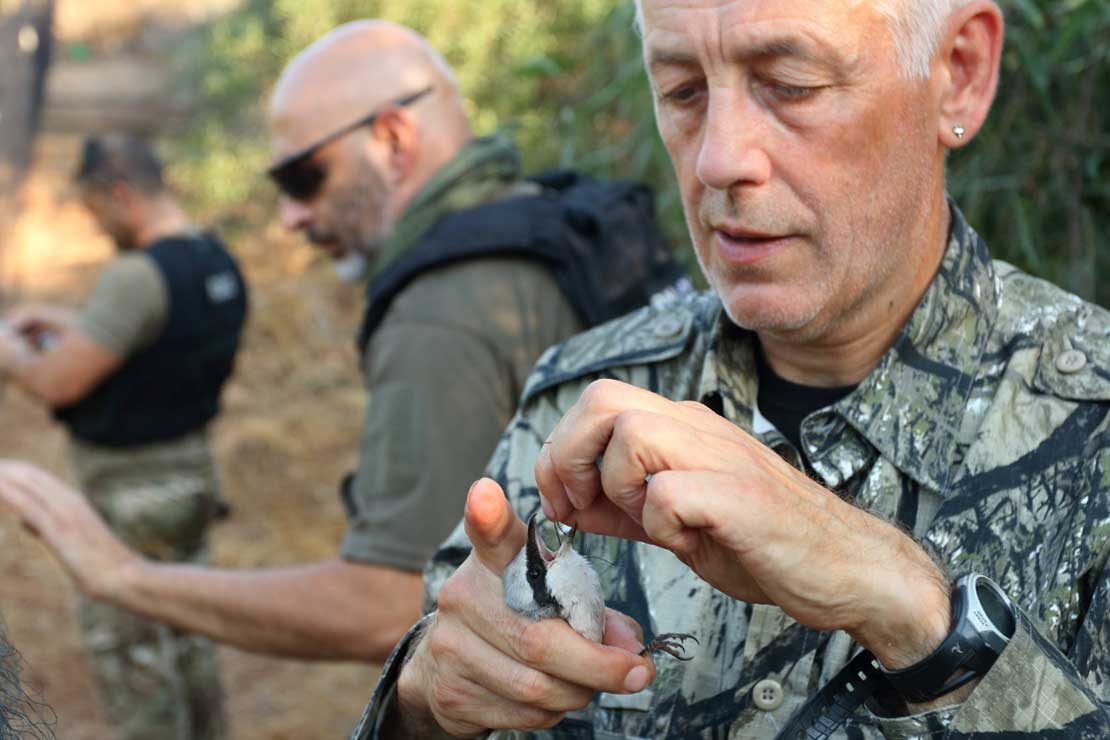 So how are things going within the Republic of Cyprus?
The problems within the Republic are exacerbated by a lack of real political will, There has been no progress on the implementation of the Strategic Plan for tackling illegal bird trapping, despite its approval by Ministers in May 2015. In June 2017, Cyprus Parliament introduced a series of relaxations in the law allowing hunters to take cooked game to restaurants, which could cover the selling of ambelopoulia. They also introduced of on-the-spot fines for all offences, though pitifully small for limesticks. That autumn the Cypriot authorities did issue some high on the spot fines for illegal mist netting, along with increased enforcement action against the restaurants in comparison to practically nothing in the preceding years. There was a clear fall in trapping levels that autumn.
However, the reaction to this enforcement has been intense, with protests from hunting and pro-trapping groups taking place. Against this backdrop levels of trapping have again increased in the Republic since 2017. In autumn 2019, myself and others witnessed large scale bird trapping on repeated occasions at a notorious site in the Republic. Our reports were effectively ignored by the authorities. Having had resources already cut, in November 2019 the Cyprus Police Anti-Poaching Unit, which had previously been very effective, was entirely disbanded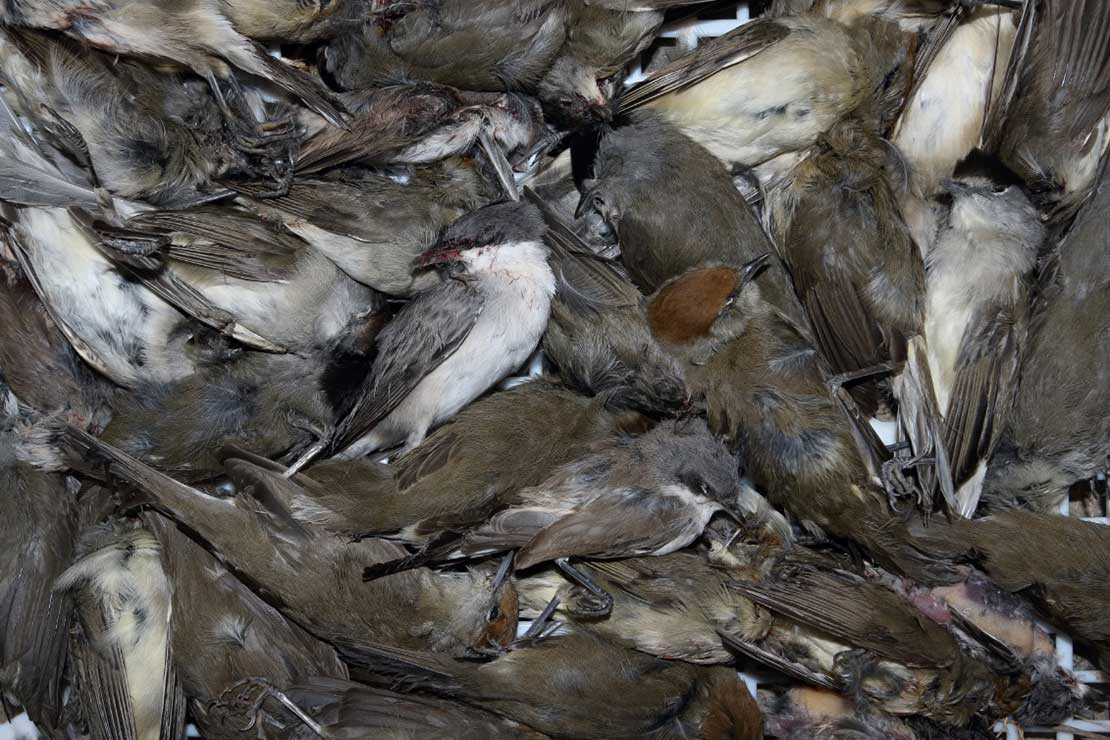 Hopefully, ongoing developments in Europe may bring more meaningful pressure on the Cypriot authorities to take action. In September 2018, a 3.5 year 'LIFE against birdcrime' project started to help tackle bird crime within flyway countries. This is incorporated into the Flight for Survival campaign, which focuses on seven flagship species to help tell the tale of the problems migrant birds continue to face. This list includes the blackcap, the Cypriot trappers' favourite.
In December 2019, the Rome Strategic Plan was ratified which calls for zero tolerance of bird trapping and killing, and sets out objectives to tackle IKB from 2020 until 2030. This is a huge problem and all countries need to embrace this philosophy and collectively promote good practice and raise the standard of enforcement to create a meaningful deterrent.
Whilst overall trapping levels have fallen in Cyprus, there is clearly no room for complacency, as the demand for ambelopoulia remains. There are two key areas of work for the respective authorities to progress.
The Cyprus Government need to dramatically improve enforcement, and tackle the illegal restaurant trade. They also need to amend legislative loopholes and implement the 2015 Strategic Plan for tackling illegal bird trapping
The SBA authorities need to continue to continue the partnership-based enforcement work. However, we also need a habitat management plan for the long-term eradication of invasive acacia.
The contrast between the current standards of enforcement work being undertaken on the ESBA and within the Republic of Cyprus is a graphic example of what can be achieved and also of what remains to be done. Without sustained enforcement, trapping levels are likely to rise again as has happened in the past.
Guy Shorrock is the RSPB Senior Investigations Officer, who has been helping BirdLife Cyprus with the fight against bird killing for nearly 20 years. If you would like to learn more about the work of BirdLife Cyprus take a look at their website: https://birdlifecyprus.org/