Azerbaijan  – Kyrgyzstan – Oman – Uzbekistan – South-West  Russia – Syria – Yemen – Jordan – United Arab Emirates – Egypt – Israel – Saudi Arabia – Kuwait – Kazakhstan – Lebanon  – Turkey – Iran – Qatar – Georgia – Armenia – Afghanistan – Bahrain – Tajikistan – Cyprus – Iraq – Turkmenistan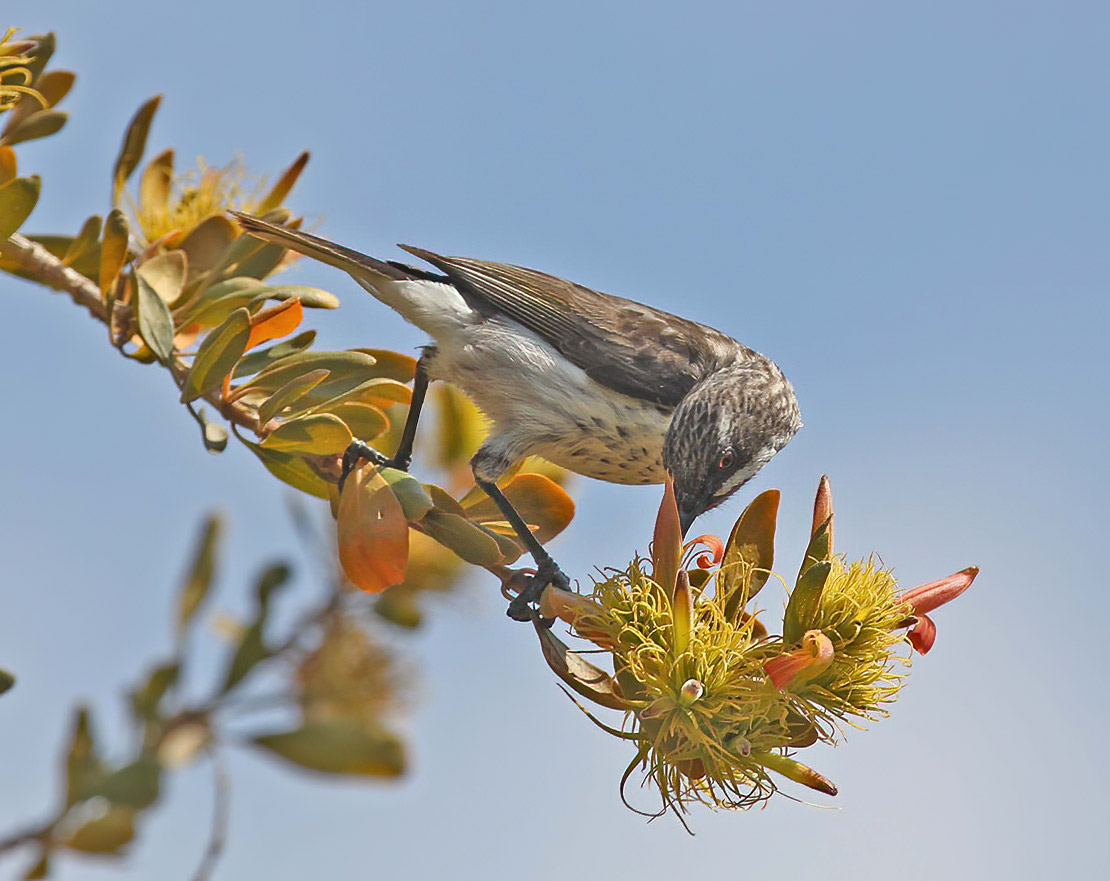 Capital: Sana'a
Area: 527,968 km2
BirdLife International partner: None
Active conservation organisation: The only active NGO is on Socotra – the Socotra Wildlife Association
Total number of bird species: 431 (224 Socotra)
Globally threatened bird species: 15
Country endemics: 11 on Socotra, 1 on Yemen mainland (Arabian Accentor)
Important bird and biodiversity areas: 34 IBAs on Yemen mainland, 21 IBAs on Socotra (recent revisions are subject to confirmation by BirdLife International). Total area 7,500 km
Rare birds committee: There is currently no rare birds committee in Yemen.

Specialities (Yemen):
Philby's Partridge, Arabian Partridge, Arabian Woodpecker, Yemen Warbler, Yemen Thrush, Arabian Wheatear, Arabian Golden Sparrow, Arabian Waxbill, Arabian Accentor, Arabian Golden-winged Grosbeak, Arabian Serin, Yemen Serin
Specialities (Socotra):
Socotra Buzzard, Socotra Scops Owl, Socotra Cisticola, Socotra Warbler, Socotran White-eye, Socotra Starling, Socotra Sunbird, Socotra Sparrow, Abd al Kuri Sparrow, Socotra Golden-winged Grosbeak, Socotra Bunting. Jouanin's Petrel is a non-resident breeding endemic.
Ornithological interest:
The magnificent landscape of terraced mountainsides in Yemen and the dramatic scenery of Socotra, dominated by the skyline of the Haggier Mountains, provide wonderful settings for enjoying the country's many endemics. The two main endemic bird areas are part of the South-West Arabian Highlands and the Socotra Archipelago. Socotra has the highest number of endemic birds in the OSME region, Europe and North Africa.
Spring and autumn migrations are impressive, as is the raptor passage, particularly over the Bab-al Mandeb. The Yemen mainland holds a number of Afromontane species which are only found in extreme South-West Arabia. These include Abdim's Stork, Bateleur, Dusky Turtle Dove, Red-eyed Dove, White-browed Coucal, Klaas's Cuckoo, Arabian Spotted Eagle Owl, Plain Nightjar, Abyssinian Roller, Grey-headed Kingfisher, White-throated Bee-eater, African Grey Hornbill, Rufous-capped Lark ssp eremica, Brown Woodland Warbler, African Stonechat, Red-breasted Wheatear, Little Rock Thrush and Gambaga Flycatcher.
Most of the eleven endemics on Socotra are easily found but Socotra Bunting can be difficult and the Abd al Kuri Sparrow is only found on the remote island of that name. Along with the specialities listed above, other species of particular interest are breeding Forbes-Watson's Swift, Somali Starling and Egyptian Vulture, Socotra hosting the largest population of this vulture in the world. Each year following the south-west monsoon, Socotra can host unexpected vagrants, especially from the Indian subcontinent.
Best times to visit:
As most of the specialties are resident, visits will be productive at any time of the year but the period between October and April is recommended as the climate is more equitable and spring and autumn migrations can be very exciting.
Essential reading:
Porter R F & Aspinall S (2010) Birds of the Middle East, Christopher Helm.
Porter R F and Suleiman A S (2020) Checklist of the Birds of the Socotra Archipelago, OSME website.
Porter R F and Suleiman A S (2016) 'The Important Bird and Biodiversity Areas of the Socotra Archipelago, Yemen', Sandgrouse 38(2): 169-191.
Porter R F and Suleiman A S (2013) 'The populations and distribution of the breeding birds of the Socotra Archipelago, Yemen: 1. Sandgrouse to Buntings', Sandgrouse 35: 43-81.
Porter R F and Suleiman A S (2014) 'The populations and distribution of the breeding birds of the Socotra Archipelago, Yemen: 2. Shearwaters to Terns', Sandgrouse 36: 2-33.
دليل الطيور في الشرق الأوسط (Nature Guides Ltd). تطبيق على نظام أندرويد وآبل.
بورتر، ر.، أسبينال، س.، 2016. طيور الشرق الأوسط. ترجمة عبد الرحمن السرحان وتدقيق لغوي وعلمي: نابغ غزال أسود. اصدار البيردلايف انترناشيونال وجمعية علم الطيور بالشرق الأوسط والقوقاز. عمان، الأردن.

The above two references in Arabic are the Arabic smartphone app version of Birds of the Middle East (Porter & Aspinall) and the Arabic book version of Birds of the Middle East (Porter & Aspinall).
Trip report links:
Compilers:
Omar Al-Saghier, Richard Porter, Ahmed Saeed Suleiman