Sandgrouse is published by OSME and contains papers and short notes on the ornithology of the OSME region, provides bird and conservation news from the region and a comprehensive round up of bird sightings in the Middle East, the Caucasus and Central Asia.
Sandgrouse Volume 21 (1) Spring 1999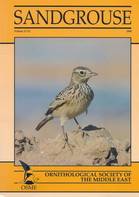 Small Skylark Alauda gulgula, taken by Leo J.R. Boon at Eilat, Israel.
| | |
| --- | --- |
| 2 | OSME NEWS |
| | |
| 2 | NEWS AND INFORMATION |
| | |
| 4 | REQUESTS FOR INFORMATION |
| | |
| 5 | PHOTOSPOT Lichtenstein's Sandgrouse |
| | HADORAM SHIRIHAI, REUVEN YOSEF, PAUL DOHERTY & DAN ALON |
| 9 | PROFILE Hadoram Shirihai |
| | GUY M. KIRWAN & RICHARD PORTER |
| 10 | Jordan Bird Report 1995-97 |
| | IAN J. ANDREWS, FARES KHOURY & HADORAM SHIRIHAI |
| 36 | A checklist of the birds of Israel and Jordan |
| | HADORAM SHIRIHAI IAN J. ANDREWS, GUY M. KIRWAN & PETER DAVIDSON |
| 45 | Fifty species new to Israel, 1979-1998: their discovery and documentation, with tips on identification |
| | HADORAM SHIRIHAI |
| 106 | REVIEWS & RECENT LITERATURE |
| | |
| 108 | AROUND THE REGION GUY M. KIRWAN |
| | |
| --- | --- |
| Editor: | Guy M. Kirwan |
| Features Editor | Derek Harvey |
| Assistant Editor | Ian J. Andrews |
| Editorial Committee | Mikael Blair, Paul Goriup, Ben Hoare, Mike Jennings, Rodney Martins, Peter L. Meininger & Dr Stephen Newton |
| Photographic Editor | Paul Doherty |
| Design & Production | Harry I. Scott |
| Identification Consultants | C. G. Bradshaw, Arnoud B. den Berg & Steve Madge |