Sandgrouse is published by OSME and contains papers and short notes on the ornithology of the OSME region, provides bird and conservation news from the region, and a comprehensive round-up of bird sightings in the Middle East, the Caucasus, and Central Asia.
Sandgrouse volume 44 (2) Autumn 2022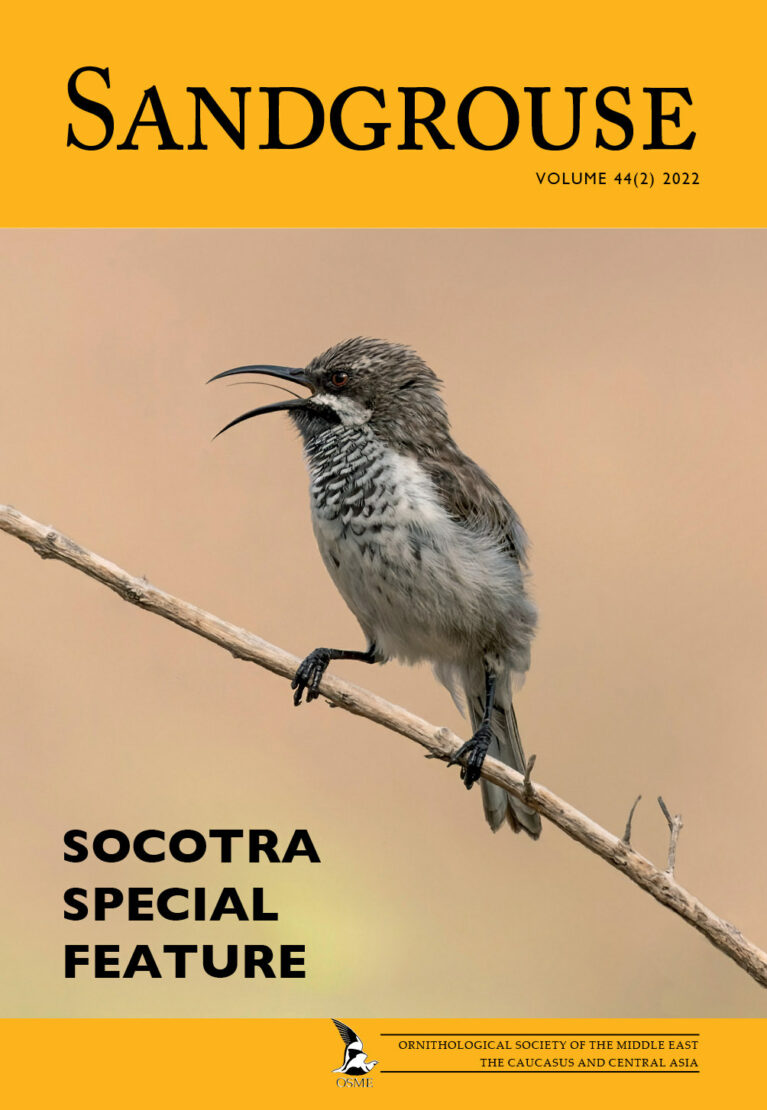 Socotra special feature
Cover photo: Socotra Sunbird Chalcomitra balfouri, Socotra, Yemen. © Lars Petersson.
This issue contains a special feature on the birds of Socotra.
| | |
| --- | --- |
| 262 | Birds of the Socotra Archipelago, Yemen: an annotated checklist. |
| | Richard Porter & Ahmed Saeed Suleiman |
| 325 | Noteworthy breeding records from Socotra, Yemen. |
| | Jens & Heidi Hering |
| 340 | First photographs of nests and egg, and notes on vocalization and behaviour of the endemic Socotra Sunbird Chalcomitra balfouri. |
| | Jens & Heidi Hering |
| 348 | Notes on first nest and vocalization of the endemic Socotra Grosbeak Rhynchostruthus socotranus. |
| | Jens & Heidi Hering |
| 352 | First description of the nest and eggs and notes on vocalization of the endemic Socotra White-eye Zosterops socotranus. |
| | Jens & Heidi Hering |
Other articles
| | |
| --- | --- |
| 360 | The return of breeding Little Bustards Tetrax tetrax to the Tulek Valley IBA, Kyrgyzstan. |
| | Louis-Philippe Campeau & Sergey Viktorovich Kulagin |
| 372 | New bird species in the Eastern Province of Saudi Arabia since 1988. |
| | Jem Babbington & Brian Meadows |
| 398 | A record of juvenile Steppe Whimbrel Numenius phaeopus alboaxillaris from the United Arab Emirates. |
| | Oscar Campbell, Simon Lloyd & Gary Allport |
| 410 | Globally important proportions of six raptor populations migrate past Galala Bird Observatory, Egypt, in spring. |
| | Khaled Noby, Haitham Mossad, Sherif Baha el Din, Nouran Elbolkiny, Tariq Abdalla, Ben Jobson, Jessica Williams, Barend Van Gemerden, Jenny Weston, WilliamHayward, Salisha Chandra, Volen Arkumarev, Vladimir Dobrev, Elitsa Ivanova, Stoyan Nikolov & Steffen Oppel |
| 421 | Three new birds for Lebanon and changes in the status of other species. |
| | Ghassan Ramadan-Jaradi, Michel Sawan, Fouad Itani, Samer Azar, Tamima Itani & Bassel Abi Jummaa |
| 431 | The first Grey-tailed Tattler Tringa brevipes in Oman and the Middle East. |
| | Guy M Kirwan, Ray O'reilly, Neil Bostock, Tony Stones & Robert SR Williams |
| 435 | First records of Striated Heron Butorides striata in Lebanon. |
| | Samer Azar |
| 438 | First confirmed record of Red-headed Falcon Falco chicquera from Afghanistan. |
| | Ali Madad Rajabi & Stéphane Ostrowski |
| 440 | From the Rarities Committees. |
| | Ian Harrison (Compiler) |
| 456 | Letter from the Chairman. |
| | Rob Sheldon |
| 459 | Around the Region. |
| | Ian Harrison, Jane Stylianou & Nick Watmough (Compilers) |
Editor
Dr Paul Donald Sandgrouse editor.
Editorial
Board
AbdulRahman Al-Sirhan (Kuwait), Dr Raffael Ayé (Switzerland), Jem Babbington (Saudi Arabia, photo consultant) Arnoud van den Berg (Netherlands), Michael Blair (UK), Chris Bradshaw (UK), Dr Gary Brown (Germany), Oscar Campbell (UAE), Peter Castell (UK), Pia Fetting (Germany), Peter Flint (UK), Dr Robert Flood (UK), Paul Goriup (UK), Jens Hering (Germany), Mike Jennings (UK), Dr Abolghasem Khaleghizadeh (Iran), Dr Fares Khoury (Jordan), Dr Alan Knox (UK), Andrew Lassey (UK), Dr Mike McGrady (Austria), Dr Stephen Newton (Ireland), Yoav Perlman (Israel), Aasheesh Pittie (India), Richard Porter (UK), Hana Ahmed Raza (Iraq), Colin Richardson (Cyprus), Anna Sandor (Hungary), Dr Manuel Schweizer (Switzerland), Dr Derek Scott (UK), Dr Robert Sheldon (UK), Dr Ruth Tingay (UK), Arend Wassink (Netherlands), Geoff Welch (France)