Sandgrouse is published by OSME and contains papers and short notes on the ornithology of the OSME region, provides bird and conservation news from the region and a comprehensive round up of bird sightings in the Middle East, the Caucasus and Central Asia.
Sandgrouse Volume 32 (1) Spring 2010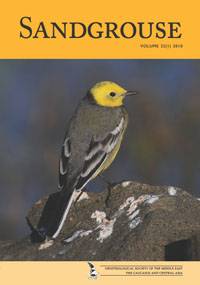 Cover photo: Citrine Wagtail Motacilla citreola near Istanbul, Turkey, April. © Haldun Savas.
| | |
| --- | --- |
| 01 | Contents |
| 02 | Lanner Falcon Falco biarmicus preying on White-eyed Gull Larus leucophthalmus in Egypt. |
| | Attila D Sándor & István Moldován |
| 04 | Migration of harriers and other raptors at Ashura Deh, Iran, April 2008. |
| | Magnus Ullman & Mattias Ullman |
| 13 | Notes on nest and breeding of Afghan Snowfinch Pyrgilauda theresae, Bamiyan province, Afghanistan. |
| | Simon Busuttil, Raffael Ayé & Chris Shank |
| 15 | Rare birds (Streptopelia roseogrisea, Caprimulgus europaeus unwini, Iduna rama, Acrocephalus agricola) at Eilat's ringing station, Israel, autumn 2008. |
| | Noam Weiss & Reuven Yosef |
| 20 | Spring migration of soaring birds over the Bosphorus, Turkey, in 2006. |
| | Özkan Üner, Kerem Ali Boyla, Ergün Bacak, Ertugrul Birel, Ilhan Çelikoba , Cem Dalyan, Evrim Tabur & Ümit Yardim |
| 34 | Probable breeding of the Black-eared Wheatear Oenanthe hispanica melanoleuca on Cyprus. |
| | Christoph Randler & Alan Crabtree |
| 37 | First record of Ultramarine Flycatcher Ficedula superciliaris in Iran and the Middle East. |
| | Saeed Cheraghi & Mohammad Tohidifar |
| 39 | Status of East Siberian Wagtail Motacilla (alba) ocularis in Kazakhstan. |
| | Arend Wassink |
| 41 | Lesser Frigatebird Fregata ariel new to Yemen. |
| | Simon Aspinall & David Stanton |
| 43 | Studies of Socotran birds V. On the validity of Anthus similis sokotrae and a few remarks on Arabian and northeast African populations of Long-billed Pipit A. similis. |
| | Guy M Kirwan & Andrew Grieve |
| 50 | Observations on the Gambaga Flycatcher Muscicapa gambagae in Yemen, May 2009. |
| | Werner Müller |
| 55 | First record of White-breasted Waterhen Amaurornis phoenicurus in Saudi Arabia. |
| | Graham R Lobley & Philip Roberts |
| 57 | Observation of apparent tool use by an Abyssinian White-eye Zosterops abyssinicus on Socotra, Yemen. |
| | RF Porter |
| 59 | Observation of a large flock of Sociable Lapwings Vanellus gregarius in southeast Egypt. |
| | Attila D Sándor, Cristian Domsa & István Moldován |
| 61 | Bird Sites of the OSME Region 6—Birding the Palmyra area, Syria. |
| | DA Murdoch |
| 80 | Reviews. |
| 84 | OSME News. |
| | Geoff Welch |
| 86 | News & Information |
| | Dawn Balmer (compiler) |
| 90 | Erratum & Corrigendum. |
| 91 | Around the Region. |
| | Dawn Balmer & David Murdoch (compilers) |
| | |
| --- | --- |
| Editor: | Dr Peter Cowan OSME Editor, Department of Biological Sciences and Chemistry, University of Nizwa, Sultanate of Oman |
| Editorial Advisors | Vasil Ananian, Simon Aspinall, Paul Goriup, Mike Jennings, Dr Fares Khoury, Guy Kirwan, Dr Stephen Newton, Arend Wassink |
| Photographic Editor | Paul Doherty |
| Reviews Editor | Guy Kirwan |
| Identification Consultants | Arnoud van den Berg, Chris Bradshaw, Steve Madge, Richard Porter |