OSME 37th AGM, 4th July 2015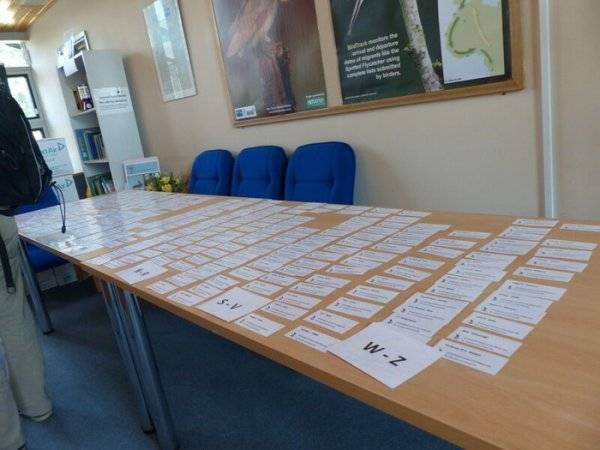 On the 4th July, as part of the OSME Summer Meeting, we also held our Annual General Meeting. OSME is a UK registered charity governed by a constitution (see here) that stipulates we hold an AGM every calendar year. The AGM is a crucial part of our Society's governance that allows members to question OSME Council on our annual accounts, the running of OSME and the election of trustees. For many years now, OSME has combined the AGM with our Summer Meeting so that members and non-members can also enjoy an interesting programme of speakers on subjects linked to the birds of the Middle East, the Caucasus and Central Asia.
In the unexpected absence of the OSME Chairman, this year's AGM was chaired by Ian Harrison. The Minutes from the 36th meeting were approved with no matters arising (see here). Nick Moran gave a brief Chairman's report that summarised what had been circulated to OSME Members in advance of the meeting, and can be read in full below.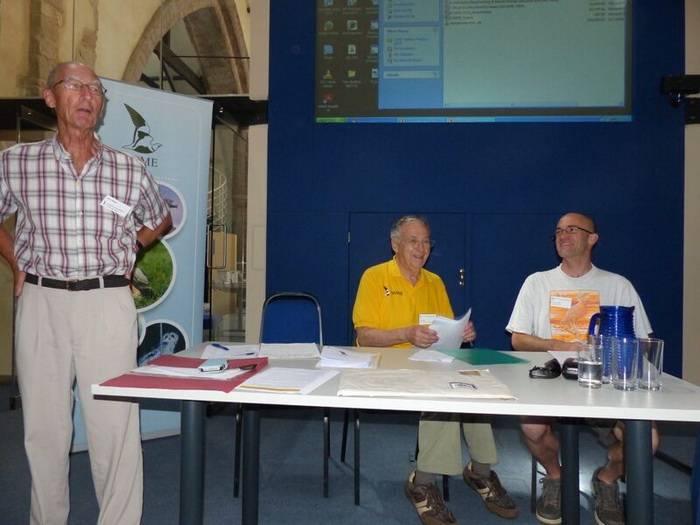 Our 2014 financial accounts taken from the Trustees Annual Report & Accounts were presented and approved. The full TAR & Accounts for 2014 can be viewed on the OSME website (see here). This annual report highlights the large volume of work that we undertake across the region, and all done through volunteers. It also highlights how well run OSME is for which I am most grateful to all OSME Trustees. Indeed, at the AGM we were able to elect two new trustees, and I would like to welcome back Ian Harrison as a Council member and Irene Sabiniarz as the new OSME Secretary. I'd like to take this opportunity to thank Mike Jennings for auditing the 2014 accounts, and for agreeing to audit the 2015 accounts, an agreement that was endorsed by the OSME membership.
The AGM was completed at 14.32 and the draft minutes of the 37th OSME Council meeting can be found (here).
CHAIRMAN'S SUMMARY REPORT 2014 (as distributed to OSME members with the mailing of Sandgrouse 37(1))
2014 has been a very busy year for OSME with a number of positive developments. During the year Council discussed and agreed a forward strategy for OSME that sets out our ambitions and what we want to achieve for ornithology and bird conservation across our region. This has been a time-consuming piece of work but is important for identifying how we deploy our limited resources to best effect. On behalf of Council I'd like to thank Janet Barber and Richard Porter for all their help and advice during the strategy development.
Due to the excellent work of our co-treasurers, and all Council members, it is pleasing to report that despite the continued wider economic situation, OSME's finances remain strong. We continue to hold sufficient reserves, and focus our expenditure on the production of Sandgrouse and the provision of grants through the Conservation and Research Fund. A significant reason behind our robust finances is the loyalty of our long-term members and our attraction of new supporters. By the end of 2014 we had 740 members compared to 726 by the end of 2013. This stabilisation in membership figures follows a long period of steady decline. Council continue to look at ways in which we can grow our membership, which will enable us to support more conservation projects throughout the OSME region.
One possible factor in this stabilisation of the membership is OSME's continued use of social media. Our Twitter account now has approximately 1500 followers and our Facebook page has more than 650 'likes'. We have changed the MEBirdNet Yahoo discussion group name to OSMEBirdNet to better reflect our geographical coverage. AbdulRahman Al-Sirhan, OSME's webmaster, has greatly improved the design and look of the website, which was 'launched' in November. As a result, there has been a significant increase in the amount of visitors to the site. In combination this has lead to a higher profile for OSME's work, which hopefully will result in further support in the future.
Two issues of our excellent journal Sandgrouse were produced during the year, and continues to be of high quality. I have received many positive emails and comments regarding Sandgrouse, and huge thanks must go to Peter Cowan and the excellent editorial and production team for their continued work on behalf of OSME. We are also aiming to make Sandgrouse more accessible to as wide an audience as possible, and during the year Sal Cooke and Effie Warr, amongst others, arranged for back issues of Sandgrouse to be made available online via the Biodiversity Heritage Library.
We continued to provide funding to projects across the OSME region through the Conservation and Research Fund (CRF). The CRF welcomes two new members, Mick Green and Nabegh Ghazal Asswad, to the committee to help advise OSME Council on the allocation of our funds.This year we provided £6,610 to the following projects:
Support for the final issue of PHOENIX 30 (Mike Jennings)
Oman Golden Eagle and waterbird surveys (Ian Harrison & Mick Green)
Caucasus Wildlife Refuge, Armenia (World Land Trust)
Great Bustard surveys in Kazakhstan (Georgiy Shakula)
Red-list raptor study, Kazakhstan (Evgeny Bragin)
Wetland conservation, Kyrgyzstan (Ulanbek Naamatbekov)
The two keys events in the OSME calendar are the annual Summer Meeting and AGM which was held on the 5th July at the BTO Headquarters, The Nunnery. Our attendance at the Birdfair at Rutland Water provided an excellent forum to meet friends, members and supporters. The OSME CRF was also boosted by £1000, thanks to Nick Acheson's excellent victory in the Bird Brain of Britain quiz.
OSME's loyal members and supporters are the lifeblood of the Society, and on behalf of Council, I'd like to thank you all for your continued support during 2014. OSME continues to receive the financial support of our Corporate Members – Birdfinders, Birdguides, Greentours, Odyssey Tours, Rockjumper Birding Tours, Sunbird and the Natural History Book Service (NHBS). We are also most grateful to the RSPB for continuing to provide support to OSME in a variety of ways.
Finally, I'd like to thank all OSME Council members for their continued ideas, advice and hardwork that ensures OSME runs smoothly and efficiently.
Rob Sheldon
Chairman, OSME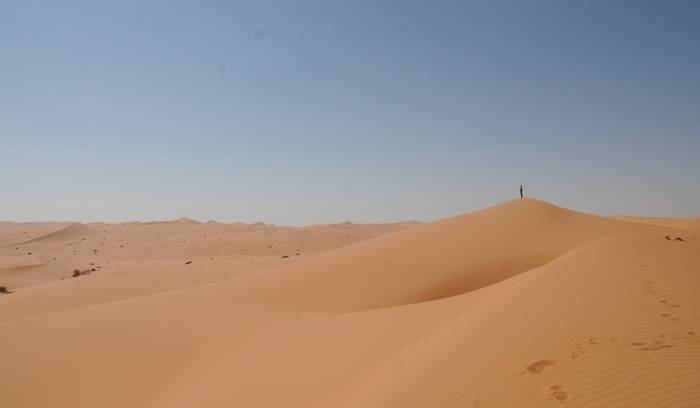 OSME AGM