Sustainable Hunting Conference in Lebanon
Guest blog by James Hogg
I am sure anyone reading this knows that the hunting of birds in Lebanon as with elsewhere in the Mediterranean, Middle East and North Africa is a serious problem. Birdlife International in their report "The Killing" estimated that 2.6m birds are killed here every year. Migratory species seem to be especially targeted, and every year on social media we see numerous pictures of dead raptors, storks, pelicans and many others.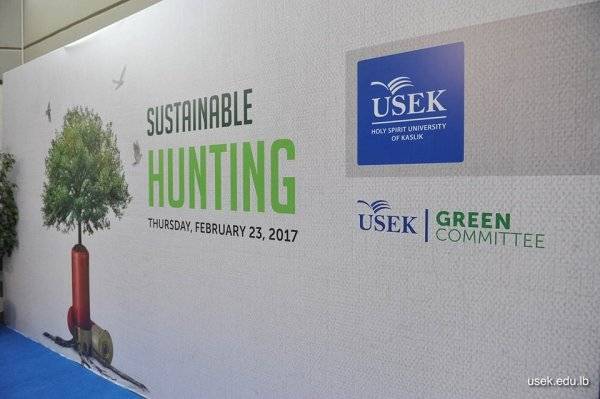 Awareness of the problems around bird hunting in Lebanon is growing amongst the general population. This is largely down to the work of several local environmental advocacy groups, notably Lebanon Eco-Movement and the Society for the Protection of Nature in Lebanon (SPNL). More recently using social media several other groups and individuals have mobilised themselves to fight for this cause. Although there are laws in place these are often poorly enforced. Lebanese hunters here are proud of their tradition and some of them are starting to behave more responsibly. It is hoped that by encouraging better behaviour in some prominent hunting groups that this will spread to hunters in general.
To support and promote the concept of sustainable hunting the Green Committee from the Holy Spirit University of Kaslik (USEK) recently hosted a conference. The event was well attended by members of the university staff, local conservation NGOs, bird conservation activists, representatives from the Ministry of Environment, hunting groups and local journalists. This was the first conference of its type in Lebanon and the USEK Green Committee had balanced the program so that the voices of conservationists, hunters and regulators could all be heard.
Mr Albert Thoumy opened the conference and gave a short introduction to the issues around shooting in Lebanon. Dr. Sammar Azzi Achkouty, the chair of the USEK Green Committee, then provided an outline of the University's green ambitions and stated that through this conference the university wanted to provide a platform where problems with unsustainable hunting could be discussed.
I followed with a presentation entitled "Why should we conserve birds? What do they do for us?" I talked briefly about the natural history of birds, our shared existence over the last several hundred thousand years of evolution and bird diversity. This led on to talking about the ecosystem services that birds provide us as a society, from pest control and raw materials, through to cultural inspiration. I covered some conservation ethics and made mention of the crisis facing some traditionally hunted birds such as Turtle Dove and Quail. I concluded by encouraging all attendees to become more involved in this issue and bird conservation in general.
Mr Borja Heredia, the head of the Avian Species Team at the Convention on Migratory Species (CMS) was next. He gave an overview of the Convention and its various agreements and MOUs, then highlighted Lebanon's strategic position on the East Mediterranean Flyway and the challenges facing birds along this route. We heard about the Intergovernmental Task Force on Illegal Killing, Taking and Trade of Migratory Birds in the Mediterranean and the Cairo Declaration on Illegal Killing, Taking and Trade of Migratory Birds in the Mediterranean Region. The presentation finished with an explanation of how regulated and controlled hunting could be used as a method to raise conservation revenues and to protect some at risk areas.
To separate the two sections of the conference we were treated to a slide show of superb photographs of the regions birds taken by Mr Fouad Itani.
Mr Tony Issa who is a Lebanese actor and famous hunter provided an entertaining speech which reflected on his experiences as a young man shooting without ethics. He went on to say that he had learned a lot from visits to Europe and Canada that hunting responsibly and within the law is much more respectable. He encouraged other hunters to be responsible and hunt sustainably, yet noted that there is a lack of accountability and enforcement at present.
We then heard from Mr Nazih Abi Semaan the CEO of Josons, a leading chain of hunting shops in Lebanon. The presentation started with an outline of hunting as an important tradition and one that people should not be deprived of, especially since the hunting industry supports around 3,000 families. However he did go on to chastise many hunters for their behaviour and said that there needs to be improvements. He said that the hunting industry supports licensing and regulation as proposed by the Ministry of the Environment and noted that revenues for licensing should be used for enforcement and management, ultimately regulation can pay for itself.
The Ministry of the Environment was represented by Ms Lara Samaha – Head of the Department for Ecosystems. She presented the legal framework as it stands in Lebanon and then went on to explain the proposed licensing system. This was a detailed presentation and the system presented looks robust, but requires effective implementation. She also said it will need the buy-in from hunters and cannot be enforced without the support of the police and other Ministries involved in environmental protection and forestry.
Reverend Father Talal Hachem – the Vice President for Community Life at USEK closed the conference. He thanked all attendees and presenters, and he challenged hunters to improve their practices and to operate within the law. The conference did a great thing in bringing together groups of people with quite disparate views and hopefully everyone could take something away from the event.
I sincerely hope that some of the advice given and pledges made by the hunting community are followed. We desperately need a change or we will loose so much.
I would like to thank USEK in particular Ms Dalida Sneifer and the Green Committee for inviting me to speak. A great deal of effort was put into the event and hopefully this is was the first of many opportunities to promote bird conservation to a wider audience.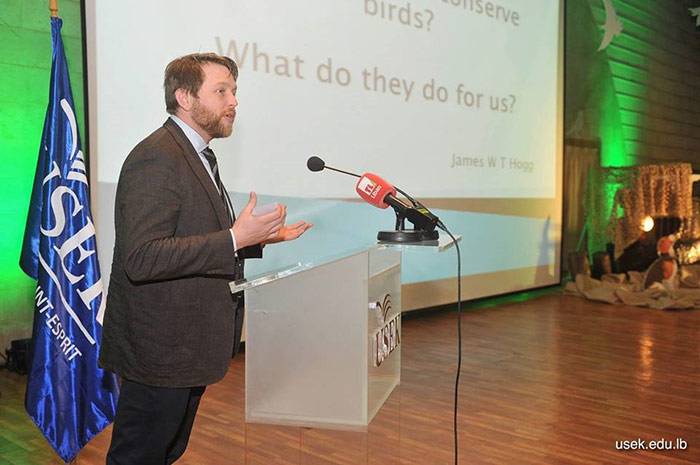 About me
I am an environmental consultant from the UK, though I follow my wife and her job around the world. I recently moved to Lebanon and have been trying to get involved with local bird conservation. I previously lived in Rwanda which has fantastic birding. I worked on several projects there for NGOs, ministries and agencies, my favourite being securing a large amount of funding to develop a wetland eco-tourism park on the outskirts of Kigali.