Azerbaijan  – Kyrgyzstan – Oman – Uzbekistan – South-West  Russia – Syria – Yemen – Jordan – United Arab Emirates – Egypt – Israel – Saudi Arabia – Kuwait – Kazakhstan – Lebanon  – Turkey – Iran – Qatar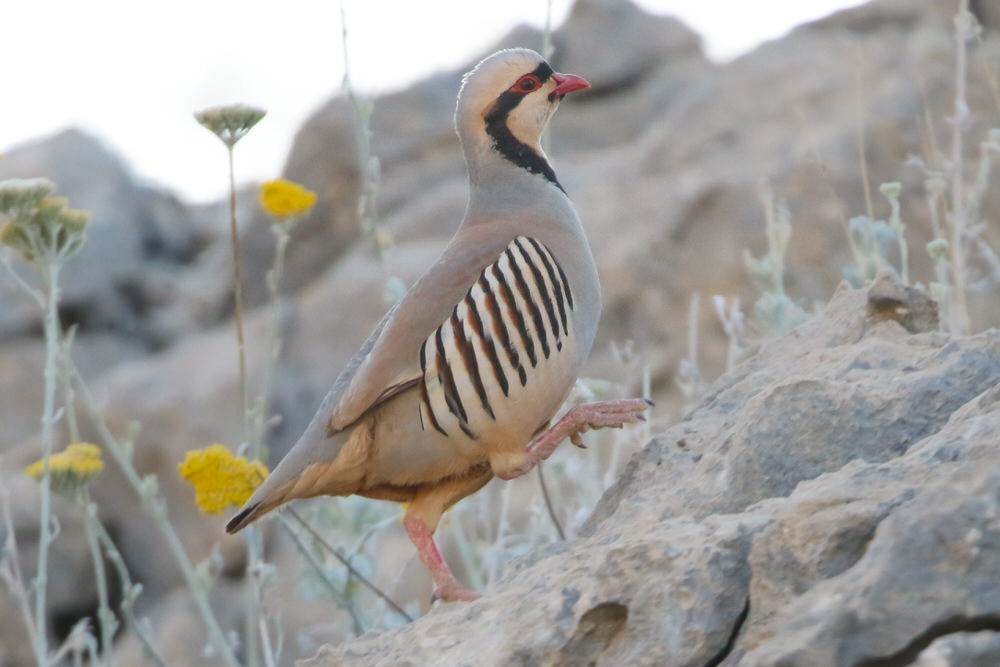 Capital: Beirut
Area: 10,453 km2
BirdLife International partner: Society for the Protection of Nature in Lebanon (SPNL)
Total number of bird species: 408
Globally threatened bird species: 19
Country endemics: The rufiventris subspecies of White-throated Dipper is endemic.
Important bird and biodiversity areas: 15 IBAs with a total area of 529 km2
Rare birds committee: Lebanon National Rare Birds Committee (Executive Director – Ghassan Ramadan-Jaradi: grjaradi@hotmail.com or grjaradi@cnrs.edu.lb)
Specialities:
Chukar Partridge, Upcher's Warbler, White-throated Dipper, Syrian Serin.
Ornithological interest:
Lebanon has a wide variety of habitats including the Mediterranean coastline and coastal plains leading up to the Mount Lebanon mountain range which runs north-south through the country. Further east, lies the Beqaa Valley with areas of wetland in the centre around Aammiq and Anjar. There is semi-desert in the north around Ras Baalbek, and to the west of the Beqaa Valley are the anti-Lebanon mountains.
The eastern Mediterranean Flyway passes straight through Lebanon which, for its small size, has a very diverse avifauna. European and Middle Eastern species are well represented and the country's location may explain why so many vagrant species have been recorded.
The migration seasons are truly spectacular. On a good day, thousands of raptors, storks and other soaring birds can be observed along the flyways and at bottlenecks. There is also considerable passage of passerines along the coast and through the Beqaa Valley. The Aammiq Wetlands (IBA and Ramsar site) and the artificial Lake Qaraoun (IBA) are havens for breeding, resting and feeding waterbirds. In recent years, seabirds have started to attract the attention of Lebanese birdwatchers. These are best observed at the Palm Islands off the coast of Tripoli but may be seen at other sites along the coast.
Lebanon is an excellent country to see a number of regional specialties including Chukar Partridge, local birds being intermediate between the subspecies cypriotes and synaica. Syrian Serins can be found at various locations across the country and this globally-vulnerable species commonly breeds in Lebanon. Lebanon is one of the few Middle Eastern countries that has a breeding population of Eurasian Blue Tits. Other key breeding species include Short-toed Snake Eagle and Long-legged Buzzard, pairs of which can be found in nearly every village. Stone Curlews, Cream-coloured Coursers and Penduline Tits breed in the northern Beqaa Valley, the latter also breeding at Anjar. The semi-desert areas in the north Beqaa Valley also produce interesting species that are more typical of a drier climate, with Desert Lark and Temminck's Lark being observed in recent years. Horned Larks are very common in the mountains (the bicornis subspecies, now included in pencillata, was at one time considered a separate species).
Best times to visit:
Mid-March to mid-April is a good time to view resident species while summer visitors are on breeding territories from mid-April to late May (except for Syrian Serin which starts arriving at breeding sites around mid-March). The spring raptor migration habitually begins towards the end of March and continues until early April. The autumn migration is typically most prolific in September and October, peaking in late September to early October (although European Honey Buzzards peak during August). During the winter months it is possible to observe overwintering birds but visitors should be aware that, if you intend to visit the mountains during January and February, being well prepared for icy roads and snowy conditions is recommended. (Consider snow chains in the mountains.)
Essential reading:
Porter R & Aspinall S (2010) Birds of the Middle East, Christopher Helm.
.دليل الطيور في الشرق الأوسط (Nature Guides Ltd). تطبيق على نظام أندرويد وآبل
بورتر، ر.، أسبينال، س.، 2016. طيور الشرق الأوسط. ترجمة عبد الرحمن السرحان وتدقيق لغوي وعلمي: نابغ غزال أسود. اصدار البيردلايف انترناشيونال وجمعية علم الطيور بالشرق الأوسط والقوقاز. عمان، الأردن
The above two references in Arabic are the Arabic smartphone app version of Birds of the Middle East (Porter & Aspinall) and the Arabic book version of Birds of the Middle East (Porter & Aspinall).
Svensson L, Mullarney K, Zetterström D, Grant P (2010) Collins Bird Guide, HarperCollins, UK.
Prior R (2017) A Guide to 200 Common Birds of Lebanon, SPNL, Beirut.
Ramadan-Jaradi G & Itani F (2019) Birds of Lebanon, a Photographic Guide to 404 Species, Association for Bird Conservation in Lebanon, Lebanon.
(A review of this book can be found on the OSME website here.)
Ramadan-Jaradi G, Itani F, Hogg J, Serhal A, Ramadan-Jaradi M (2020) 'Updated checklist of the birds of Lebanon', Sandgrouse 42(2): 186-238.
A useful source of information is the website of the Association for Bird Conservation in Lebanon: https://www.birdsoflebanon.com/
Trip report links:
Compilers:
Prof Dr Ghassan Ramadan-Jaradi, James Hogg and Fouad Itani