Vulture News from the Middle East
The following short vulture updates from across the Middle East are reproduced with the permission of the IUCN Vulture Specialist Group. They are taken from the Vulture Specialist Group newsletter (issue 11). If you are interested in receiving these newsletters directly (which include updates from around the world) then please contact the specialist group co-chairs Chris Bowden (chris.bowden@rspb.org.uk) or André Botha (andreb@ewt.org.za).
The first Saturday in September each year is International Vulture Awareness Day and you can read more about this initiative here: https://www.vultureday.org/
OSME have supported International Vulture Awareness Day on Socotra in 2018 and 2019: https://osme.org/content/conservation-socotra%E2%80%99s-biodiversity-dream-be-achieved
You can read more about the issues facing vultures and the conservation measures required to save them via the CMS multi-species action plan to conserve African-Eurasian Vultures (Vulture MsAP)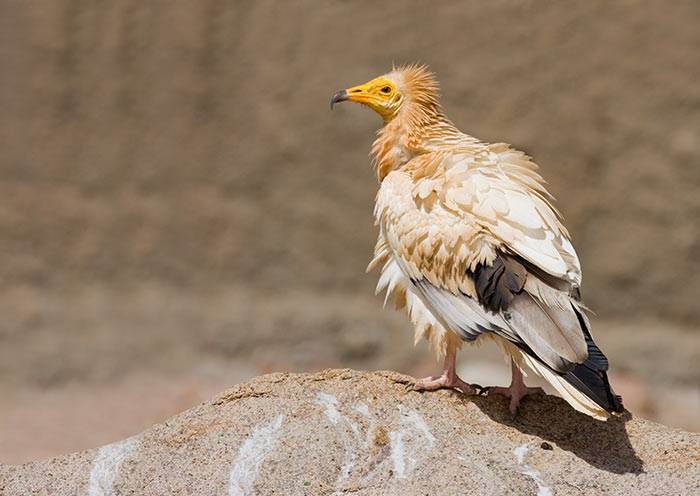 Updates from the Middle East:
In Oman eight resident Egyptian vultures are being tracked, and one in southern Iran. Most, if not all, held territories in 2019 and despite no formal analyses on the data, it is clear that landfill sites are important, as they visit them on almost a daily basis. Using the tracking data as a framework for searches, a 2 week field survey was carried out for breeding EVs. An impressive 61 occupied territories were located within a 40 km radius of the main landfill, and with extrapolation, 240 territories are estimated in mainland Oman! In addition, 60+ territories were found on Masirah Island in 2013 so the published national estimate of 100 breeding pairs apparently needs updating. Meetings with the company in charge of upgrading waste management in Oman at the national scale are planned, and they seem interested in giving more consideration to scavenging birds (both vultures and eagles). Further plans include establishing vulture restaurants at landfills (safe food and tourism opportunities), and funding a studentship at Sultan Qaboos University. The Socotra UNE-GEF team (Yemen) has established that there are 1,900 EVs on the island, making this potentially the highest density of the species anywhere. A full report will soon be available (by Ahmed Saeed Suliaman) with details regarding threats, and measures being taken to secure this population. Meanwhile on mainland Yemen, veterinary diclofenac 3 formulations are now known to be in regular circulation which is now being looked at for a potential ban, and the Director of Agriculture is taking this forward for Socotra meanwhile. The 2019 Sariamzi Raptor Count in Turkey, where hundreds of Egyptian vultures (EV) pass through during a one month period, started in early September, coordinated by Doğa Derneği. Daily observations available online. An EV confiscated from a private zoo was released into the wild in Jordan thanks to collaboration between the RSCN and Al Ma'wa for nature and wildlife. The bird had been captured from the wild and kept in a local zoo with minimal facilities, but it recovered, was named 'Wesal' and satellite tagged – its daily movements can be followed online. In March by the Dead Sea, Jordan, a Regional Energy & Birds Workshop brought together 37 institutions and organizations. The event, hosted by the Safe Flyways Energy Project in cooperation with Migratory Soaring Birds project – Phase II and the Egyptian Vulture New LIFE project. The focus was to review the situation of power infrastructure development in the Mediterranean region, Middle East and Africa and how its impact is being minimized and managed. Vultures featured prominently among other raptors. More than 2.6 million migratory birds of 140 species, including raptors, and EV, are indiscriminately killed each year in Lebanon. Two of the most important migratory bird corridors pass through the country, but the widespread illegal killing poses a serious threat. Campaigns by local NGOs, eg SPNL, are gaining strength to enforce government hunting regulations, and conduct awareness campaigns among locals. Some important initiatives in Iran are establishing a power infrastructure threats to raptors committee, and informal checks were made on the NSAIDs being used by vets across the country. The good news is that the veterinary diclofenac ban has been fully effective so far, and meloxicam is quite popular as an alternative. However, flunixin and ketoprofen are also widely used, and carprofen is being tested for the market too – all of these are known to be toxic.